Updated: Jan 12, 2017
Published: Jan 05, 2017
Announcing the 2017 Developer Summit film and challenge winners
At this year's Developer Summit, we changed things up a bit and instead of a regular hackathon we invited innovators to provide submissions for three different opportunities: Hackathon Invitational, VR/AR Challenge, and the AT&T Entertainment Project. We got amazing entries and worked hard to narrow it down to just a few finalists. We flew those teams to Las Vegas to demo their apps, projects, and screen their films, respectively, to attendees of the AT&T Developer Summit. The votes have been tallied and our Summit audience has picked the winners.
Hackathon Invitational—We're invited developers from across the country to embrace mechatronics, the art of mixing mechanical engineering with electronics and wireless connectivity. Three finalists pitched their apps live on stage during the keynote for a chance to win $20,000! The audience texted their selection and these are the results: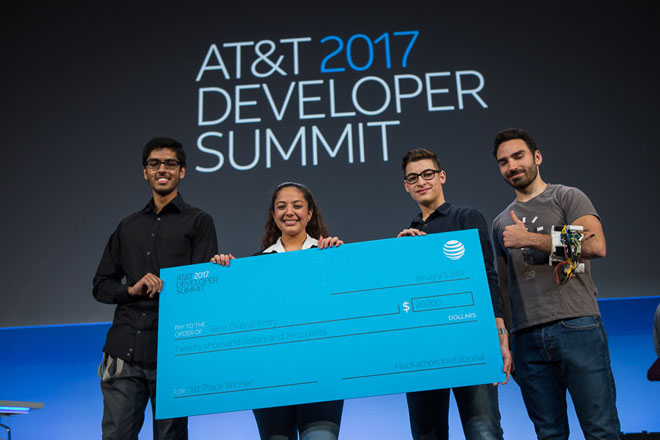 MendMe  – 49% Congrats to the winning team
CoffeeWatch – 32%
Raise the Bar – 19%
Here's what they won:
MendMe  – $20,000
CoffeeWatch – $10,000
Raise the Bar – $5,000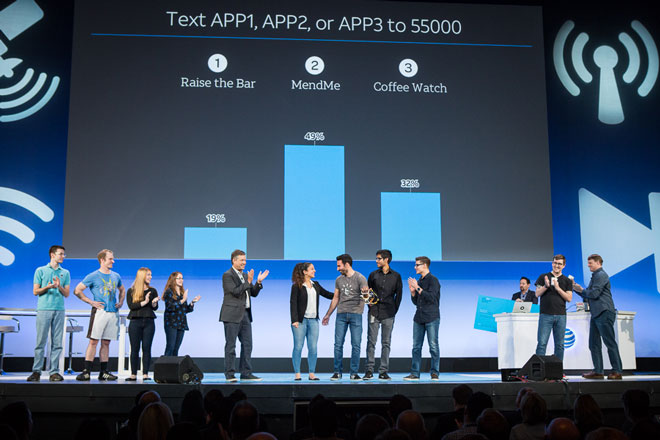 VR/AR Challenge—Innovators in the virtual reality (VR) or augmented reality (AR) space square off in the VR/AR Challenge. After attendees had the opportunity to experience all the finalists' demos that focused on either the film experience, healthcare, or accelerated learning using VR or AR, they casted their vote.
The winner of the $20,000 grand prize was AR app WayPoint RX. Here are the other winners:
2nd place COSM Creator – $10K
3rd place Pippa's Pan – $5K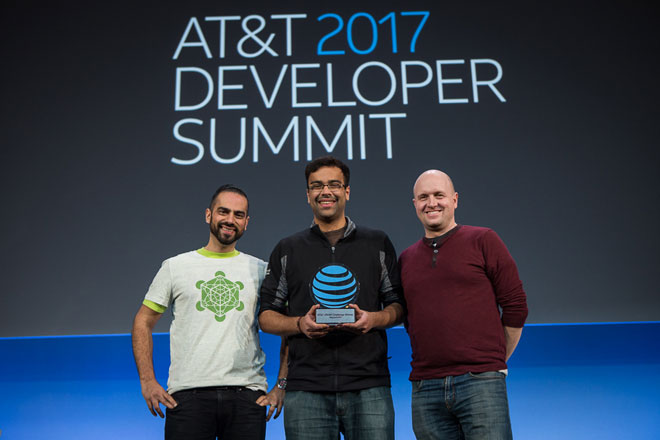 AT&T Entertainment Project—AT&T is committed to transforming how people watch their favorite entertainment—anytime, anywhere, on any device. Professional and student filmmakers submitted their short films for a chance to win $20,000 and an opportunity to meet with AT&T entertainment executives. After three rounds of judging by the Audience Network, a professional production company, and Summit attendees, the winning films have been selected:
1st place – Dispatch
2nd place – Para Mi Mamá
3rd place – Bug Man
Student Film Winner – Five Windows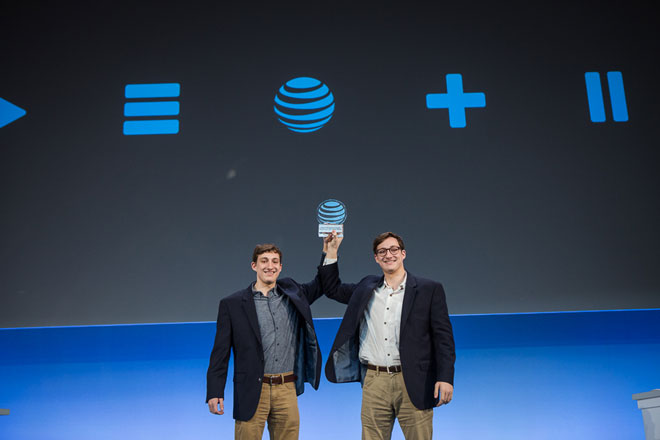 Join us in congratulating all our winners and a special thanks to everyone who entered. We were truly inspired by the entries.
---
Share this post