Updated: Dec 28, 2016
Published: Dec 29, 2016
VR/AR Challenge Finalist COSM Creator lays the groundwork for an innovative 3D platform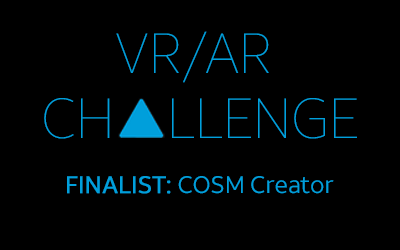 We received 67 submissions to our first ever AT&T VR/AR Challenge. After much deliberation, we've narrowed down the finalists (and one alternative) and will fly them to Las Vegas to demo their solutions at the 2017 AT&T Developer Summit and compete for a grand prize of $20,000. Here's your chance to learn about the finalists as we introduce each one in a dedicated blog post.
Currently, it's incredibly difficult to communicate certain types of complex concepts due to lack of high-quality content. Although there is an enormous amount of experimentally-derived 3D data that describe countless real, physical structures, and systems – anything from the shape of complex molecules to scans of individual human brains and maps of the changing arctic landscape – up until now there has been no easy way to easily visualize and share these data.
Enter COSM Creator, which is a platform that allows non-artists and non-developers to easily upload any type of 3D data and compose brilliant, expansive, detailed 3D worlds that they can share with others, using the ultimate immersive medium: virtual reality. We talked to developers of COSM Creator Laura Lynn Gonzalez and Daniel Gonzalez of Oakland, CA, and Andrew Sahalie and Caz Downing-Bryant of Seattle, WA, to learn more about COSM Creator and their background in 3D and virtual reality (VR).
Q: How did you come up with the idea for your project?
A: Dynamoid produced the award-winning iOS app, Powers of Minus Ten (POMT). In many ways, POMT is the precursor to the work we're doing on this project. While gaining success with over 600,000 users and multiple rounds of being featured by Apple, we discovered that, though the underlying system was reusable and could easily be expanded on, users were so hungry for content that we couldn't produce it fast enough. This led us to focus on developing tools and infrastructure to enable content to be created by non-artists so that scientists, teachers, and anyone else who can create and share explorable systems.
Q: Tell us a little bit about your team and how you worked together to create your entry.
A: Our diverse experiences creating 3D apps, games, and even planetarium movies have given us a deep understanding of 3D world design. We also have an in-the-trenches perspective on education since our founding team has a ton of interaction with educators, students, and scientists. Some of us even have bona fide teaching experience!
As a team, we're united by our diverse skill sets and interest in anything new in science and technology. Our talents are partially overlapping, partially complementary, which results in a good balance between being able to communicate effectively and not stepping on each other's toes.
We're located in Oakland and Seattle, so we do a lot of video chats, screen shares, etc., and are on Slack pretty much all day.
Q: What does the AT&T Developer Program and contests like this mean to you?
A: We really appreciate the focus on non-gaming VR content because we believe VR is an incredibly powerful medium that shouldn't just be relegated to first-person shooters. This contest's particular focus on education and healthcare is also well suited to COSM Creator.
We're also excited about this opportunity to share our work with other developers and gain valuable feedback.
Q: Why should the audience vote for your project?
A: The things that we can't see with the naked eye are actually pretty awesome, and we finally have the data and the means to take a glimpse into these unseen worlds.
Q: What advice do you have for new developers just getting started in the field?
A: Don't be afraid to experiment, but use version control so you can always roll back changes if needed. Also realize you're going to refactor your code from V1 multiple times, so don't get too attached to your early code.
Q: What is the development background of all the team members?
A: Laura Lynn – Unity, C#, information architecture design, 3D graphics and technical art
Caz – Backend, sys admin, front-end web
Dan – C/C++, x86 Assembly, Python, Javascript
Andrew – Planning business analysis, analytics/ETL with R and/or SQL, relational databases, and real-time dashboarding
Q: What technologies are you most about?
A: Unity3D, Python/Django, React.js, scientific datasets/tools like the Allen Brain Atlas SDK
Q: What are your future plans for your project?
A: In the future, COSM Creator will support MRIs and other large data sets so people can do things like explore scans of their own brains down to the level of neurotransmitters. We're also working on VR creation tools, where you'll be able to create environments in VR (imagine painting a cloud of jittering molecules, a la Tilt Brush).
Q: If you win, what do you hope to do with the prize money?
A: If we win, we plan to use the prize money to continue our work and launch our beta web application.
What do you think of COSM Creator? Would you use it? Let us know in the comments.
---
Share this post