VR/AR Challenge finalist Pippa's Pan created a hybrid live-action short film
VR/AR Challenge finalist Pippa's Pan created a hybrid live-action short film
by
12.29.2016 02:15 PM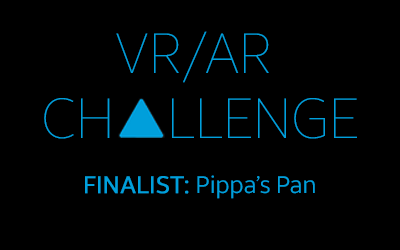 We received 67 submissions to our first ever AT&T VR/AR Challenge. After much deliberation, we've narrowed down the finalists (and one alternative) and will fly them to Las Vegas to demo their solutions at the 2017 AT&T Developer Summit and compete for a grand prize of $20,000. Here's your chance to learn about the finalists as we introduce each one in a dedicated blog post.
Pippa's Pan 盼  is a reactive VR short film. It takes you, our Agent, through the forest of Pippa's mind to help re-capture fragments of her forgotten memories. Experimenting with techniques in animation, world building, motion-capture, 3D spatial audio, and even light field technology, Pippa's Pan 盼 is set to be one of virtual reality's first hybrid live-action short films. A literal forest woven from the sinews of our team's ideas and youthful naiveté, our group of young dreamers will deconstruct concepts of storytelling to re-invent the relationship between audience and narrative.
We caught up with the team of Pippa's Pan 盼  to learn more about their goal to prove that VR can be a meaningful medium for storytelling.
Q: How did you come up with the idea for your project?
A: Celine Tien, the founder and director of Pippa's Pan 盼, grew up acting professionally in Hollywood and then spent the past two years working at Oriental DreamWorks and DreamWorks Animation. She wanted to explore the intersection of filmmaking and technology while carving a space for diverse voices outside of the traditional studio system. Celine spent this past year meeting VR start-ups, technology-focused companies, and entertainment studios in the U.S., South Korea, and China. She found everywhere, but especially in the Chinese market, there was a strong focus on VR/AR hardware and software, but not much content.
Returning to attend her last year at Yale University, Celine pulled together an amazing team of young talented artists, programmers, and engineers to build one of the first hybrid live-action VR films that would be brought to international audiences.
Q: Tell us a little bit about your team and how you worked together to create your entry.
A: Our team is truly an amalgamation of young students and professionals with diverse backgrounds and perspectives. We have artists, engineers, programmers, and dreamers from Yale University, University of Pennsylvania, Brown University, School of Visual Arts, and California Institute of the Arts, with combined work experiences at DreamWorks, Pixar, Facebook, Oculus, Disney, Blue Sky Studios, Penrose Studios, and even Hyperloop One.
We've worked on the film remotely from different regions of the U.S. with our film base in Los Angeles and Sunnyvale, CA. It's been a true experiment in VR filmmaking and a collaborative effort to create a streamlined VR filmmaking pipeline for future projects.
Q: What does the AT&T Developer Program and contests like this mean to you?
A: The AT&T Developer Program presents an opportunity for everyone involved to learn from a community of inspired and innovator makers that will push the boundaries of their respective fields (or even push to build a new one!) As young VR content developers, it is always inspiring to be gifted a platform on which to share your voice, however new and disruptive it is. We can only hope to help this ecosystem of innovators and believers to create more meaningful work.
Q: Why should the audience vote for your project?
A: Pippa's Pan 盼  is at its core, a story of love, loss, and our ability to affect the tenacity of our memories. It is an introspective look of a woman's life expressed however the audience chooses to experience it. We hope it is a message that audiences can not only rally behind, but also immerse themselves in.
Our film expresses an intersectionality in everything from its narrative to its technique. Our film features minority characters (our protagonists are Chinese) that express that heritage in casting, soundtrack, and thought. That same sense of diversity also echoes in our multi-disciplinary approach to creating the film: utilizing elements of live-action (motion capture and light field), game-building, and animation.
Hopefully, Pippa's Pan 盼  provides a glimpse into the future of meaningful, boundary-pushing, and poignant storytelling.
Q: What advice do you have for new developers just getting started in the field?
A: Get started and do it – especially in fields like VR and AR where technical and creative development is still at its infancy and the possibilities are infinite. You just need to take your leap of faith and dive into making something. The faster you create, the faster you can make mistakes, and the faster you can stumble into something spectacular.
Q: What is the development background of all the team members?
A: Here are detailed bios of key members:
Celine Tien, New Haven, CT 
Celine Tien is the founder, director, and writer of Pippa's Pan 盼, one of the first virtual reality (VR) hybrid live-action films. Her passion for virtual reality has taken her around the world to research VR development in countries like China, Korea, and the U.S., and at companies such as Google and Oculus.
Previously, Celine worked in feature development at Oriental DreamWorks in Shanghai and DreamWorks Animation in Los Angeles.Having grown up in Taiwan, China, and the United States, Celine endeavors to produce cross-cultural content. She's also spent eleven years as an actor and model in Hollywood.
Expected to graduate from Yale University in 2017, Celine will have founded Yale's first fashion organization, written for the Yale Daily News, and competed on the Yale Polo Team. She's also founded a non-profit education-based organization: Zoom for Kids!
Julien Soros, New Haven, CT
Julien Soros has a passion for sound that has taken him from classrooms, luthiers' workshops, and recording studios to one of the first VR hybrid live-action films, Pippa's Pan 盼. His goal is to create immersive sonic environments that will bring virtual reality closer to actual reality.
Most recently, Julien worked at Hyperloop One, where he both assisted in the design, simulation, and implementation of propulsion system control algorithms as well as designed accelerated methods for Monte Carlo statistical analysis. Before Hyperloop One, he assisted at Veillette Guitars, helping build acoustic and electric guitars.
Julien anticipates graduating from Yale University in 2017 with a Bachelor of Science degree in Electrical Engineering. He is currently working on his senior thesis, which combines his passion for sound and virtual reality in the form of a hardware/software setup that allows real time spatialization and auralization for a listener.
Narae Kim, Los Angeles, CA
Narae Kim is a visual designer and a media artist based in Los Angeles, originally from Seoul, Korea. She designs spaces for live performances and creates multimedia art works. She is also an animator, specializing in projection mapping and digital drawing. Her recent works include Tutelarius: 360 Full Dome multimedia performance at Vortex Dome LA, Wanderer: an animation for projection mapping that achieved 1st prize at LUMA Projection Arts Festival in NY, Ocean of Milk: a devised performance at Prague Quadrennial.She is an MFA candidate at California Institute of the Arts, where she is studying Scenic Design and Animation, and expected to graduate in May 2017. She holds a BFA in Space Design and a BA in Psychology from Ewha University, Seoul, Korea.
Richard Lee, Philadelphia, PA
Richard Lee is a computer graphics generalist working on Pippa's Pan 盼 as a technical director, helping to realize the creative vision of the project in virtual reality. He is interested in finding ways to merge his technical and artistic experiences through mediums like virtual reality, animation, and games.
Richard has previously worked at Pixar Animation Studios and Oculus Story Studio, and will be graduating from the University of Pennsylvania in 2017 with a major in Digital Media Design. He cofounded Penn's first annual game jam, has served as President of the computer graphics club, and loves painting and martial arts.
You can find bios of the remaining team members listed below on: pippaspan.com
Irem Oz, Philadelphia, PA
Charlie Proctor, New Haven, CT
Jay Perez, New York City, NY
Jimmy Xia, Rhode Island, RI
Julie Kim, Boston, MA
Esther Gan, New York City, NY
Angela Arzumanyan, New York City, NY
Q: What technologies are you most about?
A: We are content creators so we are about any and all technology that can help us tell a story.
Q: What are your future plans for your project?
A: Pippa's Pan 盼  is the demo film for a VR content studio with a China market focus. We hope to take our film, showcase it, and make it as accessible as possible as we begin other VR content projects.
Q: If you win, what do you hope to do with the prize money?
A: We hope to utilize the prize money to help in the distribution of our film.
What do you think of Pippa's Pan? Are you interested in seeing the movie? Let us know in the comments.
---
Share this post
Comments