Updated: Oct 26, 2016
Published: Oct 15, 2016
Compete in the VR/AR Challenge at the 2017 AT&T Developer Summit for a Chance to Win $20,000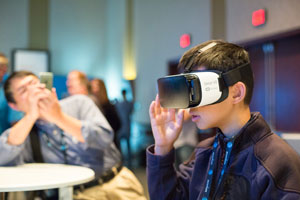 Virtual Reality (VR) and Augmented Reality (AR) are beginning to change the way we see and interact with the world. We created the VR/AR Challenge to find out what innovative ways you would use the technology (including new accessories) to transform the film experience, improve healthcare, or accelerate learning. If you have a winning solution, you could be selected to travel to Las Vegas to demonstrate your project at the 2017 AT&T Developer Summit on January 3-4, 2017, just prior to CES. Here's what you could win:
Grand Prize – $20,000
2nd Place – $10,000
3rd Place – $5,000
How to Enter the VR/AR Challenge
If you have an inspiring idea using VR or AR that can be developed into a functional demonstration, then we want to hear about it. Here's what you need to do:
Register your team here.
Turn your idea into a functional demonstration.
Create a video that describes and demos what you built, and be sure to include samples from the VR or AR experience.
Submit your video by November 11, 2016.
We'll review the videos and invite five finalists to show off their solution at the 2017 AT&T Developer Summit where attendees will vote for their favorites. We'll announce the winner at the AT&T Developer Summit Keynote address. Here are the categories:
Film/Content: Make an audience member feel like they are part of the film with either virtual or augmented immersion in the story. You can include new wearables or other hardware in your solution. This category includes social experience, body movement or gestures, content that reacts to you, or other innovation in the viewing experience. In this challenge, the content is less important than the way you enhance the viewer experience.
Education: Provide new tools to educators to help them accelerate the learning process or to reach those who do not have traditional instructional methods available.
Healthcare: Allow physicians or medical administrators to improve care experiences.
Sports: Help coaches and athletes fine-tune their game through the use of virtual reality for practice, training, or game-day play needs.
We'll be judging the challenge on how VR or AR is used in the solution, the ability to clearly articulate what your app does, originality, and project completeness. If we've chosen your team to come to Las Vegas, we'll let you know on November 18, 2016. Show us what you can do!
For more articles on AR, VR, and all things video, see our new AT&T Video and VR site.
NO PURCHASE NECESSARY TO ENTER OR WIN. A PURCHASE WILL NOT INCREASE YOUR CHANCES OF WINNING. Void where prohibited by law. Contest open only to legal residents of the 50 U.S./D.C., age of majority and older. Contest begins: 8:00 am PT on 9/19/16; ends: 11:59 p.m. PT on 11/11/16. Entries will be judged based on the following criteria (equally weighted): (i) use of AR/VR technologies and application to themes; (ii) ability to clearly articulate what your app does; (iii) originality; and (iv) completeness. Selected finalists must travel to AT&T Summit in Las Vegas, NV first week of Jan. 2017. Subject to full Official Rules. Sponsor: AT&T Mobility, LLC, 1025 Lenox Park Blvd., NE, Atlanta, GA  30319.
---
Share this post