Updated: Apr 14, 2022
Published: Jan 02, 2017
Entertainment Project finalist Para Mi Mamá follows one woman's journey to Colombia in search of her birth mother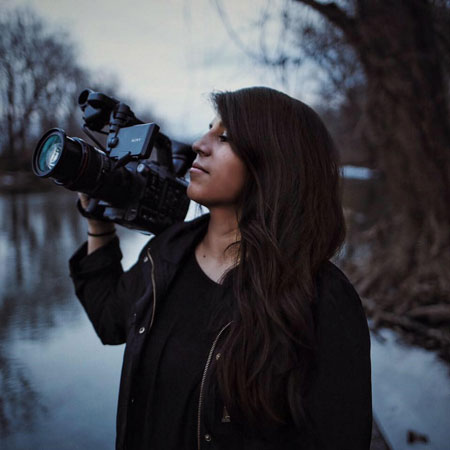 In October, we announced the AT&T Entertainment Project, an open competition seeking imaginative, undiscovered short films from aspiring professional and student filmmakers. Filmmakers are vying for a share of $43,000 in prizes, meetings with AT&T Entertainment executives, and a chance for the winning film to air on the AUDIENCE Network on DIRECTV. We've narrowed down the finalists and will fly them to Las Vegas to show their short films at the 2017 AT&T Developer Summit. Here's your chance to learn about the films before the event.
Para Mi Mamá – A Letter to My Birth Mother is a documentary that follows the adoption of Lexi Hiland and a journey that led her to unexpectedly meet the woman who was responsible for saving her life. Twenty-three years after Lexi was abandoned at a hospital in Colombia, she returned to look for her birth mother. However, on a single day back in Colombia, her path led her to her foster mother — a woman she never knew existed. Her foster parent kept her baby picture and first pair of shoes dating back to 1992 hoping to one day see Lexi again. Spoken in the words that so many adoptees wish they could convey, comes the combination of Lexi's redemptive story, threaded with her work as a filmmaker.
Q: Describe you aim to achieve with your documentary
A: The short film addresses the fact that I never met my birth mother, but was able to meet the people who were responsible for helping me survive. This documentary is a letter to show her that I'm okay, I'm grown up, and that I'm absolutely proud to call myself a Colombian. The film helps address some of the questions I asked myself growing up that have helped me to identity as both a Colombian and an American citizen.
The short film is currently in post-production on its way to becoming a feature-length documentary. I plan to use Para Mi Mamá to promote the feature-length film, La Lotería de la Vida (The Lottery of Life).
Q: How did you come up with the idea for your short film?
A: When I was working as an intern for a documentary company in New York City, I met Chuck, who encouraged me to make a film out of my story. Ever since I learned my foster mother existed, I wondered if it could be made into a documentary. I just never thought that I would be the one who both made it and acted as the subject. I am no Orson Wells, but I have loved bringing this idea to life.
Q: Tell us a little bit about your team and how you worked together to create your entry.
A: Our team is a wonderful and seemingly random combination of incredibly talented individuals. I met our DP once before he agreed to film in Colombia, and Paula (producer from Costa Rica) and I were interns at the same company for a summer. To shoot the film, we all met in Mexico City and then proceeded onto Colombia. The main team was comprised of Charles (Chuck), Tom, Paula, and Nora. I can't imagine filming or going through that experience with any other group. My foster family took them in as if there were no cameras. No glitz; Just really great individuals brought together to tell a great story.
Film Crew:
Lexi Hiland, Director/Producer/Editor – Indianapolis, IN
Charles Kinnane, Assistant Director/Writer – Los Angeles, CA
Thomas Shannon – Bloomingdale, OH
Paula Arce, Producer/Translator – San Jose, Costa Rica
Taisa Mundy, Producer – Indianapolis, IN
Rich McGrath, Writer – New York, NY
Nora Nicholl, Sound Operator – Colorado Springs, CO
Q: What do you find most interesting about making short films?
A: They're actually extremely difficult to make because you're working with a smaller time frame
to get your point across. It's sometimes tougher to stick to the root of the story. I think that's what makes them interesting though, because you really have to think about the main point of your creation. So, with them comes attention to detail. In today's age where our attention spans are getting shorter and shorter, I think that shorter time-frame is a better means in which to be creative and innovative within.
Q: What was your biggest challenge and how did you overcome it?
A: We shot so much footage during our time in Colombia, so the biggest challenge was trying to figure out which way we wanted to tell the story. Another big challenge for me was that making this film meant really digging into my life and being vulnerable about how I felt toward my birth mother. I've been able to overcome this through lots of processing time, my faith in God, and important people in my life.
Q: Is this the first time you've entered your work in a contest?
A: I've used Tongal (contest host) before and won an audio jingle competition, but beyond that I haven't entered many films into contests. There was a Bill & Melinda Gates foundation contest hosted through Tongal a few years ago, and that is where the idea to shoot the short film was born. I didn't end up winning that contest, but the prompt for the contest helped give birth to the idea of turning Para Mi Mamá into a feature-length film.
Q: How did you first get interested in filmmaking?
A: I was always the kid who was creating PowerPoint videos, birthday slideshows, and editing small home movies. I just loved running around with some of my friends with a camera. Movies also inspire the heck out of me. Something within my being jumps to life when I connect with a good film. It wasn't until later that I learned the theory behind the art of cinema, and then the business aspect of making it a career.
Q: What does the AT&T Developer Program and contests like this mean to you?
A: These contests are huge platforms for independent filmmakers to get their work to a larger audience. I love the idea of the AT&T Entertainment Project because while it's not purely specific to technology, it encompasses the way in which we USE the technology to bring stories to life. I cannot wait to be a part of this Summit and experience everything that the AT&T Developer Program has to offer. Really, it's an incredible opportunity.
Q: Who have been your biggest influencers in the film industry (directors, writers, teachers, etc.) and what have you learned from them?
A: Our Assistant Director, Chuck encouraged me to embark on making the film. He's taught me so much about life and I respect him as a friend and mentor. As a Christian, God is at the forefront of everything that's come together in the work I do. There are too many books, teachers, films, etc., to name, but I've learned from a combination of things is that if it feels scary and a little risky, you will face trials, but that probably means that it's absolutely something you must make.
Q: Why should the audience vote for your short film?
A: I think if the film's topic is something you really believe needs to be talked about, then absolutely please do vote for my film. I really started making this because I knew that there were lots of areas of my life where I was willing to dive into. I feel like other people would want to explore those areas in their lives as well, but they are alone in doing so. It's not true, you are never alone on a journey of purpose, identity, and uncovering who you are within your family. I think that's something that everyone can relate to in some way.
Q: What advice do you have for new filmmakers just getting started in the field?
A: The best advice I've gotten from multiple people at different times in my life, is that you just got to get out there, meet people, and GO DO IT! It's easy to lock yourself in a room and tinker with your equipment and imagine yourself creating great works, but unless you really get outside of your comfort space, and connect with other people who are also working on similar things, your work will stay hidden. Use what you have, get good people on your project, and make it happen. Keep doing what you love, and you will never "work" a day in your life!
Q: What video technologies do you see shaping the future of film and content creation?
A: Since I love the raw feeling of documentaries, I can imagine that in the future we will see VR documentaries, in which you can interact with the story. I cannot wait to see how this happens and how people are impacted by the even more raw experience they get through watching a documentary.
Q: What are your future plans for your project?
A: Our team wants to start a conversation about the reality of being adopted/fostered or being a parent who is thinking about adopting or fostering a child. I hope the film inspires others to embark on their own journey of discovery no matter how scary it might seem. Partnerships with adoption centers or foster care organizations that want to see this film completed will be a vital part of moving this project forward — so we'll be looking for those.
Q: What do you hope to do with the prize money?
A: Finish the long-form film. Using the money to see this project to the end goal is really the best I could hope for. Oh, and my car's bumper needs to be fixed 😉
AT&T Official Selection – Para Mi Mamá – A Letter to My Birth Mother
Watch all the films and interviews with the filmmakers here.
---
Share this post