Updated: Dec 23, 2016
Published: Dec 23, 2016
Hackathon Invitational Finalist CoffeeWatch Aims to Solve the Empty Coffee Pot Dilemma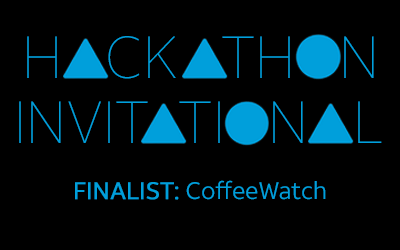 This year we've invited teams who have attended past AT&T hackathons to pitch their best mobile app for a chance to win $20,000 in the AT&T Hackathon Invitational. We've narrowed down the finalists and will fly them to Las Vegas to pitch their app to our executives at the 2017 AT&T Developer Summit. Here's your chance to learn about the finalists as we introduce each one in a dedicated blog post.
For anyone who has ever come to work in the morning and just wanted a cup of coffee, team Coffeepot Hackers has a solution for you. No longer do you need to hear that awful coffee pot gurgle signaling an empty pot. CoffeeWatch aims to solve this problem with an intelligent, Internet of Things (IoT) coffee pot that keeps track of who took the last cup of coffee. Using a Raspberry Pi and camera attached to the coffee pot, the app will take a picture of who takes a cup of coffee. The picture is sent to IBM Watson image recognition APIs to identify the person, and then stored in an Amazon S3 bucket. Now for the fun part, the data is tied-in with a custom skill for the Amazon Echo Dot, so you can ask the coffee pot "Who took the last cup of coffee?" Since the Dot also integrates with Twitter, it can tweet their name, photo, and a clever message so they know never to do it again!
The team consisting of two co-workers used their office environment as inspiration for their project. We talked to Coffeepot Hackers team members Daniel Fairley and Tim Sporcic, whom are both based in Dallas, Texas to learn more about their app, how they came up with the idea and what they plan to do with it if they win.
Q: How did you come up with the idea for your project?
A: We were tossing around ideas with some of our friends at work the day before the hackathon. Since there is already a lot of IoT things for the home, we wanted to try something a bit different and looked to the office. One of our coworkers came up with a smart coffee pot for detecting when someone took the last cup. Brilliant! We were brainstorming ideas on how to determine when the last cup was taken by using things such as temperature and moisture sensors or a weight scale, but then decided to think a bit broader and tie it in with the Echo Dot and Alexa since it would be a cleaner implementation.
Q: Tell us a little bit about your team and how you worked together to create your entry
A: We have been working together professionally for years and have competed in a few hackathons so we already knew each other's strengths. Since there were only the two of us, we carefully scoped what we would try to get done to ensure we could divide it up between us and have something that could demo well. Since this was an IoT hackathon, we kept our focus tightly scoped to that area. We knew we weren't going to just do an app or website, and the Echo Dot replaced the need for either of those quite well. The entire hackathon was smooth sailing for both of us even though neither of us had touched many of the technologies we used before.
Q: How many hackathons have you participated in?
A: (Tim) We're fortunate that AT&T has their Foundry here in Plano, which holds hackathons a couple times a year. It's a tremendous facility, and I've been going to two to three hackathons a year there for the past several years.
(Daniel) I've been to quite a few hackathons over the past five years. Weekend projects are a super fun way to learn a new technology and hackathons give it a competitive edge needed to push yourself just a little bit to not only learn, but to create something fun and amazing.
Q: What has been your experience at AT&T Hackathons and how many have you attended?
A: (Tim) This was probably my 7th or 8th hackathon. I only go to the AT&T Hackathons. They're very well organized, and the topics are interesting.
(Daniel) This is my 2nd AT&T Hackathon and also the 2nd hackathon I've competed in with Tim.  They are extremely well put together and organized. Stable Internet, hot food, and ample workspace are essential and AT&T has always managed to find spaces around Dallas no matter how big the turn out.
Q: What does the AT&T Developer Program and contests like this mean to you?
A: (Tim) I'm not much of a wireless developer, but I really enjoy the hackathons. I always use them as a chance to work with new technologies. For example, I had never programmed a custom skill for Alexa before this Hackathon.
(Daniel) The Developer Program helps me keep up to date with events going on in the Dallas area so I don't miss a hackathon. I love this contest especially since IoT is still a new concept and it gave me the opportunity to be really creative with both ideas and implementation.
Q: Any advice for developers attending hackathons?
A: (Tim) Think of something fun to build and scope it well. Daniel and I have a good feel for what we can get done in a day, and we were careful to scope our project to fit those parameters. I've seen too many teams start with a grand ambition and try to bite off too much. For example, you'll never want to do a login page or a database for a Hackathon. Stick to the theme. For an IoT Hackathon, don't just build a web app.
(Daniel) Come up with a novel concept that will demo well. Lines of code and complicated implementations mean nothing if you can't get on stage and show people how your project solves a well-defined problem. It always helps to inject a bit of humor into it if you can.
Q: Why should the audience vote for your project?
A: I'm pretty sure everyone has dealt with coming into the office and having the pleasure of trying to get a cup of coffee and finding an empty pot. Our project is a solution for every person who wished they could get retribution for this common workplace crime. It has even been field tested at our workplace! It created a lot of laughs, and friends were asking how they could get one.
Q: What advice do you have for new developers just getting started in the field?
A: Don't get overwhelmed with the vastness of the technology space. Pick a stable technology stack and dig-in to it. Do small projects with small scope. For new developers, I would recommend Java (with Spring Boot) or Python (with Django or Flask). While I like JavaScript, I would never recommend it to a new developer. They'll spend too much time trying to figure out an ecosystem which is going to change every few months anyway.
Q: What is the development background of all the team members?
A: Daniel and Tim are both engineers at Research Now in Plano, TX. We work on the same team, and we also worked together at a local consulting company, too. Tim is primarily a Java developer, which he's been doing for 15+ years, working on everything from embedded Java with smartcard terminals to enterprise web applications. He also dabbles in a lot of other technologies, including JavaScript, Python, and Arduino programming.
Daniel is primarily a Java developer as well, which he's been doing for six years. He also does a lot of DevOps work and enjoys creating tools at work that make everyone's lives easier.
Q: Favorite AT&T API?
A: The M2X API for both of us. We used it last year at the AT&T IoT Hackathon to capture streaming temperature data from a sensor. It worked really well and was simple to code against.
Q: What's your preferred coding languages?
A: (Tim) Java, of course, but I've also started to get in to Python. I regret not learning it earlier.
(Daniel) Groovy primarily for web apps, and Python when I need to script something quickly.  There's tons of libraries out there for both and the languages are clean and easy to use.
Q: What technologies are you most about?
A: (Tim) Data-driven web applications in an enterprise environment.
(Daniel) Automation and Web APIs that can tie it all together. It's becoming easier and easier every day to write apps that can mash technologies together into something novel.
Q: What are your future plans for your project?
A: We want to add a learning mode, so we can have the pot capture photos of everyone taking coffee and expose a web application on the Raspberry Pi that allows you to group photos and assign the name, and then train Watson. The image recognition API requires around 50 images to be able to start making accurate guesses, so we need a way to capture those images in a typical environment without walking around with a camera taking a bunch of pictures.
Q: If you win, what do you hope to do with the prize money?
A: (Tim) I have a six-year old Macbook Pro, so I'm thinking it's time for an upgrade. I've always wanted to learn to play guitar, so this will help with a guitar and some lessons.
(Daniel) Tim doesn't know this, but I've always wanted to start a band with him so I hope he gets that guitar. I definitely plan on grabbing a couple Amazon Echoes for home as well as everything I need to start getting more into electronics. This hackathon has definitely sparked my interest in it.
What do you think of the app? Let us know in the comments.
---
Share this post