Updated: Dec 28, 2016
Published: Dec 28, 2016
Hackathon Invitational finalist MendMe's physical therapy app aims to aid wrist injuries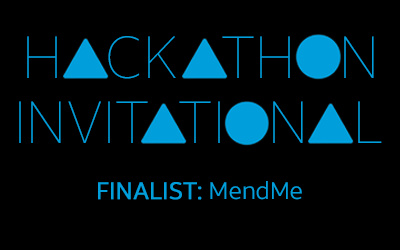 This year at the 2017 AT&T Developer Summit in Las Vegas, we're doing something a little different. We've invited teams who have attended past AT&T hackathons to pitch their best mobile app for a chance to win $20,000 in the AT&T Hackathon Invitational. We've narrowed down the finalists and will fly them to Las Vegas to pitch their app to our executives at the AT&T Developer Summit – an event that is just a few days before CES, one of the biggest electronics shows of the year. Here's your chance to learn about the finalists as we introduce each one in a dedicated blog post.
Team T.H.I.N.K., which was formed after sharing their interests through social media, had an innovative idea to build an app that's wirelessly connected to a physical therapy glove designed to help patients with wrist mobility impairments. The glove can detect the range of motion of the patient's wrist during active physical therapy sessions and detect the number of exercise repetitions they performed.
The app doesn't just interact with the glove; it can also be used as an educational tool. Healthcare providers can upload videos and messages that patients can watch that will remind them about prescribed exercises. MendMe is also a bit of a cheerleader to help motivate patients to do their exercises by providing positive reinforcement feedback based on the degree amount that his/her range of motion is improving – something that may not be detected by visual estimations.
Ultimately, MendMe can help increase the level of patient compliance and be quantitatively record results. Healthcare providers can use this data adjust physical therapy prescriptions accordingly, and provide proof of patient compliance to insurance companies.
We talked to T.H.I.N.K. team members Leo Boghozian of Glendale, CA; Nora Galoustian of Berkeley, CA; Mihir Desai of San Diego, CA; Andranik Sahakyan of Burbank, CA; and Brian Abramian, Burbank, CA to learn more about their app, hackathon history, and favorite coding languages.
Q: What do you aim to solve with this project?
A: Understanding the world that a patient comes from, and whether or not the issue is the physical therapies themselves or lack of patient compliance can help direct health care providers toward a more accurate and custom exercise prescription. Currently, healthcare providers rely on the patient for this data, and patients are ultimately human beings that make errors, can forget, and can lie.
We also aim to solve the issue of treatments with gender and sex bias by doing research on the physiological differences of the wrist in all genders and sexes, and incorporating this awareness into a design that will be effective for everyone. On top of recording range of motion in active physical therapy, our glove will also actively guide the wrist in passive physical therapy. Patients that cannot move their wrists at all can select the physical therapy exercise they want to perform in the convenience of their home through our app, and the therapy glove they are wearing will carry out the exercise by guiding/moving their wrists accordingly. All of this will be done in the patient's home, making treatment more accessible for patients and more efficient for health care providers. Our project ultimately feeds into the sprouting field of telemedicine.
Q: How did you come up with the idea for your project?
A: Our medical researcher, Nora, was shadowing at Children's Hospital Los Angeles and originally wanted to work with prosthetics. However, once the group came together and did more research, this original idea developed into creating a physical therapy glove for finger mobility impairments. We competed with this idea in our first (2016 AT&T Los Angeles Hackathon), and won "Best Overall App."
Upon doing more research and speaking with specialist experts such as Dr. Chin (Harvard medical school graduate, hand surgeon working in Oakland), we were able to better gage what is most in demand and most needed for health care providers, insurance companies, and patients as a whole. Since wrist mobility impairments are much more common and patient compliance is an international issue, we shifted and fortified our focus on creating a project that addresses these problems instead.
Q: Tell us a little bit about your team and how you worked together to create your entry.
A: T.H.I.N.K. is a five-month old non-profit organization that seeks to create innovative and cost-effective solutions for the many issues plaguing the world. We have a vision to change the world through exchanging ideas amongst different fields, such as computer science, biomedicine, and engineering. Through extensive group chats, phone calls, and in-person meetings, we maximized our communication with one another in order to create one coherent and innovative project.
Q: How many hackathons have you participated in?
A: We have participated in one hackathon event.
Q: What has been your experience at AT&T Hackathons?
A: The experience has truly been inspiring, we absolutely love being exposed to different ideas and feel at home alongside other innovators.
Q: What does the AT&T Developer Program and contests like this mean to you?
A: The AT&T Developer Program and contest mean a lot to us, because it provides a hub of communication and exploration of novel ideas. Brilliant and innovative minds from across the nation come together in one room, and share their ideas. This provides a network of people to potentially partner with after the program, and we get to see a glimpse of what future generations will do to make an impact on the world. Additionally, this program allows us to gain experience in communication, work ethic, and public speaking. We are extremely humbled and thankful for this opportunity to gain this experience and to be given a voice.
Q: Any advice for developers attending hackathons?
A: Keep an open mind, do not be afraid to voice your opinion, cooperate, and organize/delegate tasks so that each person has a specific job/function.
Q: Why should the audience vote for your project?
A: We want to revolutionize the healthcare industry and help millions of people around the world, but the only way we can do that is to get the funding we need to make more gloves and to pay for the tools we use to initially create the gloves. No money we receive goes into our own pockets. If you vote for us, you do not just invest in us, but you invest in the millions of patients whose lives will be changed by this project. You invest in the future.
Q: What advice do you have for new developers just getting started in the field?
A: Stay passionate, and do not give up.
Q: What is the development background of all the team members?
A: Nora Galoustian does medical and biological research necessary to know what the function of our projects will be.
Leo Boghozian is the engineer of the team, responsible for the creation of the robotic hand.
Mihir Desai is responsible for web and mobile app development.
Andranik Sahakyan specializes in cyber security and ethical hacking. He is responsible for the communication of the hand and the microprocessor.
Brian Abramian assists in app development.
Q: What's your preferred coding languages?
A: C#, PHP, Java, C++
Q: What technologies are you most about?
A: Our group members have interests in artificial intelligence, machine learning/neural networks, IoT/automation, and robotics.
Q: What are your future plans for your project?
A: We plan on sharing our product with healthcare specialists and hopefully getting it tested on patients.
Q: If you win, what do you hope to do with the prize money?
A: We plan to use it as funding for our future projects, absolutely none of it goes for our own personal expenses. We also plan to eventually fund awareness and education programs for youth pursuing STEM.
What do you think of the app? Let us know in the comments.
---
Share this post