Updated: Jan 20, 2017
Published: Dec 31, 2016
Entertainment Project finalist Bug Man short documentary is one man's journey who finds companionship among insects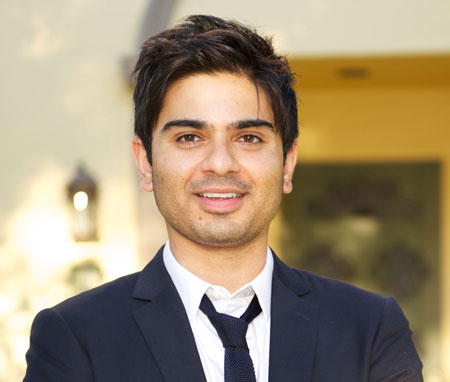 AT&T Entertainment Project, an open competition seeking imaginative, undiscovered short films from aspiring professional and student filmmakers. Filmmakers are vying for a share of $43,000 in prizes, meetings with AT&T Entertainment executives, and a chance for the winning film to air on the AUDIENCE Network on DIRECTV. We've narrowed down the finalists and will fly them to Las Vegas to show their short films at the 2017 AT&T Developer Summit. Here's your chance to learn about the films before the event.
Bug Man is a short documentary that peeks into the creepy and misunderstood world of Steven Kutcher. A strange child, Steven turned to insects for companionship. You'll never guess how that evolved. The short documentary by Iqbal Ahmed explores how one man found friends in the unlikeliest of places. We caught up with Ahmed to learn more about his vision and get his insights on creating short films.
Q: Describe your project and what you aim to achieve with it:
A: My project is a short documentary about a misunderstood man, Steven Kutcher, who found friends – and purpose – in the strangest of places. I wanted the audience to question the assumptions it made about him by slowly unraveling his story, sharing small bits of information at a time. My hope was to build a complex character portrait of a man who, out of context, could be easily misunderstood. By the end, I wanted us to really love this unique person.
Q: How did you come up with the idea for your short film?
A: I wanted to dive into new worlds, so I brainstormed topics that I found fascinating. I realized that there were animal wranglers on Hollywood sets, so maybe there were also bug wranglers. I dug a little deeper and found Steven.
Q: Tell us a little bit about your team and how you worked together to create your entry.
A: Topher (my good friend and cinematographer) and I had worked together on another project, and I pitched this crazy idea to him. I wanted to make a really visual short documentary that would feel strongly tonal and immersive. I wanted to build an intense world through the photography, music and sound design, so that we could feel ourselves in an uncomfortable place. He thought I was slightly bonkers, but he was totally game for the challenge.
Visually, my piece is simple but unrelenting. I wanted us to compound the intensity with these slow push-ins, and then break into a magical world with the insects. I wanted them to be characters themselves. Which meant getting up close with a macro lens and getting over our fears of creepy crawly things!
Film Crew:
Iqbal Ahmed, Director, Los Angeles, CA
Topher Osborn, Cinematographer, Los Angeles, CA
Lauren Nicolette, Editor, Los Angeles, CA
Mark Yaeger, Composer, Los Angeles, CA
Brent Kiser, Re-Recording Mixer, Los Angeles, CA
Erik Denno, Titles, Los Angeles, CA
Bobby Maruvada, Colorist, Los Angeles, CA
Alex Sherman, 1st Assistant Camera, Los Angeles, CA
Laura Jansen, Gaffer, Los Angeles, CA
Henry Hawkins, Production Assistant, Los Angeles, CA
Q: What do you find most interesting about making short films?
A: I love the challenge of telling a full emotional story in under five minutes. It's so hard. You don't get a lot of time to build the world and set the stage. So you can take risks and try new ideas. I love the process: you can go from an idea to a finished project in a matter of a month or two. That's pretty powerful – both as a learning experience and for keeping you fresh.
Q: What was your biggest challenge and how did you overcome it?
A: The biggest challenge for this project was building trust with my wonderful subject, Steven. He's so kind and generous, but he also knows that his work, his home – his whole world – is unusual. It took a while for him to trust me. I told him that I wanted to tell his story from the point of view of someone who might stumble on him working in the middle of the night and how creepy it would feel. I wanted to start from that place of discomfort and slowly reveal his story. After we spent many days together over the course of several months, he trusted my vision for the project, and I'm incredibly proud that he likes the film.
Q: Is this the first time you've entered your work in a contest?
A: Yes! I've only submitted to film festivals before.
Q: How did you first get interested in filmmaking?
A: Growing up, I was fascinated with movies. I loved feeling transported, but it never occurred to me that people could actually make a career of it (At least people who were famous with last names like Spielberg or Coppola). In my circuitous way, when I came to realize that films could combine all my passions – writing, photography, music, and leading – I applied to graduate school and attend the University of Southern California's School of Cinematic Arts.
Q: What does the AT&T Developer Program and contests like this mean to you?
A: This program is incredibly inspiring because it helps support me (and others like me) to make innovative work. With the AT&T Developer Program, AT&T is a modern day patron of the arts. That's a powerful role, and one for which all filmmakers are grateful.  'm grateful for AT&T for giving me the chance to showcase my work.
Q: Who have been your biggest influencers in the film industry (directors, writers, teachers, etc.) and what have you learned from them?
A: I've always loved directors who could surprise me – folks like Hitchcock, Spielberg, Fincher, Villeneuve. Film is a powerful medium that can take an audience on a journey. My favorite filmmakers were those who understood their power to manipulate and reveal information. Those are the wild rides I loved as a kid and still love today.
Q: Why should the audience vote for your short film?
A: I think my film gets to the heart of humanity in terms of what makes humans complex.  It makes us question our discomfort with Steven. The journey we go on ultimately rewards us by showing the audience that he is just like us: he's simply a man trying to follow his passion and connect with people. The way he happened to do that? Well, that's what makes Steven unique.
I wanted an audience to go through the widest range of emotions possible.
Q: What advice do you have for new filmmakers just getting started in the field?
A: I think people need to be willing to fail. Period. The best films take risks and that's why we love them. I can't remember the last film I loved that played it safe. You need to go into each film knowing that you might fail, so embrace it. When you do, and you make strong choices, you learn so much more. The more you learn, the less you'll fail. You keep doing this, and you WILL get better.
Q: What video technologies do you see shaping the future of film and content creation?
A: I definitely think VR is a new technology that will change the way we engage with entertainment. I think there are still new innovations in episodic content also…even if they are micro stories.
Q: What are your future plans for your project?
A: I'd love to find a way to build a TV series or even a feature film from "Bug Man."  I think audiences enjoy diving into the worlds of people like Steven.
Q: What do you hope to do with the prize money?
A: Pay my rent!  In all seriousness, the prize money is totally vital to me. It allows me to make projects that interest me and hopefully others. As filmmakers, we all struggle with making a living and making important personal work. Often, those things are mutually exclusive. I made "Bug Man" with my own savings because it was a story I wanted to tell and I had no idea where it would lead me.
AT&T Official Selection – Bug Man

Watch all the films and interviews with the filmmakers here.
---
Share this post