Updated: Dec 31, 2016
Published: Dec 19, 2016
Meet the AT&T VR/AR Challenge finalists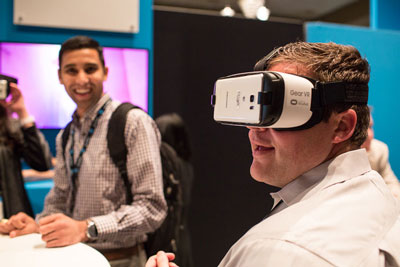 On September 12th, 2016 we announced our first ever AT&T VR/AR Challenge. After roughly ten weeks — including two awesome VR/AR hackathons — we received 67 submissions that blew us away. Entries were extremely diverse featuring solutions in categories including healthcare, education, film, and sports just to name a few; there were also some really innovative entries leveraging IOT and open source controllers.
Our judges thoroughly reviewed each submission, debated their merits and eventually arrived at a total of five finalists and one alternate. Each team will be provided with travel for representatives to attend the 2017 AT&T Developer Summit Conference on January 2nd and 3rd in Las Vegas, with the top five teams demoing their solutions and competing for a grand prize of $20,000.
Without further ado please find a list of our top six picks, in no particular order. Be sure to check our blog in advance of the AT&T Summit for detailed interviews with each team. Here are the VR/AR Challenge entries:
Think Immersive – "In celebration of the 100th anniversary of The National Parks, New York City-based design and content production agency Visual Mercenary Group has put together a 360-degree immersive experience showing the beauty and variety of our national treasures. As part of our THINKIMMERSIVE initiative, visualmerc is exploring this medium as a means to leverage a deeper sense of presence and intimate connection to appropriate subject matter. Director of Photography Radian Antarikso embarked on this expedition across the country for a month, visiting eight parks for the first phase of this production. Our submission includes the following components:
A 360 photography gallery showcasing these locations
A 360 immersive video experiences within each park
An augmented reality (AR) mobile application
A companion microsite with location tracking
Within the 360 photo and video immersive portion, the user starts in a landing area where one can choose the National Park they would like to view, using gaze navigation to select the entrance sign related to the desired park. The viewer is then transported into that environment. The user can simply navigate via the associated map to visit the next point of interest or get there by going back through the entrance sign gallery. With the accompanying AR app, the user can point their phone's camera to a marker (in this case, a National Park poster) to engage in that specific park's environment. To further enhance these augmented and immersive experiences, the companion microsite incorporates additional interactive features such as location tracking (via the google maps API), a photo gallery containing the commemorative poster art, and more elaborate details and descriptions of various locales within each park."
COSM Creator – "COSM Worlds is a platform for importing, composing, and sharing 3D scientific data in the form of interactive visualizations. The platform leverages virtual reality (VR) and WebGL technologies for uploading and editing content, and consists of viewer and creator applications. The creator allows users with content expertise to create virtual experiences and simulations, and share them with the world. The viewer guides users through exploration-focused, data-driven, interactive 3D worlds in VR.
We're solving two problems simultaneously: the lack of high-quality science content in education and VR, and the effective communication of complex scientific information. Multidimensional data visualization and user-generated content are common in the sciences, but it's difficult for scientists to share simulations and other interactive elements due to specialized programming environments and expensive software (with steep learning curves). In order to communicate their research, scientists commonly use movies and images exported from specialized scientific software (many times only available on high-end PC systems), in combination with fee-based software like Dropbox and PowerPoint.
Meanwhile, students and the general population use Wikipedia, textbooks, and online animations to learn about scientific advances from five to ten years ago.  It's almost impossible for learners to get their hands on up-to-date information, let alone consume it in such a rich, interactive form. COSM Worlds Within Worlds is an Early Access Steam application for HTC Vive – the beta version of our viewer – where users can explore the human hand and a water plant from the macroscopic to the microscopic level. COSM Creator, which includes creating and editing features, will be available for WebGL with a select set of features that can be found on HTC Vive and Oculus, and support for importing and visualizing protein crystal structures, neuron data (e.g. from the Allen Brain Atlas), and standard 3D formats such as FBX or OBJ."
Faraday's Lab – "Faraday's Lab is a short VR experience for science education. We designed two VR factors to motivate players to learn about Michael Faraday's discoveries of electromagnetism: first, situating the player in the 19th century historical context; second, empowering the player with Faraday's unique intuition of visualizing invisible force lines. The player enters Michael Faraday's laboratory in the 19th century using a bar magnet in his/her hand. A Voice-guide helps the player to interact with several electromagnetism effects and apparatuses, such as seeing invisible force lines, interacting with dynamic magnetic fields, feeling attracted or repelled with other magnetic objects, and inducing electrical current for powering a light bulb. We also provide historical materials with each experiment.
At the end of the three-minute interaction, the player is able to gain the elementary level of historical and scientific understandings of Faraday's discoveries. However, the exploration does not end here, we plan to accommodate advanced science enthusiasts for more in-depth learning based on Maxwell equations of electromagnetism.
Furthermore, Faraday's Lab takes a different approach of building a customized physic engine utilizing the concept of "fields" from electromagnetism. This also provides a different physic-based experience than Newtonian classical mechanics. This new field-based physic engine in VR may enable players to gain intuitions of field-based physics, similar to the way we get accustomed to things falling down and colliding in our familiar ways."
WaypointRx – "WaypointRx is an augmented reality application designed to help anyone who fills prescriptions (especially non-pharmacists) eliminate fulfillment errors and avoid the harmful or deadly situation of giving someone the incorrect medication or dosage. The application does this by highlighting the exact locations of the drugs on the shelf and the amount needed to fill a prescription, complete with a detailed info card and 3D model of the medication itself. The application also presents an optimized navigation path from one prescription to the next, ensuring that the user is focused on the most important task at hand – confirming that he or she is collecting the right medication.
WaypointRx is deployed on a HoloLens headset. Electronic prescriptions are received and displayed on the headset and an optimal navigation path is presented indicating where to walk to find the next medication. Once a user is in proximity to the location of the medication, prompts change to provide more details on the medicine (including a 3D model of the pill), and the amount needed to be collected. After collection, the user is presented with the path to the next closest medication in the pick list. After all medications are collected the user receives a notification that all prescriptions are filled for the patient. The application also includes a setup mode that allows pharmacies to easily setup a database of physical locations of medications in their pharmacy, making it simple to set up in any pharmacy environment. The application also collects the spatial movement data for users as well as task confirmation information, allowing pharmacies to obtain valuable analytics to make currently impossible decisions, such as determining optimal medication layouts, creating detailed responsibility-trails, and implementing a self-documenting system with data-rich analytics"
Pippa's Pan – "Pippa's Pan 盼 is a reactive VR short film. It takes you, our Agent, through the forest of Pippa's mind to help re-capture fragments of her forgotten memories. Experimenting with techniques in animation, world building, motion-capture, 3D spatial audio, and even light field technology, Pippa's Pan 盼 is set to be one of virtual reality's first hybrid live-action short films. A literal forest woven from the sinews of our team's ideas and youthful naiveté, our group of young dreamers will deconstruct concepts of storytelling to re-invent the relationship between the audience and narrative."
Tone Tree – "Oak is a dock for your iPhone that turns any tabletop into an augmented reality playground. Just place your phone on the Oak dock to get started. Oak comes with different Kits that let you immerse yourself in AR, whether you want to play drums, fly through space or create your own app.
The Rockstar Kit lets you play any instrument anywhere. Just place the included pads down in front of Oak and break out into a jam session. Carry a music studio in your pocket!
The Gamer Kit turns your table into a battlefield. Collect powerful AR trading cards, place them in front of the Oak and watch them come to life as you battle your friends.
The Explorer Kit lets you pilot your own spaceship. Use a toy ship to dodge asteroids and battle enemies as you explore deep space. With the ship placed in your hand, you're in full control.
The Developer Kit lets you create your own augmented reality apps. Our powerful SDK is built on top of familiar iOS APIs to make developing AR fast, affordable and easy.
Oak uses patent pending computer vision technology to see and understand the space in front of your iPhone. The items included in the kits are what we call totems, which are simple pads, cards, and plastic toys. Oak uses these totems to control the virtual world. Oak also includes a laser in its base that detects when the user is interacting with totems. Just place your iPhone on the Oak Dock, launch the Oak App, pick up an Oak Kit, and play!"
You'll be able to see these in action at the 2017 AT&T Developer Summit in Las Vegas. Register today.
---
Share this post