Updated: Dec 27, 2016
Published: Dec 27, 2016
Meet AT&T Hackathon Invitational Finalist Team Raise the Bar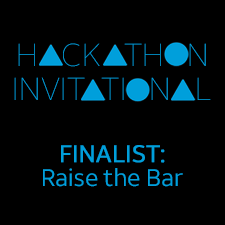 This year we've invited teams who have attended past AT&T hackathons to pitch their best mobile app for a chance to win $20,000 in the AT&T Hackathon Invitational. We've narrowed down the finalists and will fly them to Las Vegas to pitch their app to our executives at the 2017 AT&T Developer Summit. Here's your chance to learn about the finalists as we introduce each one in a dedicated blog post.
John (Jack) Meyer, Brian Ritz, Abigail (Abby) Greentree, and Aemile Donoghue met at the first hackathon they ever attended, which happened to be the AT&T Hackathon at Notre Dame. Abby and Amemile heard Brian's pitch to help change the way athletes track progress in the weight room. While doing squats in the weight room, Brian wanted to know how much force he was putting into the bar and to ensure it was traveling vertically (not back or forward) during reps. The solution was to put Internet of Things (IoT) technology into the weight collars that everyone uses in the gym. The three managed to convince Jack to join the team.
We caught up with the team to hear more about their background, experience at hackathons, and what they plan to do with their project.
Q: What has been your experience at AT&T Hackathons?
A: This was our first hackathon we ever attended, but it was a great chance to meet other people who have the same interest as we do.
Q: What does the AT&T Developer Program and contests like this mean to you?
A: This was a great chance for us to get more experience working with a team to develop a product. For most of us, it was a good opportunity to get introduced to mobile and IoT programming, and develop some experience in leading a product in development.
Q: Any advice for developers attending hackathons?
A: THINK BIG, and then start small. Divide the project into discrete, dependent tasks that can be completed on a schedule. The timeline is short, so it's important to be organized and sure that everyone is working on something important to the final product.
Q: Why should the audience vote for your project?
A: They should select the project that they think has the most potential to develop into a scalable business. There are >35,000 health gyms in the U.S., and we are offering each of them a way to differentiate themselves from the competition.
Q: What advice do you have for new developers just getting started in the field?
A: You need a project that you are interested in completing. Learn from doing a project and use it as motivation for the team. Taking a "course" on programming is not as valuable as making something, and learning along the way.
Q: What is the development background of all the team members and their preferred coding languages?
A: Brian is a data scientist who makes python scripts to execute statistical procedures. The other team members are students who are in coding courses. Jack likes Java, Brian prefers Python, and Abby and Aemile like to work with C.
Q: What are your future plans for your project?
A:  We would like to validate a market for the product, and then sell it to that identified market while refining the product meet their needs.
What do you think of the app? Let us know in the comments.
---
Share this post