Updated: Apr 13, 2021
Published: Aug 17, 2017
How technology will transform 2028 Olympic experience in Los Angeles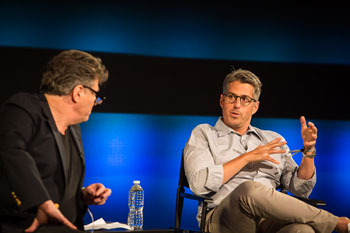 Casey Wasserman, Chairman and CEO of Wasserman chats with commentator Andrew Keen
Just as technology has reshaped so many aspects of daily life, it has brought new dimensions to the entertainment experience. From virtual reality to artificial intelligence and social networking, entertainment in the 21st century will engage all the human senses and connect people in new ways. Join us as we talk to Casey Wasserman, Chairman and Chief Executive Officer of Wasserman agency, to explore what Los Angeles (L.A.)  is doing to ensure is it the top entertainment hub of the future, and what implications there are for network build out, smart cities, content creation, and fan engagement.
Note: At the time of this Futurecast, it was still undetermined which Olympics Los Angeles would be hosting. Since then, it's been decided that L.A. will host the 2028 Summer Olympics.
There's been a lot of change in L.A. since the last time the city hosted the Summer Olympics in 1984. The change is not just because over 30 years have passed and well, change is inevitable. According to Alex Padilla, California Secretary of State, the city has made a concerted effort to embrace technology and transform itself into a global leader in innovation. The city sees a way to use smart sensors to communicate to officials relevant information about its health and status of the city and its infrastructure. As part of becoming a smart city, they are striving to provide under-represented communities the same access to technology as everyone else. Los Angeles isn't the only part of the state that is benefiting from technology; there are currently 1.1 million tech workers state-wide.
Part of that infrastructure the city is investing in will go a long way in helping to put on a Summer Olympics event unlike any before it and all without bankrupting the city. Los Angeles Mayor Eric Garcetti tapped Casey Wasserman, Chairman and CEO of Wasserman, to head the city's Olympic host efforts. Wasserman, who is passionate about sports among other things, sees how augmented reality (AR) and virtual reality (VR) can alter sporting events to make them more personal and inclusive. That's exactly how he envisions the Summer Olympics 2028.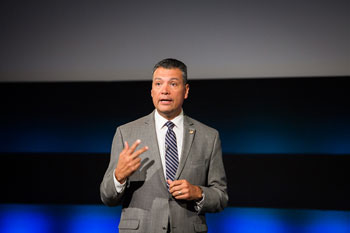 Alex Padilla, Secretary of State California
Since L.A. is already home to multiple sporting arenas, there will be no need to invest in building stadiums. State-of-the-art venues already exist, and they can use the money to invest in technology that will make the Summer Olympics in L.A. the most personalized and interactive games yet. It's not just having existing sporting venues, L.A. is also home to two huge college campuses, UCLA and USC, that are within ten miles of each other. Wasserman envisions housing the 17,500 athletes at UCLA and the world's media at USC.
What technology allows you to do is find the people who like a specific sport and communicate directly with them. You can also provide immediate information about players, so spectators don't have to spend time looking at their phone searching for pertinent details. Sensors could be used to pinpoint the exact location of players and key personnel. Badges could hold the information needed about attendees including tickets to their events.
Now that L.A. doesn't have to invest in physical infrastructure, what can the world expect? Wasserman believes that AR and VR have the most potential to change the entire sporting experience. With volumetric experiences, viewers can step into the skin of someone else and see the world through their eyes. Now imagine letting a million people do it simultaneously. It is capable of dramatically changing the way we experience the Olympics regardless if you're in L.A. or half way around the world.
They Olympics promises 17 days of the best stories; the question is how will technology inform the way L.A. will tell them to the world. Watch the complete Futurecast:
Read about other experiences at past Futurecast below and visit the site for more on upcoming events:
—
Casey Wasserman is the Chairman and Chief Executive Officer of Wasserman, a leading sports, entertainment, and lifestyle marketing and management agency that represents brands, properties, and talent on a global basis. In 2014, Los Angeles Mayor Eric Garcetti appointed Wasserman to head the city's Olympic host efforts as the chairman of the LA2024, and in September 2015 the U.S. Olympic Committee selected Los Angeles as its bid city for the 2024 Olympics.
Wasserman also serves as President and CEO of the Wasserman Foundation, a private family foundation founded in 1952 by his grandparents Lew and Edie Wasserman. The foundation currently funds in the areas of education, arts & culture, health, service and global initiatives. Wasserman is a trustee of the Los Angeles County Museum of Art, and a board member of several renowned philanthropic organizations including The Jules Stein Eye Institute, The LBJ Presidential Library, and The Motion Pictures & Television Fund. Wasserman serves on the board of directors of Activision and the digital media company, Vox Media. He holds a B.A. in Political Science from UCLA and resides in Los Angeles.
—
Alex Padilla was sworn in as California Secretary of State on January 5, 2015. He is committed to modernizing the office, increasing voter registration and participation, and strengthening voting rights. Padilla previously served in the California State Senate (2006-2014) where he chaired the Committee on Energy, Utilities, and Communications. In 1999, at the age of 26, Padilla was elected to the Los Angeles City Council to represent the same east San Fernando Valley community where he grew up. In 2001, his colleagues elected him to the first of three terms as Council President, becoming the youngest member and the first Latino to serve in this capacity.
—
The AT&T Foundry Futurecast, collaboration between AT&T Foundry and Ericsson, is a gathering of thought leaders designed to vet, debate and ultimately spark ideas that will set the course for our collective technology future. We invite the best and brightest around a particular topic to participate in a curated, intimate discussion with fellow experts in the field. It is a fantastic opportunity to move conversations forward, challenge orthodoxy, and generally define the future. www.futurecastseries.com
---
Share this post