Updated: Oct 08, 2021
Published: Mar 11, 2016
Inspiring tech wisdom from renowned DJ Young Guru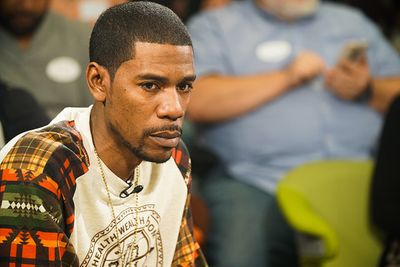 The AT&T Foundry Futurecast, collaboration between AT&T Foundry and Ericsson, is a gathering of thought leaders designed to vet, debate and ultimately spark ideas that will set the course for our collective technology future. We invite the best and brightest around a particular topic to participate in a curated, intimate discussion with fellow experts in the field. It is a fantastic opportunity to move conversations forward, challenge orthodoxy, and generally define the future.
The Futurecast, Embracing Technology through Content, at the Palo Alto Foundry was centered around Young Guru, renowned DJ, and audio engineer. We explored the evolution of technology and content creation, the democratization of content, and how to break through the noise. Guests included startup founders, developers, accelerators, corporate and community partners at the discussion moderated by Andrew Keen. The program included eight startups who demonstrated technologies that enable people to create and experience content: BudtoBud, Glanse, Lisnr, Samsung Milk Music, Seenfire, Sensel, SubPac, Wyndow. Comments and questions from the audience covered how tech can help change the business model for artists, the value of information in the information age, art education, streaming experiences, and piracy.
Guest Post by Sierra Jewell, Design Thinker
My hackathon team was invited to Futurecast after making the top 20 of over 160 teams at the 2016 AT&T Developer Summit Hackathon. Our TV app Bingeez, used DIRECTV APIs to allow users to get paid to binge watch TV (watch Bingeez hackathon pitch here), won Third Place for the Most Innovative Use Of DIRECTV APIs.
As soon as I arrived at the Foundry, I was thrilled to see the Subpac demo booth. I recently discovered the brand after watching an interview on Hot 97 featuring music producer Timbaland. Subpac provides an immersive audio system that allows users to physically feel music at high fidelity. I had the opportunity to try out the Subpac M2, a wearable model of this audio system, and I became a walking subwoofer. It was dope!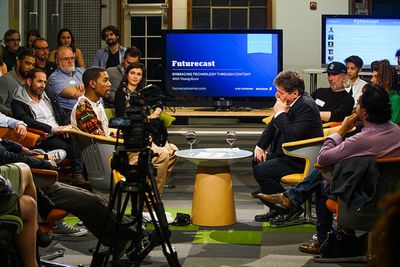 Young Guru, audio engineer, record producer, and DJ who has mixed 11 of Jay-Z albums, shared how he has navigated his career through the transition of the music industry, his thoughts on content creation, and the concept of reinvention.  As a lover of Hip Hop, I was especially excited to attend this event because Young Guru has worked with many of my favorite music artists such as Jay-Z, Kanye, Beyonce, and Rihanna. This isn't the first event I've attended featuring Guru. In October, I went to his Unmasterclass at Ex'pression College but it was hard to connect with the presentation because he was demoing techniques on audio engineering software I've never used and speaking in terms that were foreign to me. As a graphic/user interface designer I use an entirely different set of tools; however, here Guru promoted the commonalities between design and engineering and emphasized that fundamentally they are the same.
"Engineering is designing something." – Young Guru
From my experience working in the tech industry, designers and engineers are understood as serving two distinct roles. Guru used these terms interchangeably and I noticed a few squinted eyes and tilted heads in the audience. He explained that "someone has to design everything that we use" and essentially that's what designers and engineers do, they design solutions that fix problems. That's exactly how Young Guru began his journey as an engineer. He was a curious kid that loved reading and fixing things; he was a geek.
"Claim Geek" – Young Guru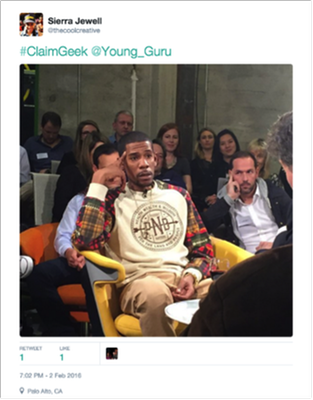 #ClaimGeek @Young_Guru pic.twitter.com/8jGugS5ZsO

— Sierra Jewell (@thecoolcreative) February 3, 2016
Guru explained how he always saw "geek" as something positive, he claimed it, and made it cool. I was definitely feeling the connection. I too, was often and still am called a "geek" or "square" and it's usually followed up with "but you're a cool one though." (Laughs) To this day, I wear geek as a badge of honor; my wardrobe literally consists of mostly tech t-shirts and my bedroom is dressed with gadgets and trinkets. Like Guru, this thirst for knowledge led me to developing my talents at a young age, ultimately helping me become the designer I am today.

"Talent doesn't mean anything until you get it out. It's the necessary core… but talent alone will not make you successful." – Young Guru

Guru spoke of "reinvention," a concept I understand well. I started teaching myself Photoshop in high school. Although I've been using the software for over 10 years now, the projects I've created have evolved over the years. I went from manipulating photos for fun to print design to now designing websites and mobile interfaces. Along with this mindfulness of keeping my skillset relevant, sharing my work has undoubtedly opened doors to unexpected opportunities. As a matter of fact, I was offered my first job at a tech startup after aimlessly posting design projects on Facebook. I think it's cool that you can learn something from the Internet and make a career out of it.

"We have access to everything. Anyone can be content creators." – Young Guru

I can certainly attest to this. Not only has the Internet provided the tools and resources for me to develop new skills, but I've always been able to find ways to monetize what I learned. I'm grateful to have experienced this transition from analog to digital. I've had cassette tapes, CDs, and MP3s. Moreover, I've had hustles associated with these evolving mediums. I sold burned CDs in middle school and later customized ringtones for Nextel phones in high school. It was always funny to me because essentially, I was selling something that was free.

"How are we gonna sell music if music is free?" – Young Guru

Guru explained that content is what is being sold. Before things became digitized, music was sold through some medium. Even though technology cut the revenue of the global music industry in half over the past 15 years, the open source movement has afforded music artists and other content creators the opportunity to create new income streams. As technology evolves, there are new problems to be solved. Piracy, for example, was a huge factor in the downfall of the music industry. Guru suggests that you don't fight the pirate, you buy them out or fix the problems they are fulfilling.

As a designer, the evolution of technology excites me because I can be the one to design something that fixes the problem.

—

About The Principal Guest

Gimel "Young Guru" Keaton, known as one of the most notable engineers in the history of pop and hip hop music, is most recognized for shaping some of the biggest talent in the industry. A true sound genius and orchestrator, Young Guru has earned himself a number of shout-outs on Jay-Z's tracks paying homage to his exceptional skills behind the boards.

Young Guru is active in giving back to youth through education. As an artist-in-residence at USC's Thornton School of Music, he has worked with students studying hip-hop, electronic music, and songwriting. He has also created The Young Guru Foundation to assist students in studying production. Learn more

About the Author

Sierra Jewell has been designing for over 10 years, but has been drawn to web and mobile in the past four years. She is currently a graphic designer at Mayvenn, an e-commerce platform for hair stylists, where she designs all of the marketing materials and stylist resources. She participates in hackathons regularly, and has served as a design mentor at My Brother's Keeper Hackathon in Oakland working with underserved African-American youth teaching several young men how to leverage design to make their ideas and products come to life. Follow her @thecoolcreative

—

Read other Developer experiences attendees at past Futurecast below and visit the  for more on upcoming events:
---
Share this post