Updated: Oct 07, 2015
Published: Oct 07, 2015
Learn About How to Engineer a Culture of Creativity and Why a Failure Resume Can Help Propel You Forward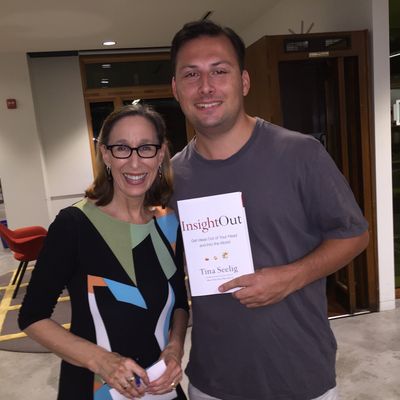 The AT&T Foundry innovation centers are fast-paced and collaborative environments. AT&T and technology providers work in the AT&T Foundry to deliver applications and services to customers more quickly than ever before. The AT&T Foundry – along with AT&T Foundry sponsor Ericsson and Andrew Keen, author of Cult of the Amateur and Digital Vertigo – host a series of curated, intimate discussions called Futurecast. These discussions with thought leaders are designed to vet, debate, and ultimately spark ideas that will set the course for our collective technological future.
About this Futurecast: In today's fast-paced and constantly changing tech world, creativity is essential to innovation, growth, and competition. Companies – big and small – are investing in new ways to encourage creativity and fresh thinking, ranging from the use of open office floor plans to the proliferation of new "innovation centers," some with more success than others. What is it that catalyzes or inhibits creativity in individuals, teams and communities? What are the best ways to nurture that creativity, whether in a startup or established industry leader? And finally, once we find that creative spark and develop a great idea, how do we scale it quickly and actually act on it?


Guest Post by JeanCarl Bisson, Developer and Co-founder of Sleek-Geek Inc.
Tina Seelig is a Professor at Stanford University and believes in being curious and asking questions. Seelig once found a listing for a junior level position and tossed the job description in the trash. The next day she pulled the crumpled piece of paper out and applied. She took the position, which offered her lots of opportunities, even though she was overqualified.
Seelig said that when we get our first job, we are getting the keys to the world. We should look at the opportunities that can come about within the organization, not just the role we start at. Where can these opportunities take us in the future?
Invention Cycle
In her new book Insight Out: Getting Your Ideas Out and Into the World, Seelig describes what she calls the Invention Cycle. There are four stages:


Imagination is envisioning things that do not exist
Creativity is applying imagination to address a challenge
Innovation is applying creativity to generate unique solutions
Entrepreneurship is applying innovation, to bring unique ideas to fruition, inspiring others' imagination
We are all imaginative creatures. When we engage in the world around us, we observe how things behave and work in the surrounding environment. Using our imagination, we think up new possibilities, and wonder if they could be reality.
With creativity, we apply our ideas to address a challenge. Maybe it's a problem we have experienced personally, or one that we observe in the world around us. These ideas are new to us, but don't necessarily have to be new to everyone.
Innovation happens when we take those ideas and generate unique solutions. These ideas are new to both us and the world. Often times these ideas challenge assumptions, reframing situations and connecting disparate disciplines. Finally, entrepreneurship is taking the whole thing out into the world and inspiring others to adopt what you've built. The Invention Cycle continues and adds new dimensions and approaches, each stage stimulating the next. The cycle loops back to the imagination stage and completes another loop.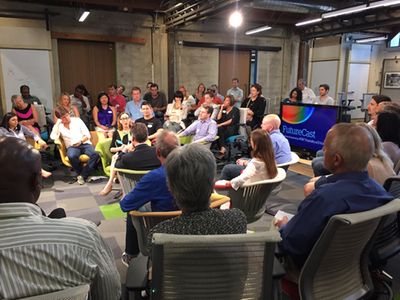 Finding Your Passion
Seelig talked about how passions come about. We are not born with our passions. Instead, we venture out into the world and through engagement with things around us, we find our passion.
She is a huge fan of experimentation. Occasionally, experiments don't turn out as expected. She calls those failures, which are good. She uses failures as data points that are evaluated when starting new opportunities. She even has what she calls a "failure resume," and requires her students to do the same. The failure resume lists the failures that you have experienced and lessons you have learned.
The topic of energy also was discussed. If you are really excited (passionate) about something, you have a high level of energy. You have to find something you are really passionate about and the energy to pursue it will come.
Culture and Its Effect on Creativity
If you feel stifled in your daily job, it's pretty normal. Every organization has a culture. Seelig said you can either follow the rules, or play for the other side. Large companies are often big silos, with cultures that are hard to change and be creative. You are expected to perform your specific task and are rarely given a choice of being creative and thinking "outside the box."
At the AT&T Foundry, the team is given the opportunity to try new things. One of the attendees from the Foundry said you can be an innovator in a large organization. The AT&T Foundry was built with autonomy to try things and explore partnerships that wouldn't be just as easy in other parts of the organization.
A silo keeps a group of people insulated from another group in the same organization. Breaking down the boundaries of a silo is often desired and has many benefits. Cross pollination across teams is important to bring new opportunities to a large organization. Seelig said interesting things happen at the boundaries. Management's responsibility is to inspire those to be creative.
Rules Are Made to Be Broken
Seelig discussed that most rules are really recommendations. If you give kids choices in their daily life, instead of rules, you invite them to be more creative. For example, in math adding two numbers can be done in more than one way. A rule of adding two numbers in a specific way is only one of many ways to approach the problem. Another math example, how many numbers add up to the number of ten? You go from a problem with one answer to one with infinite answers. You get to choose what solution to pursue.
There was a 13-year-old teenager in the audience. After the event, I had the chance to talk with him more. From nearly day one at school, we are told to follow rules and best practices. Seelig had asked him if he ever stretched the rules. His answer was non-definitive because we are expected to follow rules, but he said some rules are broken. Seelig suggested that if we are given more than one alternative, we feel freedom and empowerment.
In the workplace, we are expected to perform certain roles and have a certain output. If we are given a little more freedom, many of us can immediately provide additional value to the organization. However, this freedom usually takes initiative from the top down. I asked Seelig how one could change an organization from the bottom up. She recommended starting with something small.
Make minor adjustments to your approach within the organization and then expand it to a colleague. When they see the minor changes they can make and its effects, they will further motivate others to do the same. As the whole team changes their approach, management will see the positive benefits and spread this further up the chain. Eventually everyone will accept the changes and use them in the culture of the organization. This sounds like it's easier said than done, but the effects can be tremendous and end up changing an organization to value employee input in innovative ways.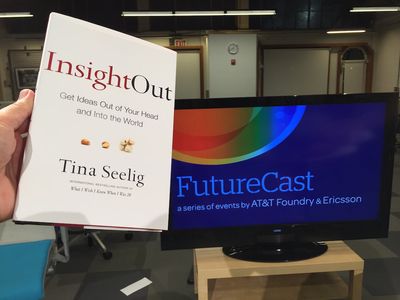 The Invention Cycle at AT&T Hackathons
Over the past six years, I've attended over a hundred hackathons. For those who haven't heard about hackathons, they are weekend code-a-thons where developers, designers, marketing and business people get together to dream up solutions to problems they have. The AT&T Developer program hosts hackathons around the country and award prizes for the best concepts. You can read my recent blog post of typical roles at a hackathon here.
What's interesting about hackathons is that you can practice the Invention Cycle. In fact, the process of going from nothing on Friday night to something on Saturday night almost exactly mirrors the Invention Cycle. On Friday night, a new team forms and starts thinking of new ideas that envision things that do not exist. Using experiences from each teammate, the team generates a vision. Feeding off the creativity of other teammates, the ideas build on top of each other. Someone sits up and snaps their finger when a unique solution pops into their head, and they find themselves at the innovation stage. The process of building the solution and showing it off at the end of the weekend is the start of the entrepreneur stage.
Failure Is an Option
We often have ideas, but don't pursue them. Either we personally don't have the confidence to take them to fruition, or we are part of a larger organization that inhibits the process. Personally, we are sometimes afraid to fail. What if we try something and don't succeed? We are embarrassed and promise ourselves never to do that again!
Seelig encourages her students to fail, err, in a positive way. Failing to succeed with an idea should be seen as a positive learning experience. By failing, you have learned how something didn't work as expected. In Seelig's words, you have another "data point," which are used to avoid repeating the same process again, and improves new ideas you pursue.
As mentioned above, she requires her students to keep a 'failure resume.' The resume reminds her students of what failures they have had, and what they've learned from each experience. Seelig has her students brainstorm 100 approaches to ideas. Some are intentionally terrible. During the Futurecast, she asked the audience for ideas that turned into selling rotten food. Some of the ideas were rotten, but offered others inspiration for their suggested approaches.
Short-circuiting the Cycle
As a developer, I am always coming up with ideas for new web apps and games. After hearing Seelig speak at Futurecast, I've realized that I have short-circuited the cycle. Instead of ideating over a solution, I am eager to start building something. If I took a step back and tried to brainstorm 100 approaches to the problem, I might be able to save time on innovating the concept and come up with a more unique solutions. By taking the first solution that comes to mind, I'm more likely to use existing solutions instead of finding the boundaries that need to be tested, and discovering the unique, unseen vision.
I may already be unconsciously innovating on the ideas in a different way. As I'm building out a new app, I am imagining the future possibilities that the app might take. I introduce expansion points that allow future ideas to be hooked in with relative ease.
The next time I start a new project, I'm going to pull out a blank tablet and start finding the worst solutions to the problem I'm tackling. I'll figure out better approaches to solving the problem until I come up with 100 solutions. Finding 100 solutions might be exhausting, but it will definitely open my mind up to plenty of opportunities.
Sounds like it's time for another hackathon.
—
Tina Seelig is an international bestselling author and award-winning professor who teaches creativity to some of the brightest minds in the world. As Professor of the Practice in the Department of Management Science and Engineering, the Executive Director of the Technology Venture program at Stanford, Tina has received numerous accolades honoring her as a national leader in engineering and education. She has also authored 17 popular science books, including her most recent, Insight Out: Getting Your Ideas Out and Into the World.
For more information on the AT&T Foundry innovation centers, read more here and watch prior Futurecast recordings here. Visit the Futurecast Facebook page here.
—
JeanCarl Bisson is a web developer and Co-founder of Sleek-Geek building mobile tools and games for the classroom. His team built the Read With Me app, a reading assessment platform, and won first place at an AT&T mobile education app hackathon. JeanCarl was also a part of the 2015 AT&T Developer Summit winning team that created the Anti-Snoozer app. Read his other AT&T Developer Program guest blog posts: What to Expect at Your First Hackathon, Futurecast at the AT&T Foundry: Nir Eyal and Habit-Forming Products, Conquering Enhanced WebRTC API with Story Time and 5 Hackathon Roles that Have Nothing to Do with Coding.
---
Share this post