Updated: Feb 10, 2016
Published: Feb 10, 2016
This Tech Evangelist's thoughts on innovation will surprise you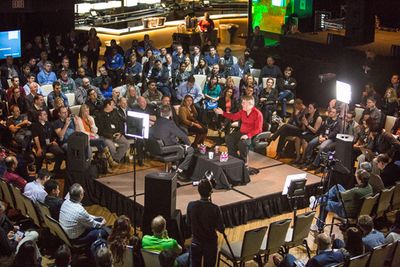 At this year's AT&T Developer Summit and Hackathon, attendees had the opportunity to attend a Futurecast featuring tech evangelist Robert Scoble. Here's the description of the talk:
Navigating the Innovation Curve Futurecast at the AT&T Developer Summit: There are some who meet the future with excitement, never reluctant to sign up as a beta customer despite potential product bugs, serving as a kind of guinea pig. Others wait for more efficient and less expensive versions of a product at the end of the adoption life-cycle. Technology we take for granted today – from smartphones to hybrid vehicles – were once thought to only appeal to early adopters. The entrepreneurs, developers, and innovators of today need to consider the long market-acceptance struggle when creating groundbreaking new industries or simply re-inventing existing ones. Why do some technologies get adopted while others don't? With the inundation of connected products and cloud services, how do we embrace the everyday user to leverage them to bring the rest of the world along? Can they help accelerate tomorrow's solutions for the mass market or do we even need to?
The lively conversation covered a bevy of topics including why developers should be excited about the future beyond the mobile era. Gary Shapiro, President of the Consumer Technology Association, kicked off the event with a few opening remarks. At the heart of his statements were two core concepts: disruption is essential for change, and innovation is doing something that makes the world better.
We are at a point in history where it's easier than ever to build new products and services. Between open source, the multitude of tools available, and hackathons, transforming an idea into a working product in just 24 hours is becoming the norm. The key to being successful in this fast-paced development world is in knowing when the time is right to bring it to the market.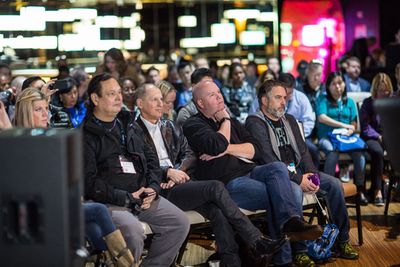 What Makes Today's Vision a Hit 10 Years From Now?
Scoble offered quite a few instances of when the idea was good, but the timing wasn't right or something in the execution fell short. Google Glasses for example, he noted, "It wasn't the technology that was the issue – it was the way it looked." He mentioned, two companies had announced attractive glasses with small monitors that could provide insight into the real world. Smart Glasses may be innovative now, but ten years from now it will morph into something different. We might end up having something small that we wear on our face that will tell us what we want to know, he suggested. The Apple Newton is another example; it came out ten years before the iPhone – the right idea, but too early. The point is to keep innovating, and if it's useful, adoption will come.
While Scoble was a big proponent of the saying "ten years from now," the investors at the event said they focus more on the next couple of quarters. For example, they are more interested in the technology that is going to solve an issue in the next six months. Yes, autonomous cars are appealing, but they are more interested in the tech that can go into the car now then what it will be like in the long-term future.
How do developers know if they're on the right track? Scoble had some suggestions for this, as well. Look beyond your borders, other countries may have slower networks, but that has forced them to create different kinds of solutions. The key is to think about how some of those use cases will come back to us. Scoble mentioned that he spends a lot of time observing how people respond to things and considers what would "Joey, bag of donuts, from Minneapolis" want to do with it. Once they experience it, is the item something they would add to their Christmas list?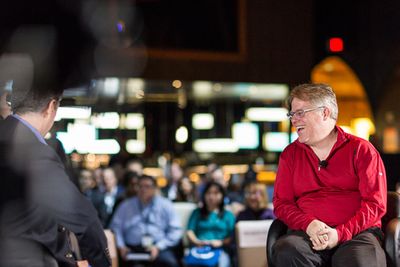 Developing for Innovation
After the initial discussion between Scoble and host Andrew Keen, the audience was invited to join the conversation. During this time, quite a few developers asked Scoble about his thoughts on tech issues as varied as using polling apps for elections to technology replacing the workplace to the real cost of innovation. These topics left people with even more questions and much to ponder. With that in mind, we reached out to Gabriel Ortiz, CEO of Nimblestack, and Peter Ma, a developer on the 2015 Summit Hackathon winning team Anti-Snoozer, who attended the event to get their thoughts on the Futurecast.
Both Ortiz and Ma agree that there's never been a better time for creating new products. "Twenty years ago it would take millions of dollars of funding to build out infrastructures and hire engineers. Today all you need is your computer, an Edison board and a couple of sensors. AT&T and other companies have built out the cloud infrastructure, which minimizes the cost for the entrepreneurs," said Ma.
"We've had a lot of great things happen due to the Internet and the availability of data and apps," says Ortiz. "The maker revolution, which has brought forth integrated and easily programmed dev kits with microcontrollers and sensors, allows us to build real-world hardware products cheaply."
While the discussion covered a broad range of areas that are ripe for innovation, a few stood out to the developers attending. "Developers should play with drone technology as much as possible before it gets more regulated, as Robert mentioned. You need to break something before government steps in and says what can and can't be done," said Ma.
"I agree that a more granular understanding of the world through computing has certainly impacted the expectations of consumer electronics. To me, we appear to be trending towards a networked world working in tandem with integrated robotics," said Ortiz.
It's clear that we are at a point in time that has moved many innovation roadblocks. The real challenge now is to think about why you're creating a particular app or product. Ma adds, "I hope everyone who wants to build their own startup would just ask themselves, 'Am I making something useful? Or am I just making noises?'"
Read other Developer experiences attendees at past Futurecast below and visit the Futurecast portal for more on upcoming events:


—
Robert Scoble is a blogger, technical evangelist, and author. Scoble is a well-known and popular personality on social media and is one of Silicon Valley's most respected commentators on new technology and start-ups. He currently works for Rackspace and the Rackspace-sponsored community site Building 43 promoting breakthrough technology and startups.
—
The AT&T Foundry – along with Ericsson and Andrew Keen, author of Cult of the Amateur and Digital Vertigo – host a series of curated, intimate discussions called Futurecast. These discussions with thought leaders are designed to vet, debate, and ultimately spark ideas that will set the course for our collective technological future. Featuring guests like Sebastian Thrun, Gavin Newsom, and Steve Case, Futurecast discussions revolve around how technology is shaping our world. Each event focuses on a single topic, such as the science fiction of Silicon Valley, the use of technology in government, and investing for inclusion. www.futurecastseries.com
The AT&T Foundry innovation centers are fast-paced and collaborative environments that work to deliver applications and services to customers more quickly than ever before.
---
Share this post