Updated: Nov 24, 2015
Published: Nov 24, 2015
The science fiction of Silicon Valley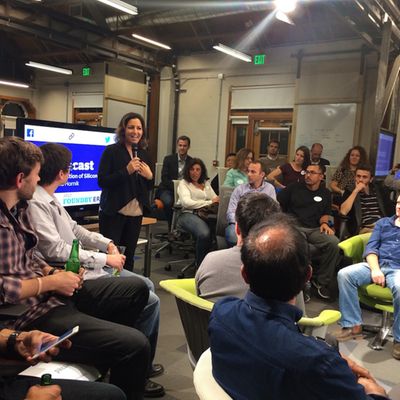 The AT&T Foundry innovation centers are fast-paced and collaborative environments. AT&T and technology providers work in the AT&T Foundry to deliver applications and services to customers more quickly than ever before. The AT&T Foundry – along with AT&T Foundry sponsor Ericsson and Andrew Keen, author of Cult of the Amateur and Digital Vertigo – host a series of curated, intimate discussions called Futurecast. These discussions with thought leaders are designed to vet, debate, and ultimately spark ideas that will set the course for our collective technological future.
About this Futurecast: Technology we take for granted today – from smartphones to space travel – was once science fiction. The new frontiers range wildly, from virtual reality to artificial intelligence and drone delivery. There are even attempts to create the all-sensing "tricorder" of Star Trek fame. Autonomous vehicles and blockchain are no longer discussed in terms of if, but when.
Is this new "science fiction" of Silicon Valley truly viable? The engineers, entrepreneurs, and scientists of today have the potential to realize childhood dreams and create groundbreaking new industries. At what point do these inventions become "tech for tech's sake," and how do we tell the difference between the future and vaporware? How will society catch up to unprecedented new issues created by these innovations, from privacy, to safety to everyday behavior?
During this Futurecast we spoke with David Hornik, general partner at August Capital and professor at Harvard Law School, about the feasibility of the "science fiction" of Silicon Valley and its potential impact on citizens, policies, and the way we live.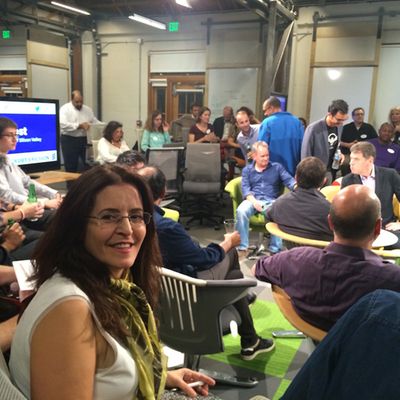 Guest Post by Guiti Nabavi, Silicon Valley Director, WomenWhoCode.com
The future, as seen through the eyes of Silicon Valley's hopeful entrepreneurs, materialized at AT&T Foundry's unassuming offices in downtown Palo Alto, just a hop and a skip from Stanford University. The invited group of experts, entrepreneurs and thought leaders were small, but diverse in their interests and backgrounds. The event had a couple of main attractions: an exhibit for a number of futuristic startups and a conversation with David Hornik, general partner at August Capital, moderated by Andrew Keen.
As a science fiction fan, receiving an invitation to attend this exclusive event was exciting for me. As I started to make my way to get a glimpse of what looked to be a robot, I realized I left my decidedly low-tech lab notebook at the registration table. When I got back from retrieving my notebook, the "robot table" was too busy so I checked out the other promising sci-fi looking booths. The number of vendors were small but obviously selected with care. I put on a Homido Virtual Reality (VR) headset for smartphones and couldn't help but envision a classroom with students all wearing a VR headset.
Another exhibitor, Revolve Robotics, presented Kubi. I had already seen the online demo for Kubi earlier in the day. I controlled the movement of the telepresence robot from my home office and peered into what seemed to be their offices. A younger worker looked awkward at being spied on while the older worker started waiving at me. I felt uncomfortable with the intrusion into their workday and logged out of the demo. But I would like a Kubi for group meetings where you want to look around the room.
Next was Volans-i, a drone company that looked like and utilized a rocket technology. They deliver time-sensitive items at speeds of up to 400mi/hr. Finally, I made it back to the robot table but it turned out Pabellon, does not make robots, they were demoing a special shirt on a mannequin. This company had what seemed to be a truly unique technology. They create magnetic fields that glide across surfaces, fabric of the shirt for example, to transform common objects into power and data buses. The founders claimed they could send power over oceans' water surface!
At the end of exhibition session, the time came for the Q & A period with the guest of honor, David Hornik a General Partner at August Capital. He invests in Information Technology software companies, and an intellectual property attorney who currently lectures at the Harvard Law School. Andrew Keen moderated the talk with David, which mostly revolved around typical questions one would ask a VC. Some of the highlights of the discussion were David's views on a variety of subjects. David described VCs as those who trade in technology futures market. I heard him echo other experts who have referred to today's tech market as "bubbly." In terms of statistics, he stated that he invests in approximately 2 companies per year out of approximately 1,000 executive summaries he receives. David made a comment about the rarity of unique ideas and that he almost always comes across more than one group who came up with the same idea at almost simultaneously. Note to self: it really IS all about the execution!
David Hornik gave the audience a glimpse into the mind of a successful venture capitalist. He was asked about specific technologies and invariably his answer verified that he and all investors are usually not blinded by a cool technology. Namely, he thought it too early to invest in Internet Of Things (IoT) companies. He stated that "social is done," "mobile was never a thing," but "location awareness" is what made mobile cool. Spoken like a true investor who likes to minimize risks, David stated that he doesn't like to invest in things that have big components he can't control – think government regulation, for example, in regards to drone flights. I immediately thought of Uber and how some investors decided not to invest in Uber exactly due to the regulatory challenges it would face. Note to self: FOMO (fear of missing out) can overcome many logical reservations!
Finally, my goal for attending this event was to see all the cool futuristic products, hear the investors' point of view and more specifically gain a perspective on how technologies at the bleeding edge can transform skill development, and discover what are those high-demand skills in this science fictional future any way. Futurecast was not a long event and included a handful of startups, but it was still evident that remote and online learning is an unstoppable trend that will continue to accelerate and improve with effective telepresence technologies, virtual reality headsets, immersive, engaging and augmented content. The skill set needed to innovate the future and turn science fiction into reality is what it has always been: namely, problem solving, communication, and critical thinking skills with a big dose of curiosity and audacity.
Read other Developer experiences at past Futurecast below and visit the Futurecast portal for more on upcoming events:


—-
Guiti Nabavi is the founder of StartupK12.com, a coding and entrepreneurship program for youth. She is also the Silicon Valley Director of Women Who Code where she started a hack club and a venture club for women. Guiti was an Electrical Engineer and later became an Operating System Software Engineer, a marketer, and finally an entrepreneur. She reads Google News more often than she should, exercises a lot less than she should, and has too many new ideas, some of which are pretty darn good.
—-
David Hornik is a general partner at August Capital, where he invests broadly in IT, enterprise and consumer technology. As a lecturer at Harvard Law School, he teaches entrepreneurship and venture capital to the best and brightest students and business leaders around the world.
David created VentureBlog and VentureCast, the first blog and podcast (respectively) about venture capital, and also founded The Lobby conference, an annual gathering of digital media thought leaders.
---
Share this post