Updated: Mar 17, 2017
Published: Mar 17, 2017
Markerless AR: 4 Things developers need to know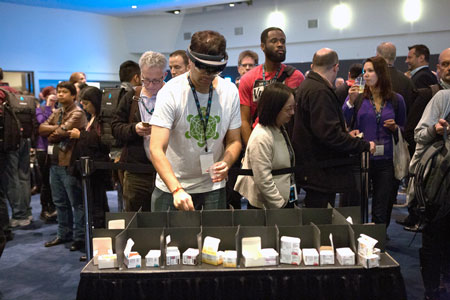 Guest post by Beck Besecker, CEO for Marxent Labs
Though it's been in development since the early 2000s, Augmented Reality (AR) didn't break into the public consciousness until last year's release of Pokémon Go. The mobile game's record-breaking debut was followed by a tidal wave of media attention even though Pokémon Go was a cheap approximation of real Augmented Reality, and hardcore players often disabled the game's "AR Mode."
Until recently, real AR applications required the use of a tracking image such as a QR code or image marker to function. The marker would be "read" and interpreted by camera-equipped hardware capable of running specialized software. The device, usually a tablet or smartphone, translates that information into a 3D model or animation that maintains a consistent position within the scene, regardless of how or where the user moves.
Though it works well, marker-based AR can be limiting and inconvenient. But there's good news: The days of the AR tracker should be over since markerless Augmented Reality is now ready for mainstream adoption, all thanks to the hard work of some big brains chewing over complex math.
4 Things Developers Need to Know About Markerless AR
1. No Special Hardware Required
Google pioneered dual camera markerless AR with Tango, but the platform requires specialized hardware that's currently available on a limited number of devices. Luckily, there are single camera markerless AR solutions available from companies such as Marxent and Wikitude. These solutions use complex algorithms to analyze live video from any current generation single camera mobile device — no specialty hardware required — and then spawn and track 3D objects in any environment with a visible floor. Rather than build a map of the surroundings (which requires Tango's dual camera approach, Marxent's Markerless solution, for instance, uses a concept called "relative tracking," which yields an even more immersive result than static off-line alternatives without the need for initialization, calibration, or mapping overhead.
2. Big Tech Companies Are Acquiring Augmented Reality Technology
Apple, Google, and Snapchat have all made big investments in companies that specialize in AR technology. With Apple, it was Metaio, an AR company that had been around since 2003, and Flyby Messenger, which was built specifically for the Tango platform. While Google poured over $500 million into Magic Leap, the secretive South Florida startup that may or may not have come up with a unique "Mixed Reality" solution. Snap, the parent company of Snapchat, is the most recent player to get in the acquisition game, buying Israeli Markerless AR developer Cimagine at the end of 2016. Combine rumors circulating that AR tech will soon be baked into smartphones beyond just those equipped with Google's Tango platform and these recent investments are an early indicator of just how big markerless AR is about to become.
3. Markerless AR Experiences Are Going to Span Huge Distances
Developers are creating ways to use markerless tracking to improve retail consumer experiences, which includes placing virtual products in a user's space or overlaying 3D images atop their real-world counterparts. In the near future, markerless AR experiences will break out of the storefront and span entire cities, inherently driving multi-user collaborative interactions where the precise location and orientation of every user can be pinpointed in the real world despite being miles apart. This is something marker-dependent tracking could never achieve. User-centric markerless tracking is also applicable to VR headsets, and will be essential to autonomous vehicles and robotics in the near future.
4. Markerless AR App Development Is Wide Open and Underway
Markerless AR remains a largely untapped resource that developers are currently writing its rulebook. In addition to freeing up developers to create apps that can be utilized anywhere with no set up, markerless AR is ideally suited for visualization of virtual content within small spaces and applications running on current mobile hardware. Markerless AR is already being used to create amazing apps that allow users to inspect large consumer goods — think couches or motorcycles — without the use of a tracker.
Untethering AR from markers also brings additional benefits beyond the obvious convenience. Markerless AR allows for applications that can be initialized anywhere, making it far easier to take the experience to clients or customers. The average range of motion for users is also greatly increased with markerless AR versus marker tracking. Relative tracking allows users to walk around any open space at a range that is far beyond that of any extended tracking on the market today. What will you do with markerless AR?
"These materials include predictions by Marxent that are subject to uncertainties and actual outcomes may vary."
Note: The is the latest installment in a continuing series of posts exploring Augmented Reality and Virtual Reality technology. Check out our previous discussion about the HTC Vive, Google Tango, VR Hardware Developments, and VR/AR Developer Trends.
---
Share this post