Updated: Dec 12, 2016
Published: Nov 18, 2016
All about the HTC Vive – What developers need to know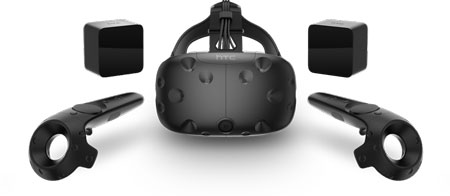 Guest post by Joe Bardi, Senior Content Strategist at Marxent Labs
This has been the year of the Virtual Reality (VR) head-mounted display (HMD), with the Though this only marks the beginning of what is expected to be a protracted hardware battle, developers need to start thinking about which platform or platforms they are going to support. While each has their pluses and minuses, the HTC Vive product reviews dominate with positive comments on the platform's industry-leading visuals, fully realized control scheme, and bevy of third party content. The HTC Vive may quickly be setting the standard for VR head-mounted displays.
Released in April 2016, the Vive had several advantages over its nearest competitor, the Facebook-backed Oculus Rift. Most notably the Vive's inclusion of handheld controllers opened up a world of in-app possibilities the controller-less Rift couldn't touch. (For the record: Oculus is promising controllers in time for Christmas, though no official release date has been announced as of this writing.) The Vive paired the controllers with an innovative laser-positioning system to create what remains the most immersive VR experience available to the consumer. HTC and Valve then teamed with a small army of independent developers to produce content for the platform, and the Steam store is already filling with titles for the Vive.
Thinking of Developing for Vive? Why the Time is Now
The Vive is a first generation product, which means the field is still wide open for eager developers looking to plant their flag on what could be the landscape of a dominant new platform. As more and more software hits the market, and new hardware seems right around the corner, the Vive is no longer the new kid on the block. HTC is looking to build on their market lead, and it's been reported that Valve is hard at work on new and improved hand controllers. Can a Vive 2.0 be far behind?
The Vive offers an industry-leading platform, a rich community of developers already working on creating the next generation of digital experiences, and a bright future of growth as virtual reality is positioned to become a huge mass market consumer product over the next five years. As Gamespot's Peter Brown said in his Vive review, "Vive's strongest selling point is how it marries freedom of movement and intuitive controls with a capable headset. … Vive is the only way to experience today's most advanced VR technology from the comfort of home." Who wouldn't want to develop for that?
The HTC Vive Isn't Just for Gaming
Early development for the Vive has been heavily focused on the games, but there have also been some interesting experiments at porting more of a traditional computing experience into VR. For example, Virtual Desktop, which is available for both the Vive and the Rift, presents the user with a giant VR computer screen that allows them to do pretty much anything they could do on their laptop. Computer-based activities include checking email and Facebook, sure, but much more exciting is opening a giant Netflix window and bingeing on a giant projection of Stranger Things. Vive also has a Simple VR Video Player, which allows you to watch any saved video file in VR without having to mess with the full desktop experience.
Vive development outside of gaming hasn't been limited to porting desktop experiences into VR, and there are already multiple applications for the more artistically inclined among us. Perhaps the most well-known is Tilt Brush from Google, which turns the VR space into a blank canvas that users can then "paint" with light and color to create glowing 3D masterpieces. More of a sculptor than a painter? Check out Kodon, which offers "roomscale 3D scultping," and lets users mold 3D balls of clay into whatever their imagination and hand-eye coordination can combine to achieve.
Resources for Developers to Get Started Building Apps for Vive
Inspired to jump into the exciting world of VR and start building apps for the HTC Vive? There are plenty of resources available to help you get started.
Do you know of other Vive development resources? Let us know in the comments below.
For more articles on AR, VR, and all things video, see our new AT&T Video and VR site.
Note: The is the latest installment in a continuing series of posts exploring Augmented Reality and Virtual Reality technology. Check out our previous discussion about Google Tango.
---
Share this post