Updated: Dec 12, 2016
Published: Nov 10, 2016
Google Tango has arrived. Here's why you should care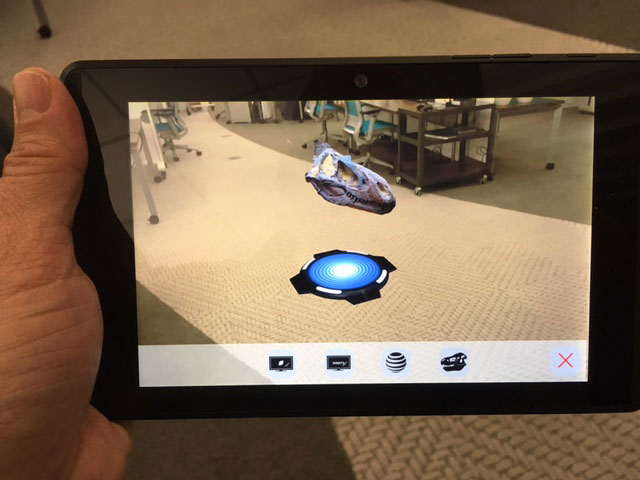 Guest post by Joe Bardi, Senior Content Strategist at Marxent Labs
It's been a big year for Augmented Reality (AR). Pokemon Go battled its way into the public consciousness, Apple's Tim Cook can't stop talking about AR's future potential, and Google stepped up with a new software offering that promises to take implementation to a whole new level. I'm talking about Google's Project Tango, a mobile platform that combines specialized software with a camera and laser system to achieve machine vision, which allows a device to read and understand physical space.
Tango's spatial awareness opens the door to an entirely new way of experiencing digital content and developers are already leveraging the platform into curious new applications. A developer's kit has been available for some time, and early applications have Tango-equipped devices accurately measuring rooms, overlaying 3D characters into dynamic environments, and performing digital home makeovers that swap out real furniture for 3D products in real time.
Are You Excited About Tango yet?
Why should developers get excited about Tango now? Eric Johnsen, Head of Business Development for Project Tango, told Medium, "People have been aware of Project Tango, but now that it's real, and there's real hardware coming, developers are much more excited about building for that experience." That hardware is the Lenovo Phab 2 Pro, the first smartphone built for Tango.
Early reviews are backing up Google's hype. "This phone could start a revolution," reports Tech Radar in their early take on the Phab 2 Pro. "Consider our minds blown," writes Android Central. The Phab 2 is now slated for a November release, and it looks to be but the first in a long line of devices that will bake in AR technology at the hardware level. You definitely want to get learned and get ready.
Tango Apps Are Already Hitting the Dance Floor
At the 2016 AT&T SHAPE conference, the company demonstrated a multi-user cross-platform AR-VR system showcasing how remotely connected AR and VR systems can enable new forms of telepresence. The demo featured a variety of functions highlighting social interaction, entertainment viewing, and collaborative work capabilities. The system supported three people using a Tango tablet, a desktop PC, and a HTC VIVE headset. Though each user was on a different platform, they were able to interact within a common virtual environment. Since the Tango tablet was capable of sensing its real world position and orientation, it allowed users to physically walk within the virtual world viewed through the screen. Using touch screen controls, the Tango user could pick up objects, draw in the virtual world, and interact with avatars of the desktop PC and HTC VIVE users.
AT&T also demonstrated a Tango AR mode in which objects from the shared virtual environment could be placed and viewed in the real world. A key advantage of a spatially aware handheld device such as the Tango tablet is that it enables an accessible form of AR and VR that could be particularly useful when wearing a headset may not be feasible.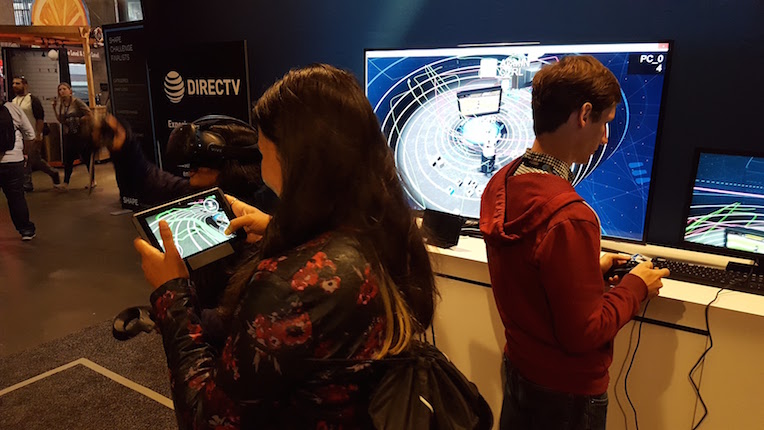 Curious as to where you can take Tango? Check out Google's Tango Explorer, which demonstrates the core functionality of the platform. Explorer lets users Visualize device motion in 3D, learn and load area description files, see the point cloud captured by the depth sensor, view the underlying data in diagnostics mode, which provides underlying numbers from the Tango APIs for developers to peek at.
The application Tango Cube Mover is intended as a proof of concept for first-person gaming, though it's far removed from the modern Call of Duty experience. In Cube Mover, the player is trying to unlock secret cube shooting areas as quickly as they can by matching colored cubes to their corresponding buttons. Virtual hands can be seen interacting with a cube, placing it on platforms to depress the button. The game is played at least partially in physical space, with the player manipulating the cube around the virtual environment by moving the Tango through the real one.
There are also Tango apps that go beyond the "proof of concept" stage. One is Measureit, which allows the user to measure real-world items and distances simply by pointing a Tango-equipped device at a target and tapping to place points denoting the edges. Another out of this world app is Solar Simulator, which allows Tango users to take a stroll amongst the stars through the magic of augmented reality. There's also corporate tie-ins, with home improvement e-commerce retailer WayFair introducing an app that uses Tango's powerful software to let users preview 3D versions of real products in any room of their house.
How to Get Started with Tango

Developers interested in experimenting with Tango can start by downloading the SDK directly from Google.  Tango offers APIs in C and Java, and an SDK for Unity, and Google's developer page offers a wealth of information and downloads, along with a selection of demos presented with the specific intent of inspiring developers to do innovative things with the platform.
At Marxent, we've embraced Project Tango as another exciting 3D visualization platform and have made the choice to wholly support it. Through VisualCommerce™, Marxent's 3D product configuration platform, we offer app templates and support for Project Tango, along with a host of other AR and VR devices.
Our curiosity extends to all of the possible ways that manufacturers and retailers can harness the power of Tango Augmented Reality. The applications being developed are truly amazing, from endless aisle shopping to supporting B2B sales. Learn more about Project Tango and other uses for 3D products at Marxent.com/blog.
For more articles on AR, VR, and all things video, see our new AT&T Video and VR site.
---
Share this post