Updated: Dec 18, 2017
Published: Feb 14, 2017
4 VR hardware developments we love in 2017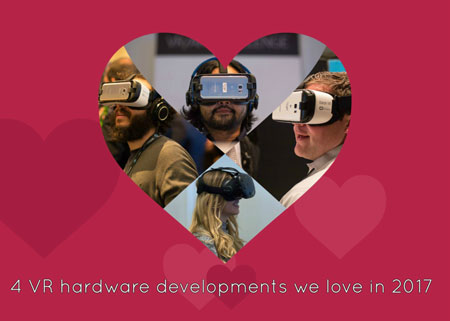 Guest post by Joe Bardi, Senior Content Strategist at Marxent Labs
2017 is barely a month old, but advances in Virtual Reality (VR) hardware and software are already starting to pile up. With Valentine's Day now upon us, the romance of new tech hangs heavy in the air. The annual CES show saw the unveiling of a wealth of heart-swelling peripherals, new technology, and updates on classic ideas that will move the industry forward. Here are four recent developments in VR that we love, and we're pretty sure that you might too:
 1. VR Headsets Go Fully Wireless
One of the big bugaboos with current generation VR hardware is the need to tether the head-mounted display (HMD) to a powerful computer. Industry leaders HTC Vive and Oculus Rift both come with wired HMDs that restrict movement, the cord adding weight and bulk to the experience. The wires also limit what developers can have the user do, as they must always take into account the limited range of movement dictated by the restrictive cable.
Good news: There are two solutions that cut the cord to wired HMDs. The first is called KwikVR, and it works with both the Rift and Vive HMDs. The system uses a belt-worn attachment to untether the HMD from the computer rig, and though there are limitations (12 milliseconds of latency might not sound like much, but users will notice it even if it's not overly intrusive) the KwikVR's first-mover advantage may drive adoption. A "relatively low" $300 price point (as of this writing) won't hurt either.
Looking to compete with KwikVR is TPCast's wireless accessory for the Vive. The TPCast tech was met with rapturous demand online (pre-orders sold out in 18 minutes), and beats KwikVR in the latency department (less than 2 milliseconds) and price ($220 – as of this writing). That said, it's going to be months before you can get one, which gives industrious developers a window to get ahead of the technology and find interesting ways to harness wireless VR HMDs now, before they become widespread.
 2. Developers Could Give VR Users a Hand — Two of Them, Actually
VR developers have been locked in a race to see who would be the first to create a workable scheme for bringing the user's hands into the experience. Both the Vive and Rift offer hand controllers, but these "old school" solutions are to be considered a stopgap at best. What users want is to control the VR experience with the hands they were born with.
Intel seems to have cracked this problem, and use CES to show off what it called a "merged reality" demo. In the video of the demo, the user's real hands appear in the VR world when they enter the user's field of vision. Better yet, the user can manipulate objects in the scene just by reaching out and "touching" them. This type of motion tracker-based control scheme looks like the future of VR, and developers need to be find ways to harness the new technology. Will you give the early adopters a hand?
 3. How About a Full-Body VR Experience?
Ok, so we've now cut the HMD cord, and brought the user's hands into the VR experience, but what about the rest of the body? There are hardware developers already working on ways to create an even more immersive VR experience.
Case in point is a company called Axon, which has developed a haptic feedback-enabled bodysuit that utilizes a technology they call "HaptX™." According to Axon's website, "HaptX™ is a haptic textile that simulates lifelike touch, allowing you to feel the texture, shape, motion, vibration, and temperature of virtual objects. HaptX Skeleton is a lightweight exoskeleton that extends the realism by applying physical forces to your body."
For developers, there is already a HaptX SDK available for download. The toolkit provides "a framework for physical simulation of haptic interactions." The SDK also promises to work "seamlessly with leading game engines," which will make it easier for developers to jump on board and start designing for the bodysuit.
 4. User-Generated Content Explodes as VR Cameras Become More Affordable
With all of this great new tech coming to market, you may be wondering what people will do with it? Gaming, yes, but VR is going to have to offer more than first-person shooters in order to see the kind of adoption now being forecast by industry observers. User-generated content seems like a natural, but the cost of creating that content has so far kept the hardware exclusively in the hands of professionals. As with all new technologies, the amount of cash necessary to start capturing a VR experience continues to drop.
Hardware manufacturer Vuze just announced a VR camera priced at $800 (as of this writing), which promises to put VR creation within reach of a lot more people. Yes, $800 may still seem expensive. The millions of people now documenting every waking moment of their lives on social media, the lure of sharing those moments in VR will be intoxicating. As the price and size of the technology continuing to shrink, it will soon be common for parents to capture their baby's first steps in stunning VR, and post it online for distant relatives to experience as well. What's not to love about that?
Learn more about Virtual Reality and Markerless Augmented Reality at Marxent.com/blog.
"These materials include predictions by Marxent that are subject to uncertainties and actual outcomes may vary."
Note: The is the latest installment in a continuing series of posts exploring Augmented Reality and Virtual Reality technology. Check out our previous discussion about the HTC Vive, Google Tango, and VR/AR Developer Trends.
---
Share this post