Updated: Feb 09, 2022
Published: Jan 30, 2017
Key announcements made at the 2017 AT&T Developer Summit Keynote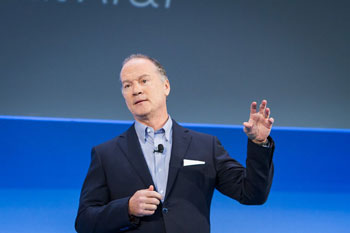 After an enlightening presentation by Joseph Gordon-Levitt, John Donovan, Chief Strategy Office and Group President – AT&T Technology and Operations welcomed everyone to the keynote. Speakers and AT&T executives took to the stage to share information about 2016 accomplishments including how the AT&T Foundry in Houston has made great strides in healthcare, and have met with over 450 startups in 2016. Based on the presentations, it's clear that we'll continue to see network advancements, innovative Internet of Things (IoT) solutions, and more entertainment offerings in 2017.
What's Happening with 5G
AT&T's Donovan provided an update on 5G and the kind of speeds we can expect with this next evolution of the network. It's going to be fast! Lab trials are already showing speeds of up to 14Gbps over a wireless connection. The labs have also successfully tested a connection with less than 3 milliseconds of latency. With those kinds of results streaming video over 5G will deliver a seamless experience that's just about instantaneous.
While AT&T continues to deploy its 4G LTE-Advanced network, which could potentially reach speeds up to 1Gbps at some sites in 2017, there are lots of 5G trials planned. In the first half of 2017, residential customers in Austin will have the opportunity to try streaming DIRECTV NOW video services over fixed 5G connections. AT&T will team up with Qualcomm Technologies and Ericsson in the second half of 2017, to test both mobile and fixed wireless solutions operating in mmWave spectrum accelerating commercial deployments in the 28Ghz and 39Ghz bands.
There's also been quite a bit of progress made with Project AirGig, which was unveiled in September of last year. The AT&T Labs technology could one day deliver low-cost, multi-gigabit wireless Internet speeds over power lines. Designed from the ground up, Project AirGig delivers this last-mile access without any new fiber-to-the-home, and it is flexible enough to be configured with small cells or distributed antenna systems.
The Future Isn't About Apps
Apps as we know them are a dying breed, so what will developers need to focus on in the future? Microservices allow companies like AT&T to provide availability, business agility, scalability and the system design lifecycle comes in at a much lower total cost of ownership. These microservices will become the data generators. These will allow you to connect across multiple containers, providing you with access to the resources you want when and where you need them. AT&T's microservices approach is addressing customer issues by introducing machine learning to the technicians and the process speeds up. The company's goal is to help create an open industry standard for containers and for these microservices technology so that innovators can work on top of and in the AT&T network and systems. Containers can fulfill the promise of write once run anywhere.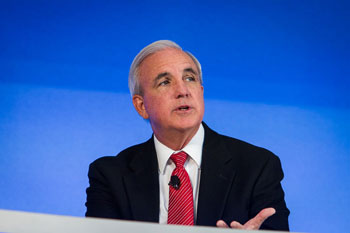 In a push to create a trusted environment where organizations can share data and collaborate on analytics, Donovan announced AT&T Network 3.0 Indigo platform. It will run on a virtualized network such as the AT&T software-defined network (SDN) and any virtual private cloud provider with API-accessible cloud orchestration could enable these services. This will help release data that's typically locked in silos that can ultimately improve innovation.
A Look at What Smart Cities Can Accomplish
Over the past year, AT&T has been working with a few of its spotlight cities in its smart cities program identifying their unique challenges and coming up with solutions to tackle them. Keynote attendees got to learn hear more about Miami-Dade County, a spotlight city that's already reaping some of the technology benefits.
Thaddeus Arroyo, CEO, AT&T Business Solutions and international, invited Miami-Dade County Mayor Carlos Giménez on stage to talk about the experience and some of the programs they are deploying. One of the mayor's main initiatives to make Miami-Dade the city of the future. "I believe tech is key to improving quality of life of our citizens, and lay the groundwork that it's the best place to live for our children and grandchildren," said Mayor Giménez.
The county is the first to launch AT&T's Smart Cities Operation Center. There municipal leaders can see what's happening in the community in almost near-real time. Currently, there's new LED lighting and camera that have been installed to help improve public safety. Police and public safety officials in the crime control center can view the footage captured and send out help as needed. Cameras are also being installed in traffic signals providing valuable information that can help improve the flow of traffic.
AT&T's Arroyo also announced that Portland, Oregon is the latest addition to the smart cities program. The city joins Chicago, Dallas, Montgomery County in Maryland, Chapel Hill in North Carolina, Atlanta, and Georgia Institute of Technology
Meet the 2017 AT&T Developer Summit Winners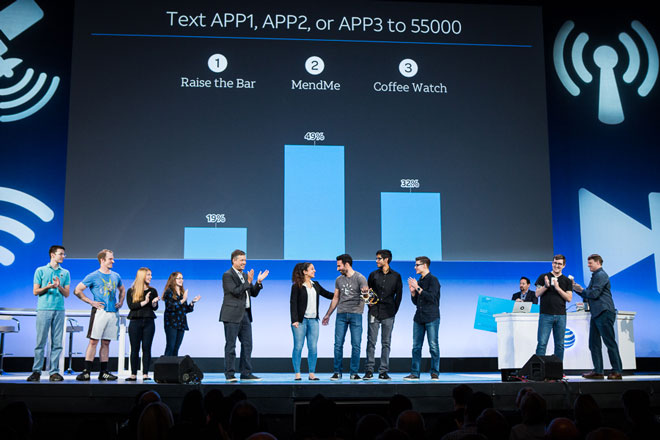 AT&T invited innovators to provide submissions for three different opportunities: Hackathon Invitational, VR/AR Challenge, and the AT&T Entertainment Project. After narrowing down the entries to just a few finalists, attendees got to check out the apps, solutions, and films. The votes have been tallied and the winners were announced at the Keynote:
Hackathon Inviational: Team MendMe
VR/AR Challenge: Team WayPoint RX
AT&T Entertainment Project: Dispatch
Student Film Winner: Five Windows
Join us in congratulating the winning teams.
AT&T's Vision for a Premium and Effortless Mobile Entertainment Experience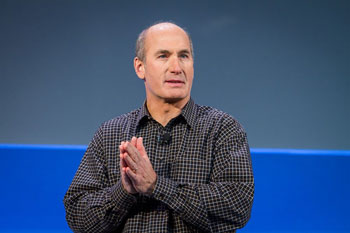 John Stankey, CEO of the AT&T Entertainment Group, shared the company's vision for entertainment and how they plan on transforming the mobile experience. With the acquisition of DIRECTV, AT&T wants to deliver a platform that will change where and how consumers will watch entertainment. They are finding ways to bring unique content that hits particular niches into the mix such as Reese Witherspoon's Hello Sunshine multimedia brand.
In order to do this, AT&T is working on the Entertainment Experience Suite which will help content creators reach a wider audience and provide consumers the opportunity to take advantage of immersive technologies such as social, AI, and multiview. The new platform is agnostic on how video is delivered on all possible networks and all possible devices with a significant emphasis on the customer experience. The goal is to go beyond delivering any content anywhere customers want. It's to give consumers the power to watch the way they want, share what they want, and dig into levels beyond what's just on the screen. Expect to hear more about this initiative and how developers can participate in the coming months.
If You Like ARO, You'll Love the Video Optimizer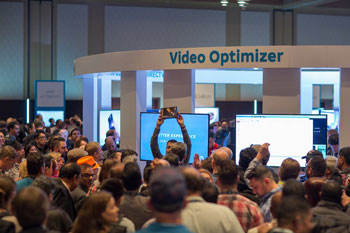 The consumption of video content on mobile devices is growing exponentially, as we see a growth in both users viewing videos on their smartphones as well as a shift in consumption pattern where more than 50% of video viewing over the internet, in 2016, was on mobile devices – and is expected to grow to 60% in 2017. With this significant explosion in mobile video consumption it is critical to make sure that the apps on which users watch these videos are optimized for performance.
David Christopher, AT&T Chief Marketing Officer, announced the launch of Video Optimizer, which is a free analytics tool that helps developers analyze their apps against industry best practices for mobile applications and video streaming, and pin points the areas that can be improved, to provide faster loading and smoother streaming of videos, as well as reduced battery and data usage. The end-user gets improved video viewing experience, the app developer gets better ratings and more downloads, and AT&T benefits from a reduced load on its network!
What did you think of the announcements made at the Keynote? Let us know in the comments below. Don't forget to checkout our AT&T Developer Summit Day 1 and Day 2 photo recap posts.
---
Share this post