Updated: Apr 16, 2021
Published: Feb 17, 2017
Dallas Hackathon recap: Innovative apps for the home, office, and the library
Near the end of November 2016, we rounded out the AT&T Invitational events with a hackathon in Dallas. We always get a warm welcome from the developer community in Dallas and this time was no exception. In addition to the enthusiasm from the community, we got awesome support from our event sponsors: IBM, the Dallas Innovation Alliance, and the Dallas Entrepreneur Center. A huge thank you to the sponsors for helping to make this event a reality.

We had lots of prizes up for grabs, but before starting any coding the AT&T Smart Cities and  IoT organization talked about the innovation and investments AT&T is making in Dallas as a spotlight city. Additionally, IBM's technical session got developers up and running with IBM Watson.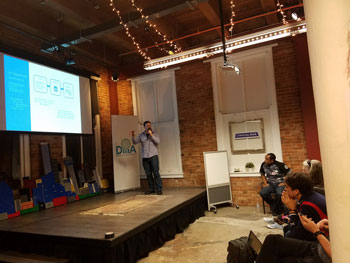 Not only were the teams vying for the Best Overall App prize of $5,000, they were also able to compete for the Mechatronics Excellence Award, the IBM Watson Challenge, the Best Smart City Solution, and the Best App from a Woman-Led Team. The judging panel had quite the job of narrowing down the 29 teams to award the prizes to just a few. Without further ado, here are the winners from the Dallas Invitational Hackathon!
Best Overall Mobile App or IoT Solution: CoffeeWatch will help you find out who took the last cup of coffee, and make them pay!
Mechatronics Excellence Award: Smart Cam Bot solution watches your home and sends you intruder alerts WITHOUT sending a false alarm on the family cat moving around. The robot autonomously drives around looking for and finding misplaced items.
IBM Watson Challenge 1st place: CoffeeWatch (see description above)
IBM Watson Challenge 2nd place: Smart Dallas Flood Detection app detects raising flood waters, performs photo analysis and provides a notification to warn of hazardous conditions and help reduce emergency response time.
Best App from Women-led team, 1st place: Emily app aims to improve healthcare access for underprivileged women and public safety across the city through smarter citizen engagement.
Best App from Women-led team, 2nd place: Safety Meter allows the user to instantly see at a glance how safe an area or intersection is based on current police records. An app with more details on specific crimes will deploying alongside our physical meter.
Best Smart City Solution: Digital Clerk – Digital Clerk is phase I of an automated solution for building-specific problems. Phase II provides pathfinding features such as how to get to a restroom from a location, while Phase III implements roaming versions of the bot, which will interact with kids. Right now though, the solution is only relevant for the Erik Johnson Central Library in Dallas. It can answer questions about the library hours, where to find a certain category of book, what each floor specializes in, and other questions library goers may have. In future iterations of Phase I, the app will be able to understand book titles and tell if the library currently has it available, and if so, list its location.  You can already interact with Digital Clerk digitally (via text, web application, Facebook Messenger) or via a physical bot. It provides on-demand information, meaning citizens do not have to wait in long-lines or call a real person to get their questions answered.
Other photos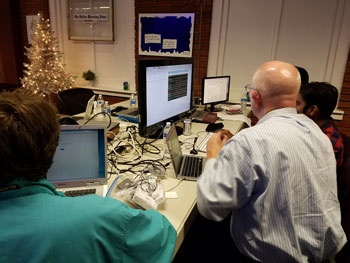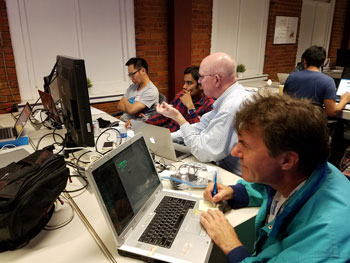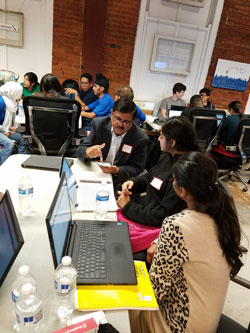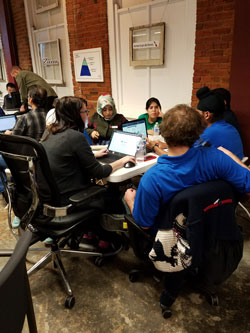 ---
Share this post