Updated: Dec 31, 2016
Published: Dec 31, 2016
Hackathon Invitational Finalist Creates Smart Cam Bot to Help You Find Lost Items Around the House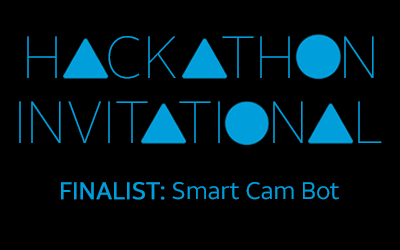 This year we've invited teams who have attended past AT&T hackathons to pitch their best mobile app for a chance to win $20,000 in the AT&T Hackathon Invitational. We've narrowed down the finalists and will fly them to Las Vegas to pitch their app to our executives at the 2017 AT&T Developer Summit. Here's your chance to learn about the finalists as we introduce each one in a dedicated blog post.
If you've ever put something down in the house only to completely forget where its location later, team Where's the Beer has a solution for you. The Smart Cam Bot is an autonomous driving robot with a camera that snaps pictures around the home. It then uses the IBM Watson Visual Recognizer to classify the objects and then alert you to what's been found using spoken voice and text messages.
Check out Smart Cam Bot in action:
Based in Dallas, Texas, the four team members (Jian Shi, Carl W Ott Jr., Omar Barlas, and David Ackley) share a hobby-level interest in autonomous robots. They routinely meet at a robot club that has an autonomous robot competition, but they've yet to participate it. Instead, they knocked around the idea of mixing robots with the IBM Watson APIs, and creating something related to computer vision. The team noticed that the IBM Visual Recognizer seemed to have a very different and potentially more powerful capability than the approaches others have used in our club and they decide to create an autonomous robot that can look for objects around the house. We caught up with Where's the Beer to learn more about their background and future plans.
Q: Tell us a little bit about your team and how you worked together to create your entry.
A: We each played to our strengths:
Omar
Provided initial focus on a moving robot and something with computer vision
Provided a two-wheel robot platform previously built as a prototype for a different project
Provided a Windows 10 mobile phone
Provided know-how and tools for writing Windows Universal Apps
Coded various things from scratch, including a route planning tool, image manipulation functions, other interface functions to the phone
Jian
Coded various things from scratch, including:

The main program shell
The logic for moving the robot around
The phone-side BLE interface which sends commands to the robot
The logic for capturing pictures, sending them to IBM Watson, and deciphering Watson's response
The logic for presenting audio and text message feedback when objects are found

Performed lots of verification and hardening of the software
David
Hardened the mechanical design by adding a more robust third wheel and camera mount
Coded the Arduino sketch, which accepts commands via BLE and powers the wheel motors accordingly
Figured out how to get the BLE connection working between the "RoMeo BLE" board on the robot base to the phone
Performed lots of verification and hardening of the mechanics
Replaced the original Lead Acid battery with a more TSA-friendly "AA" or "C" cell setup
Kept us on track with regular applications of the KISS principle
Carl
Drafted and presented the storyboard and pitch
Figured out how to use the Watson Visual Recognizer API
Captured images needed and trained custom classifiers on IBM Watson
Developed the original third wheel stabilizer at the November 18th hackathon, using cardboard, Gaffer's tape, the wire from a paper binder clip and an old model airplane wheel
Researched and selected an API for sending text messages
Q: How many hackathons have you participated in?
A: Carl has seen the pitch part of several hackathons previously, but has never participated in a hackathon from start to finish. Omar has been involved in a few other hackathons from start to finish, but never competed 100 percent at an AT&T Hackathon. While this is the first hackathon experience for Jian and David.
Q: What has been your experience at AT&T Hackathons and how many have you attended?
A: Carl and Omar have attended the pitch day for three AT&T Developer Summit hackathons They have been outstanding experiences that provide fresh information about AT&T's current initiatives and offerings, and by offer access to AT&T and many other developer resources by creating good networking experience in general.
Q: What does the AT&T Developer Program and contests like this mean to you?
A: These programs give opportunities to quickly learn new skills and resources, and network with other developers, vendors, and companies. They create a no-risk environment to try new things that would be more difficult to take-on by one's self.  Specifically, the AT&T Developer Program has raised awareness of tools, tips and tricks that we didn't previously know, and has increased the chances that we'll weave AT&T API's into future projects.
Q: Any advice for developers attending hackathons?
A: Listen carefully to what the sponsors are trying to accomplish, and do your best to align your project with their needs and interests. Go in with an open mind and be flexible. Leverage the sponsors who are there to help you with their APIs.
Pick a scope you can accomplish with simple extensions to skills or using a code-base that you are already comfortable with among the team. See it through to completion. Don't be afraid if it's not 100% perfect, but DO make sure it can do what it should do. Spend time initially to start with the story and build to the story.  Then you know when you're done, and you know that your project fits to the story. Do NOT start by hacking something together and then trying to come up with a story at the last minute…
Above all else – have fun & network!
What do you think of the app? Let us know in the comments.
---
Share this post