Updated: Feb 09, 2022
Published: Jul 05, 2017
Join us at the SHAPE Hackathon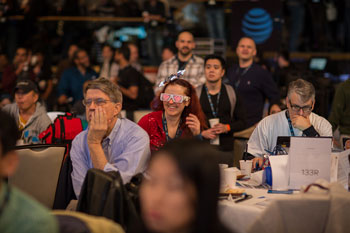 The AT&T SHAPE Hackathon is just around the corner, and we're pleased to announce that the total prizes for this year's event have grown to over $60,000. As you know, this year's contest will focus on entertainment, and we're extremely excited to announce the addition of two new challenges from Warner Bros. Technology that will truly make this an event to remember. These challenges—each with a $5,000 prize—will provide you with temporary access to data, assets, or tools not normally available for use so you can create a truly unique experience. Find full details for the hackathon challenges below.
What You Can Win:
1st place – $20,000
2nd place – $10,000
3rd place – $5,000
Sponsor Challenges:
Best DC Legends Experience using the Apple ARKit – $5,000
Best Warner Bros. Content Discovery Experience – $5,000
Best Use of the AT&T Entertainment Experience Suite – $5,000
Best Use of IBM Bluemix and Watson
Kicker Contests:
Best Use of 2nd Screen Technology – $2,000
Best Next Generation Advertising Solution – $2,500
Best Use of Oculus Rift – three Oculus Rifts with Hand Controllers
SHAPE Hackathon Challenge and Kicker Contests Details
Best "DC Legends" Experience Using Apple ARKit*: Warner Bros. Technology invites Hackathon participants to create an augmented reality (AR) scene with Apple's new ARKit for iOS 11 and use iconic characters and artwork from the DC Universe, specifically from the hit "DC Legends" mobile game. Developers will be challenged to develop this AR experience staying in the theme (or consonant with the world) of the DC Entertainment Universe. "DC Legends" assets will be made available as .fbx files and are required for this challenge along with the Unity plugin for ARKit.
Best Warner Bros. Content Discovery Experience: Warner Bros. Technology invites Hackathon participants to reimagine the content discovery experience. Develop a more compelling and enjoyable content discovery experience for consumers on the go and at retail using Flixster Video library data, AT&T APIs, and/or other publicly available APIs. Think beyond the thumbnail menu and the typical user interfaces to the (near) future in which content discovery will happen anytime, anywhere, on any wearable or mobile device, through voice control, home automation, large-scale display, and/or virtual reality (VR), augmented reality (AR), and mixed reality (MR).
IBM: Use IBM Bluemix and Watson to quickly take your entertainment solution from idea to reality. Get access to Watson Developer APIs that can understand language, image content, emotional tone, and personality to create game changing apps. Bring your code to run on Bluemix in the language of your choice or run local and access Bluemix services as remote APIs. If you're looking to create a REST backend for your mobile application – Bluemix can do that too, whether you want to use serverless, Docker containers, or Cloud Foundry runtimes to host it. In addition to Watson Developer APIs, the Bluemix catalog has over 130 cloud-based services for you to use covering mobile, big data, Internet of Things (IoT), weather, and more. Come talk to us at the IBM table about using artificial intelligence to make sense of unstructured data in media and entertainment scenarios. Get tips and hack help here.
AT&T Entertainment Experience Suite: Use the AT&T Entertainment Experience Suite to demonstrate how to make the advertising experience more useful for customers—starting with how and when the ad shows up to where it is placed, all the way through the purchase flow. Or you can show us your idea about how to create a new viewing experience for genres like sports, news, and kids programming. Add some stats to the experience, some purchase options, a game, or make it social. Feel free to let your imagination run wild.
SHAPE Hackathon Event Details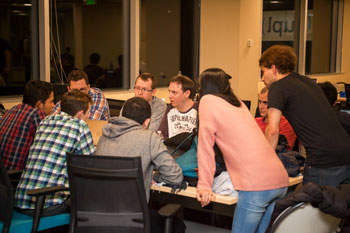 The SHAPE Hackathon, which will be held at Cross Campus DTLA, starts on Saturday, July 8th at 9:30 a.m. and runs until 9:30 p.m. on Sunday, July 9th.  There is still time to sign-up for the event, so register now.
Please be sure to come to this event with your team pre-formed and with the equipment necessary for your project. We've launched a Slack to help give everyone a head start that can be found here.  At the event, there will also be the AT&T Developer Program SHAPE Program Booth Giveaway, and the AT&T Developer Program SHAPE Hackathon Giveaway.
Equipment will be available for loan, but quantities are limited and will be provided at each sponsor's discretion. Robotis will be providing , a smart, mobile, IoT companion that assists, monitors, and works with you and your other smart devices. With this robotic dock, your phone is now "mobile," and can fulfill all of its functions in the form of a personal robot. Our vision is to develop a simple, practical, functional, and useful home/service robot platform using the technologies that we have already accumulated; to achieve this, we will be providing the basic hardware foundation in the form of OLLOBOT while encouraging developers to expand upon OLLOBOT's capabilities by developing software applications or expanding upon its hardware.
We'll select the top three teams from the event to attend the AT&T SHAPE TECH & ENTERTAINMENT EXPO, where they will present their application on Saturday, July 15th as one of the exhibits. The overall winner will then be determined by a combination of conference guest voting and a panel of expert judges.
SHAPE is an immersive event that explores the convergence of technology and entertainment. Experience interactive demos that give you a glimpse into the future and explore the magic of virtual reality, augmented reality, and mixed reality. See how entertainment tech will revolutionize content creation. You'll be among the first to witness firsthand some of the latest technology trends poised to go mainstream. This is where you'll find real inspiration.
SHAPE is happening July 14 and 15, 2017 in Los Angeles, California, at Warner Bros. Studios.
We hope to see you in Los Angeles in July.
*You must have an Apple Developer Account in order to gain early access to the tools necessary to complete this challenge.
View hackathon terms and conditions.
---
Share this post