Updated: Aug 15, 2019
Published: Oct 25, 2017
The importance of convergence for content creators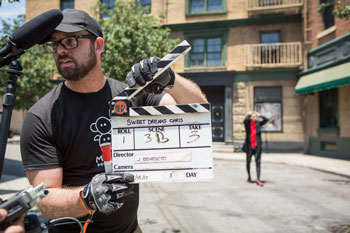 What does technology and entertainment convergence mean for most content creators? Creative people just want to create, but it is important for them to be cognizant of technology trends and to be prepared to support the latest technologies. If they don't, they could follow in the steps of John Gilbert, Lupe Velez, or Theda Bara, who were all major stars in the silent picture, but did not make transition to sound in movies.
In the early 20th century, AT&T had Lee de Forest Audion technology which made electronic sound amplification possible. In 1926, the Warner Brothers (the actual brothers who founded the studio) signed an exclusive agreement with AT&T for film sound technology that led to the release of Don Juan, which was the first motion picture with sound, not The Jazz Singer that many believe to be the first). AT&T Bell Labs continued to work on more sophisticated amplification technology which helped accelerate adoption of sound in movies.
Now, if you were a director or actor who was successful with silent films and saw the infrastructure in place, working in the medium in which you were successful and embracing something new might not be an easy transition. Many of those working in silent films didn't make the jump, which led to the rise of a new set of directors and actors who embraced sound. It seems incredible to believe that an artist might think that consumers would not embrace sound, but it can be tough to make changes.
Convergence in the 21st Century
This is a period of major technical disruption. It can be difficult to predict if any transition in any industry will be successful. In the case of media convergence, knowing how people will want to consume content in the future or what technologies will thrive is a little like looking in a crystal ball. Many companies with large R&D departments and strategists are challenged with making these decisions. At many of our recent AT&T events, we have had content creators talk about this phase of technology/media convergence: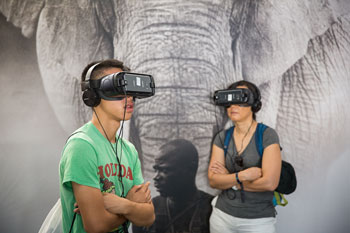 The best thing to take away from these successful content creators we have featured at our events is that it is important to at least try to keep up with the latest technologies. Or better yet, they should look to really exercise their creative impulses while using new technologies. Emerging content creators may say that because these people are successful they are in the best position to take risks, but I would challenge that. The best time to test out new mediums or technologies is when you are new and to some extent your creativity is unfettered.
Look at what's happened with video on mobile. Video growth on the AT&T network has grown incredibly and John Donovan predicted it will be 70 to 80 percent of network traffic by 2020. Years prior, companies like AT&T were trying to make mobile video work, but it was not quite ready for prime time. As a matter of fact, in 2010 there was an episode of the Apprentice titled "Must-See Mobile TV" featuring AT&T. The teams were challenged to shoot a commercial to help promote video viewing. It is remarkable to see the change that has occurred in just seven years.
As the bandwidth and device capabilities increased, so did the video experience and that's when consumers began to respond. Now, it is not unusual for people to have a TV in the room and still decide to watch another movie or show on their phone—or be in the living room with their parents while they watch the main TV and the kids watch their own show while wearing headphones (how I would have loved to have this capability as a kid when my parents watched "Hee Haw"). This shift has also created a new set of successful content creators, who fully embrace the new medium, sharing their work on YouTube, Snapchat, Facebook, and other apps.
The Role of Content Creators
For a new technology to take off, it is not just about technological readiness or customer willingness—it needs the support of content creators. There is also little doubt that once creators embrace new technologies they can influence its direction. Consider the use of CGI in films. In CGI's early days, it improved obvious limitations in movies, like showing spaceships or disasters. Who would have thought it would get to the point where CGI is responsible for creating whole words or making it seem like apes really can talk? CGI didn't just create new realms, but it also made it so actors can roam seamlessly in those environments.
A lot of these changes came from directors recognizing the potential power of these tools and then really pushing the engineers and developers to do more. George Lucas founded Industrial Light & Magic to accelerate technology to meet his vision. Likewise, for years Disney's Imagineering group has been tasked with adding cutting edge technology to movies. If industry leaders are working hard to bring together technology and content creators, doesn't it make sense for content creators to keep abreast of new technologies?
Traditionally, studios just trusted big budget movies with older, more experienced directors. The phenomenon is changing as younger directors such as Jon Watts (Spiderman) who is 36, Jordan Vogt-Roberts (Kong: Skull Island) who is 33, and Taika Waititi (Thor: Ragnorak) who is 42 are producing big movies that rely on CGI to bring their visions to the big screen. Clearly, the increasing need for directors who understand best how to integrate CGI has created opportunities for younger directors.
Now, if some creators are slow to embrace a new technology that does not mean that they will totally miss the opportunity. Instead, it usually means that they are missing an opportunity to find new fans and grow their content. Creators who did not find success on other platforms were able to find huge success on YouTube or Snapchat by creating new forms of content that were conducive to those environments. We are even beginning to see some of the editing techniques that have made creators standout get applied to existing channels. It can just simply be easier to find success blazing a new path on an emerging platform than to fight through existing creators on a popular platform.
AR and VR Leading the Convergence Charge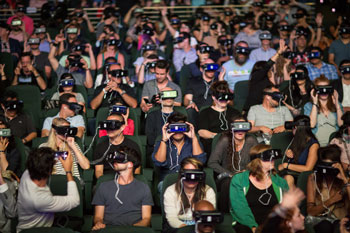 One of the big convergence areas we featured at SHAPE was VR and AR with several exhibits focusing on the technology including VR creation companies, camera makers, headset providers, and more. Now, in some ways this technology has been slow to ramp, but that does not mean it won't offer great opportunities for the future. With the rapid technology changes that seem to be happening, I think people expect all technologies to ramp almost instantly, but that is often not the case. Most follow the typical Technology Hype Cycle with the Trough of Disillusionment.
For creators to work in VR or AR, they need to apply their creativity to brand new techniques and even change how they think about content creation. Just start with the fact that you are not filming with cinematic action on one side and all the filming, lighting, direction, sound, etc. are on the other side. This medium is not just about learning a new tool or technique, but about changing perceptions and figuring out new ways to create and make something better. For me, this seems like it would be very daunting, but for someone just starting out it seems like a wonderful opportunity to write and define the rules for the future of movie making. There is an advantage to having fresh eyes in this space.
It is also easy to try to follow a path that others have already established. You grow up using a technology and it is natural to think about creating content for that technology; you are comfortable with it. When you identify problems with a new technology, you may believe that the issues will not be fixed.
When starting with VR, think about how you might tell multiple sides of a story to people facing different directions—that is, allow every character to share their thoughts or to have their conversation heard simultaneously. Perhaps it could be a mystery that requires the viewer to watch multiple conversations to figure out the clue. This convergence provides opportunities for experimental creators to potentially find success and tell stories in imaginative ways.
There are always risks with new technologies that may fail. Not too long ago 3D TVs failed to really connect with consumers. With VR, there are clearly still some challenges to make the experience more palatable (beginning with overcoming the cognitive dissonance that results from what you see versus what you feel). The headsets are not that comfortable to wear for long periods and it's not clear that people want to watch movies separated from others. But cutting edge millennials who play video games, are increasingly playing VR versions and seeking a more realistic experience. As with many technologies, those that are cutting edge one day become mainstream the next.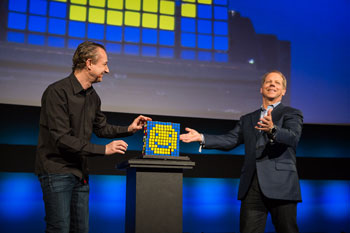 Cyber illusionist Marco Tempest is using AR in new and wonderful ways. During his presentation at SHAPE , he talked about how new technologies tend to be intrinsically magical, especially when they first appear, a perfect opportunity for an entertainer. Since the audience may not be familiar with technology, a magician can create more engaging stories, which they might better retain.
Tempest also discussed opportunities for developers to work with content creators using VR and AR. He posed some good questions:
How do we create new interface devices when we no longer have a game console and joy sticks and buttons in front?
What will be the equivalent in a virtual world?
How do we create tools which would be as versatile as a hammer and a chisel, which can make the statue of David?
What would that tool look like in virtual reality?
There is a need for a software tool that is intuitive to use that will give the experts amazing skills. Content creators need to work in unison with developers to begin to answer some of the questions that Tempest posed.
How Convergence Is Changing the Audience Experience
Another interesting area of convergence focuses on audience collaboration. Content creators are using technology to engage with audiences in new ways, and this can be another outlet for creativity. The movie Late Shift invites audience members to use a mobile app to vote on the plot direction. He showed his move "Late Shift."
Lance Weiler, Director of Experiential Learning and Applied Creativity at Columbia University. shared in a SHAPE 2017 session how technology enabled those formerly known as the audience to actually become collaborators. The audience members are storytellers in their own right—and content creators have the chance to create something wonderful with them. Weiler has found that people really respond when they can see some part of themselves in the stories that they're engaging with, some trace of themselves, some trace of their contribution.
The best path for content creators to find success is to get really comfortable with emerging technologies.
---
Share this post