Updated: Feb 06, 2017
Published: Feb 06, 2017
10 Bold Projections on the Future of Entertainment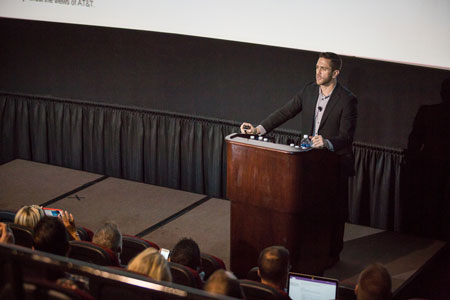 2017 AT&T Developer Summit, RocketSpace Senior Associate Conrad Wade presented the Future of Entertainment Report. It is the second publication in the Futurist Reports series, where we dig into the most impactful technologies and trends while highlighting key insights that are reshaping entire industries around the world. The Futurist Report was created in conjunction with AT&T Foundry, RocketSpace and Ericsson*.
1. User-generated Content As Part of Primetime Television
The Future of Entertainment report states that 33% of consumers find it very important to watch user generated content (UGC). Sites like Instagram, Facebook and YouTube have introduced live streaming channels that have made it easier than ever for consumers to create content. No longer do people have to rush home to watch their favorite primetime show when there is so much content being created and available to watch for free online. In the future, much of the most popular content is expected to be user-generated and primarily unscripted.
2. Algorithms Help Enable the Golden Age of Storytelling
Artificial Intelligence (AI), machine learning and data can help people write great stories. For example, Fox Entertainment recently paired up with IBM Watson and used AI to create "the perfect" movie trailer. AI pinpointed the most dramatic parts of the film to create the trailer. In fact, this year, Benjamin, an AI software agent developed by researchers at NYU, created a full-length film Sunspring. AI can also help transform entertainment by leading to more consumer interaction with the medium so that they can navigate and create their own experience.
3. Media Companies Run by Fans
A key element in creating content is understanding what resonates with fans. New media companies, such as Rooster Teeth and All Def Digital (ADD) are interacting with fans to decide which productions to greenlight. In the future, an increasing amount of data will be used to decide what content gets produced, how it gets produced and where it gets produced. Technologies like crowdsourcing and gamification are expected to be key in these endeavors.
4. A Digital Rights Revolution To Empower Creators
Blockchain is a distributed ledger technology that creates a public record of ownership and transactions of a given asset. This method of distribution includes an option for micropayments, which can help eliminate subscriptions. Consumers are suffering from subscription fatigue and micropayments are the digital solution to this issue. Additionally, this will help content creators monetize the material they distribute.
5. A New Media Gateway as Your TV Guide
According to the Future of Entertainment report, 44% of broadcast TV viewers in the U.S. say that they can't find anything to watch on TV at least once every day. People are routinely turning to social media networks and bloggers to figure out what to watch on TV. A media gateway is expected to arise as the go-to place to discover new content regardless of platform (TV, radio, movies, etc.)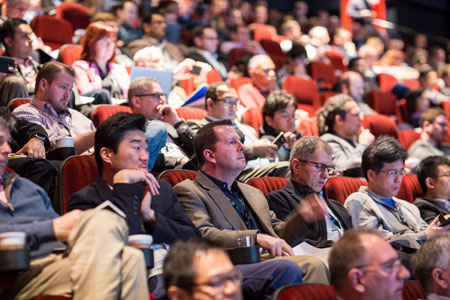 6. Virtual Assistants To Win Your Living Room (and Your Connected Life)
The smart home is the gateway to the connected life, and within the smart home the living room is key. The saying goes, "Whoever wins the battle for your living room, wins the key to your connected life." The standard for entertainment consumption and discovery will be driven by voice interfaces. Virtual assistants are already gaining traction and are expected to rapidly evolve. According to Gartner, 2019 will be the year that virtual assistants will likely act as the primary interface for connected home services, reaching 25% penetration of households in developed economies.
7. Fluid Rather than Fixed Screens
User interfaces are expected to display content when and where consumers want; with no primary screen. The report states that 50% of smartphone users believe smartphones will be a thing of the past in five years. Your environment will display content when it's needed most, regardless of the type of display. Augmented reality (AR) will play a big role in this trend. The key to unlocking your digital identity and data will likely still be through your smartphone. There will still be a mobile screen, but you will have a choice of how you want to watch things (small screen, big screen, or in your environment) thanks to technologies like AR.
8. Live Experiences Transcending Boundaries of Time and Space
In short, live events can become more engaging and dynamic because live streaming and virtual reality (VR) technologies are expected to converge. The world's best entertainment experiences can become democratized and digital entertainment can become better than ever. For example, the NFL is producing a VR series that's available on YouTube that you can watch using a VR headset. The Intel Sports Group has released interactive tools for watching sports. Consumers are expected to be able to change viewing angles, pull additional information about players, capture important moments and share them with others.
9. Emotionally Intelligent Media
Content recommendations that can be based on who you are, where you are, and what mood you're in. Advancements in emotional computing are expected to make that a reality. Computers can utilize deep-learning technology to predict what you want to watch based on your mood and location.
10. Full-sensory and Social Immersive Experiences
Feel, hear, and even smell content. The multi-sensory experience is expected to be a common part of at-home entertainment systems. Imagine putting on a headset at home and not only be transported to a beach, but also being able to smell the ocean and enjoy the sand between your toes.
Download the full Future of Entertainment Report here. In the report, you'll find more information about each bold projection along with early market indicators and startups to watch in the space.
If you found this report interesting, be sure to check out the first report focusing on the future of drones by RocketSpace and the AT&T Foundry.
* The views expressed in this presentation do not necessarily reflect the views of AT&T
---
Share this post