Updated: May 03, 2017
Published: May 04, 2017
What shows would Star Wars characters binge watch?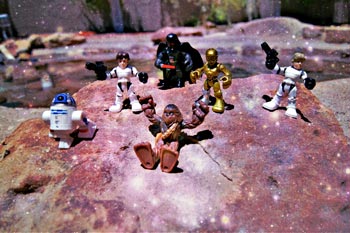 In honor of May the 4th Be With You Day, we thought it might be fun to figure out which shows Star Wars characters would binge watch. Characters from Star Wars spend so much time fighting the good fight for good or evil, depending on your favorite, that the show they watch when they unwind has gotta be good. Thankfully, there are so many original series and network shows available vying for their attention that we picked our top favorites for each character. We want to hear what you think, so please cast your vote in the ballot below for which combination of character and show you like best or better yet, write your pick for character and show.
Chewbacca
When Chewbacca isn't backing up Han Solo, he catches up on shows that are near and dear to him.
Alaskan Bush People is the reality-documentary series of a family born and raised in the wild. Like Chewbacca, people find them hard to understand. Living in the Alaskan wilderness test their strength and ingenuity daily. He digs that!
Planet Earth explores all areas of planet earth. Chewbacca becomes mesmerized exploring the planet earth. While he's spent his life crisscrossing across the galaxy, the earth is the one place he'll never be able to explore.
Naked and Afraid is one of Chewy's all-time favorite reality shows. He's applied many times to get on the show, but keeps getting rejected because the producers say his extensive fur is an unfair advantage. Still, he knows he would be able to survive and thrive in the wilderness for thirty days. While he might be naked, he's definitely not afraid.
R2D2 and C-3PO
These two do everything together, so it's no wonder that they would spend their downtime together binge-watching some shows that could improve their programming skills.
Mr. Robot inspires them and reminds them why they do what they do. Elliot's mad hacking skills are refreshing, and they often pick up a thing or two that they can share with Princess Leia.
Silicon Valley reminds them of what not to do if they want to win the war against evil. At every turn, when things start to go right for Pied Piper they quickly turn terribly wrong.
Stargate may not teach them any new coding tricks, but it's the sci-fi fix they can't seem to miss. It makes them realize while Stormtroopers may be after them constantly at least they aren't alone in their journey.
Stormtroopers
This group likely gathers together after a long day of fighting the force to catch up on episodes of Orphan Black.
With so many versions of the same person, Orphan Black's plot is similar to the life of a Stormtrooper. When one goes rogue, things get interesting causing the other versions to pick up the slack. Something Stormtroopers had to deal with when one of their own, FN-2187 (aka Finn), helps Poe Dameron escape the first order.
Jabba the Hutt
This villain of the galaxy loves to eat, but he's also pretty ruthless. He's likely to spend his downtime watching food shows and gangster series.
Top Chef quenches Jabba's desire for good food. The challenges help him imagine new concoctions he's never tried before, and he finds it encouraging to think that slowing down while he eats might just be worthwhile. His favorite part of the show is when Padma Lakshmi tells the losing chefs to, "Pack your knives and go." It makes him giggle every time.
Hell's Kitchen is a favorite, and it's mainly because of Chef Gordon Ramsay. Jabba absolutely loves that Chef Ramsay doesn't handle mediocrity lightly and is ready at every turn to snap the chefs into line.
Peaky Blinders' Tommy Shelby has all the ambition and ruthlessness that Jabba admires in himself. He loves how justice happens on the lawless streets of post-war Birmingham and often brings one of the gang's dreadful way of dealing with things to his business affairs.
Han Solo
Before Han Solo met his match in Princess Leia, he was a smuggler always looking for a way to move his goods and make a buck. His binge day would likely be a mix of gearhead shows and dramas that speak to his independent spirit.
Fast N' Loud features Richard Rawlings and Aaron Kaufman who turn rust into gold in their establishment the Gas Monkey Garage. When Hans binges this show he's always wondering how he can get in on the action.
Wheeler Dealers is similar to Fast N' Loud – more run-down classic cars, remodels, and money to be made. What's not to love for a guy like Han?
Sons of Anarchy speaks to his need to be his own man. Han can relate to the inner struggle that taxes Jax Teller and his desire to be loyal, but still do the right thing.
Luke Skywalker
Living alone in an unknown location can get pretty dull – even for someone as centered as Luke. The shows he binges speak to his life as a Jedi and what it might have been like for him if he hadn't spent his youth battling an evil empire.
Modern Marvels is a show that Luke can watch for hours. He's fascinated by the things ordinary men have built over time and the obstacles they've overcome to achieve greatness.
Ted Talks strengthen the force within him. He's drawn to all the good works happening in a galaxy far, far away and draws inspiration from the way visionaries imagine building a better world.
The Royals is Luke's guilty pleasure. After all, if things went another way, he might actually be royalty in his galaxy. This is his chance to see the life that could have been.
Princess Leia
A powerful leader and the founding general of the Resistance, Leia believes in justice and is drawn to shows with that theme. She also has a soft spot for scoundrels, so watching a show with hunky men vying for the affections of one woman provides hours of entertainment.
Judge Judy delivers justice with a no-nonsense flair that Leia admires. Her decisions are swift but fair and like Leia, she doesn't take any crap from anyone who enters her courtroom.
Scandal reminds her that conquering evil is a game of chess, not checkers. She particularly admires Olivia Pope's strength of character and the mastery in which she maneuvers through all the minefields standing in the way of getting what she wants.
The Bachelorette just tickles Leia. In another time, she would have been the lady choosing a suitable partner from a cast of many. She particularly loves all the time the men spend together scheming to win the heart of the bachelorette and wonders how Han would have fared on a show like that.
Rey
Growing up alone on a desert planet, Rey is scrappy and resourceful by nature. She loves foraging around abandoned space ships and other debris to find valuable parts that she can use to barter for food. When the sun goes down on her planet, she likes to spend her time watching shows about finding treasures among junk, cool car adventures, and a bunch of people trying to survive on a beach.
Storage Wars fascinates Rey. The idea that people get to bid blindly on an unclaimed storage unit and keep all the treasures they find inside fascinates her. She particularly loves the thrill she gets watching them wade through heaps of junk to discover that one valuable item and secretly wants to go for a ride in one of Barry Weiss' cars.
Top Gear speaks to the mechanic in Rey. The stunts they perform on the show just because they can fascinate her. After a watching back-to-back episodes, Rey often finds herself dreaming about the cast visiting her planet and inviting her to be a guest on the show.
Survivor is a delicious distraction. Rey loves all the challenges that contestant participate in to win food. Who knew getting food could be so easy? If she was on that show, she believes she'd definitely crush the competition and use her winnings to find her family.
Darth Vader
The ultimate bad guy, Darth Vader loves watching shows with characters that wield power over those around them and having people running scared whenever they walk in the room.
The Blacklist features Raymond Reddington, a ruthless criminal who is masterful at getting everyone around him to succumb to his will. Darth Vader finds that completely amusing considering he can do the same thing with just his thoughts and his intimidating garb.
Narcos is one of Darth Vader's all-time favorite shows. He is infatuated with Pablo Escobar and is impressed with the way he built an empire and plays cat-and-mouse with the Drug Enforcement Agency agents hunting him.
Ray Donovan is a bit of a guilty pleasure. He can relate to Ray's struggles, since after all Darth Vader is essentially the Emperor's personal "fixer."
What Are Your Favorite Star Wars Characters Binge-Watching? Vote Now.
We voted internally to see which show we think the characters mentioned above would most likely watch and provided our answers in the poll below. Now it's your turn to decide. Do you like one of our picks or do you have an entirely different idea? Fill out the poll below with your top pick and feel free to add a show and Star Wars character not listed here in the space provided.
Thanks for participating and may the force be with you!
---
Share this post