Updated: Apr 17, 2017
Published: Apr 17, 2017
Recap: IoT and entertainment-focused hackathon in Hawaii
On March 10th & 11th we traveled southwest to the 50th state to challenge local Hawaiian developers to code Internet of Things (IoT) and Entertainment-focused solutions. This was our fourth time in Honolulu, and it proved to be the biggest event yet attracting 148 attendees whom formed 23 teams!
I'd like to thank all of our wonderful sponsors and judges for their support and participation in the event. With a special thank you to the University of Hawaii and DevLeague their assistance in organizing the event and to Sacred Hearts Academy for hosting.
Our big winner at the event was DJ Reddit an IoT solution that used a Raspberry Pi to constantly scrap the /r/listentothis subreddit and play a constant stream of music whenever plugged in.
Another interesting app idea was Demeter, which also leveraged a Raspberry Pi and AT&T M2X to monitor the health of a potted plant. Additionally, the app integrated gamification through the use of badges in order to create a green thumb community.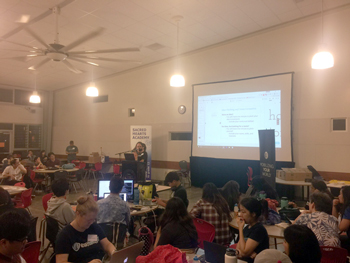 Jason Sewell from DevLeague helping to kick off the hackathon at Sacred Hearts Academy.
Now onto the winners:
1st Place Best Solution Overall

– DJ Reddit

1st Place Best Entertainment Solution

– DJ Reddit

2nd Place Best Entertainment Solution

– GAPTCHA

1st Place Best IOT Solution

– Demeter

2nd Place Best IOT Solution

– Maka'ala

Most Challenging Implementation

– Multi-Pass

Best UI/UX

– Village

Best Use of AT&T M2X

– Demeter
Check below to find out about all the apps created at the hackathon:
Spot The Pothole – "Almost all Hawaii drivers on the island have hit a pothole at one time or another. Wouldn't it be great if there was a place to find out the location of these potholes so we could avoid them and the damage they cause to our precious vehicles? Or if we could easily send the city information about where the location of a pothole? We've developed an application that does all that. Our application consists of a Raspberry Pi to record and send GPS coordinates to our database when the vehicle it's in hits a pothole. The data collected can be viewed on the website as well as a mobile app. We also feel it's important to share this data with the public and have the information plotted to share pothole statistics in the state."
TaskPoint –  "TaskPoint is a contextually aware, location-based reminder app. Existing reminder apps either use time or GPS data to schedule notifications. However, these solutions are limited by GPS accuracy. What if you want a reminder for precisely when you exit your front door, not 10 feet up the driveway. TaskPoint, using a QR code post-it style system can provide that sort of granularity, allowing for notifications at specific locations.
TaskPoint's implementation is infinitely scalable. Need more reminders at specific locations? Just print out more QR codes and link them in the app."
Cat Tracks – "Did you know that the leading cause of death in the USA is lack of productivity? Every day you are distracted and overwhelmed by hundreds of different events like trying to correct the one-half degree offset in your bottom left staircase. More than anything, you are constantly distracted by your phone. How many times have you started on an incredibly vital homework assignment when suddenly, DING! Or you know…. BZZZT! I don't know what sound your phone makes so that's a you problem. DING!/BZZT ETC goes off and BANG! Just like that you are off on another data consuming Internet adventure only to lead to your failure and demise the next day.
How about a way to control your social media app usage and also have fun? The Cat Tracks app tracks your social media usage. As your time spent goes up, your cat's health deteriorates leaving it in a crumpled, lifeless ball. Don't let your cat die, cut down your social media usage with Cat Tracker!"
Autonaut – "Get real-time data straight from your car! This IoT app can help reduce your carbon footprint, save you money, and can help you make informed decisions about driving!"
GAPTCHA – "Find. Scan. Win. Now's your chance to discover the world all around you—so get your shoes on, step outside, and explore. With GAPTCHA, our augmented reality (AR) scavenger hunt, you will have to get out in the real world in order to find our hidden checkpoint!
When you find a marker, open our web app, scan the marker and get the bearing to discover the hidden checkpoint. Collect the bearings from several markers in order to reveal the location of the hidden checkpoint!
Once you think you have located the secret checkpoint, open our app, click the "Did I Win?" button.
It's time to get moving—your real-life adventures await!
Check out our deployed app here: https://gaptcha.herokuapp.com/
Source Code: https://github.com/thgaskell/GAPTCHA"
Aloha Farmers – "Our app connects people with local farmers market. It promotes the local economy and sustainability by displaying farmers markets within a seven miles radius of your current location or a location of your choice.
It also displays farmers markets by days open, time, etc. With this information we hope that people will find the information of farmers markets easier to obtain and help support local farmers."
Demeter – "A modern plant-monitoring application using sensors, a Raspberry Pi, and M2X to track plant health. The app also incorporates game elements like badges, and points to help build a stronger sense of community who can gather together to help each other answer questions."
MultiPass – "Unifies all fare systems for commuter public transportation to improve the city experience, and promote sustainable mobility. A unified fare pass could also refine the tourist experience, and be a symbolic gift, like a key to a city. And with RFID/NFC having the ability to be embeddable in anything, the pass could be in any form — wearables, jewelry, conference tickets, etc."
Games For Gifts – "Games For Gifts allows anyone to create a game to gift to someone, for a birthday, special announcement, or just because! The game can be personalized to include the gift receiver's unique favorites. For example, if they like pizza, soccer, and kittens, the game could consist of a cartoon pizza as a main character that explores a world while collecting soccer balls and kittens. A customized message awaits them as they finish the game – anything from Happy birthday! to a simple, Hope this makes you smile!"
Maka`ala – "Maka`ala is a Hawaiian word meaning: Alert, watchful, or to attend vigilantly.
The Maka`ala IoT device is a pint-sized real-time community alert feed display that you can push for more info. This low-power and low-cost (under $20) IoT device connects to Wi-Fi and displays a real-time feed of public safety alerts from the city and County of Honolulu. The small display cycles through alerts published by the offices of the police, the mayor, and public safety. When an interesting alert is viewed, simply push the button and it will trigger your cell phone to pull up a page with more info."
Venü – "Technologies like QR codes and low energy Bluetooth emitters have huge potential in affecting the way information is shared among people. Our app uses these technologies to show the potential in changing how people attend and interact at events such as conventions and sporting events.
Have you ever been in an unfamiliar area, and unable to find a restroom? Our app hopes to prevent such potential tragedies. We automate the process of dispersing important information at such events. People will have ready access to locations of things like fire exits, or bathrooms.
Our app reads in a QR code or detects a low energy Bluetooth signal, and parses information within it to perform some action. This could range anywhere from giving access to download a flyer, to providing a map of a crowded convention space, to taking attendance in a massive lecture hall. Our demonstration displays a map that links to credentials contained within the parsed information."
Village – "Some people go far and wide to assist people in need, but what about the people right next door? Village is a micro-funding and micro-assisting application that allows people to make an impact on those directly near them and make connections within their own community.
Users are able to create "tasks" that will be visible by those in their community. These tasks can range from things like helping a family to move out to attending a BBQ party to raise funds for a child's college tuition. Users can promote their incentives, whether that be a home cooked meal or Grandma's cookies.
Other users can see these tasks and choose to volunteer or donate. Upon hitting the volunteer button, the task creator will receive an email about the volunteer and continue the conversation. Donating is also another option that can give those who do not have time to support another way to make an impact. Village strives to bring back community closeness through philanthropy, trust, and goal-oriented social gatherings."
Nononomnom – "Remember that time you wondered if that particular food would break that particular diet you were attempting?
Remember that time you wished the rabbi was there to tell you if the food is kosher or not?
Remember that time you stared at that stick of butter and asked, "Are you a carb?"
With our app, you'll get an immediate yes or no answer to those questions. Time is of the essence when you think you're about to break your diet or violate the Torah, so you can't be relying on Internet search queries. Simply type in what you want to eat and your dietary restriction, and we'll tell you if you can eat it.
Or not. It's an app, not a cop."
Shovester! – "We built an app from the ground up without a fancy framework in C++, and designed a bare-bones game engine that is used to present the game you see with Shovester!"
DJ Reddit – "DJ Reddit uses a Raspberry PI to automatically scrape and download /r/listentothis and play a constant stream of new fresh music."
LuggageLeiOver – "Do you have an early flight and a late hotel check-in? Do you hate carrying your luggage with you because the hotel lobby can't hold it? Use LuggageLeiOver! Fill out your personal information, hotel, and flight details, and we will have our pickup team arrive at HNL Airport, pick up your baggage, and delivery it to your hotel!"
Alexa Themer – "A two-step process to hype up your day! Step 1: Setup username and upload a theme song of your choice. Step 2: Leave house to get groceries then come home! Just like that, when your phone connects back up with your hom Wi-Fi just outside you front door it will automagically start playing your theme song on the home audio entertainment system of your choice. You now have your very own personalized theme song every time you come home! Each user will have their own unique theme, that way you know who is knocking on your door."
BlastCast – "BlastCast is a system that allows localized broadcasting for things like conventions and events. Admins can send messages to a Raspberry Pi and to the users in the area. Such an app could be used to send out announcements or direct people's attention (and possibly target specific people) to something in particular. The advantage is that you know the people you broadcast to are in the area."
Guilt Trip – "To grow awareness of how much CO2 is produced by a person in a fun and interactive manner. CO2 emissions will be able to be stored in a persistent manner that can be tracked over time (per trip, daily, and monthly)."
Town Talk – "Town Talk is a social hub connecting local communities together. Enabling neighbors to send relevant local news alerts, or just chat with each other. Users can both read and post messages in this portion of Town Talk, but they also have the option to have a public or anonymous profile. The threads are based on activities/interests of community members and through these threads, users should be able to meet up and participate in the activities that appeal to them."
Transit 2.0 – "This application was developed to assist users of Hawaii's public transportation by alerting them through the use of various portable device peripherals within a specified distance (GeoFencing) that they are approaching their destination. This app will be beneficial for patrons sleeping on the bus or too absorbed in either their smartphones or reading material to realize that their stop is approaching. It will also be beneficial for tourist and locals who are not familiar with the area. This program has the potential to expand beyond Oahu into other jurisdictions."
Piss Off – "Our app encourages people not to make a mess in bathrooms by ramifying the experience of using a urinal."
PlanD – "Have you ever wanted to live a fulfilling life? Have you ever wanted to consistently keep track of certain activities? Say hello to PlanD! This planner app allows you to give the different aspects of your life a persona and easily identifies which parts of your life are being neglected. You can create profiles with dynamic ranges and its own emotions which all define you, defined by you. Try PlanD today!"
---
Share this post