Updated: Apr 16, 2021
Published: Mar 03, 2017
Reality, Virtually Hackathon: Educational, entertainment, and gaming VR/AR apps for all
Last October, the AT&T Developer Program, as a founding sponsor of the event, participated in the Reality, Virtually Hackathon. It was AT&T's largest VR/AR-focused hackathon event ever with over 350 participants, over 550 attendees, and a record 75 total projects completed over the weekend.
A truly phenomenal experience, as made evident throughout the organizing process and the whole event, the hackathon was a labor of love for everyone involved. I'd really be remiss if I did not thank Steve Patterson for sharing his crazy idea for this event with me, to congratulate the awesome team he put together on an extraordinary job, and all the sponsors who took part for also believing that such an event was not only possible, but needed to be supported.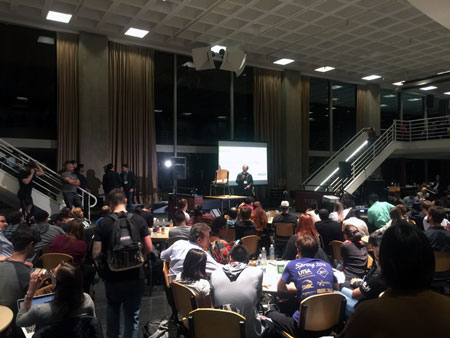 A completely full house as Steve Patterson kick-offs the Reality, Virtually Hackathon.
As mentioned earlier, the event was truly massive and as such I was personally unable to experience all 75 hacks completed throughout the hackathon. However, there were still many that stood out to me. The AR project created by the WayPoint RX team was probably the most impressive to me. This should come as no surprise to those who attended the event, as they swept the AT&T prizes, nor those who saw the team capture 1st place at our AT&T VR/AR Challenge, but their solution truly showed that AR has enormous untapped potential.
Another impressive project was the game RevolVR, which took advantage of head tracking on the HTC Vive to create a VR experience where the user engaged in more realistic motions for movement. In order to move, you had to run in place and you could do it while still having access to normal use of the hand controllers. Although you were still restricted by the perimeter created by the towers, it offered a more realistic world experience.
Finally, before announcing the winners, I wanted to remind you that we'll be hosting and collaborating on a total of five VR/AR focused hackathons in 2017. These events will kick-off with our Seattle VR/AR Hackathon on February 24-26th in extraSlice in Bellevue and will continue with events in Los Angeles, San Francisco, Boston, and finally San Diego. We have stocked up on a plethora of VR/AR equipment to loan to attendees and are excited to see even more awesome hacks focusing on the VR/AR space.
The Hackathon Winners
Best AR Hack Overall & Best Non-Gaming App – WayPoint RX
"An augmented reality (AR) system to help guide pharmacy assistants in filling prescriptions, to help ensure patients receive the correct medication and dosages."
Best VR Hack Overall, Best HTC Vive Hack & 2nd Best Human Well-Being Hack – Kid City VR
"TreeHouse is an educational platform that allows parents and kids to play and explore together in virtual reality. Children start out in a magical tree house space (their homebase), where the player has access to all platform activities. Inside, the child meets Mr. Pouf, an adorable robot companion that acts as a guide throughout all of the experiences."
Audience Award & 2nd Best Entertainment Hack – Vream Team 
"Users can compose, listen to, and visualize their own music through a wholly new abstract vision. Users draw music with their hands and watch it play before their very eyes. The notes light up in the color of their pitch, and pitch varies on the vertical axis."
Best Up and Coming & Most Refined Mobile VR Experience – VR Storytellers
"Upon entering your story on our website, the app generates the viewable VR content including real life characters (images), objects in proper locations – scenes (background), and sounds based on the characters, actions, and mood of the story plot."
Best Interactive VR – ZeeGee Ball
"A zero gravity game where the player is able to float from area to area, using controllers like wings to guide themselves."
1st Best Entertainment Hack – ReVolVR
"RevolVR created a virtual experience that promotes fitness and human well-being through cardiovascular exercise that is packaged as a fun and engaging game. The game is set in 2035. Earth is quickly running out of natural resources. Scientists are desperate to find the energy needed to sustain life and find a source on a nearby planet. Users must run in place to collect crystals to bring back to Earth."
3rd Best Entertainment Hack – Rendever
Team building is an extremely important process for companies in order to function and innovate together. Users are placed in different rooms and have original ways to communicate without using voice. Team members must work together to solve puzzles in the rooms as well as master collaboration."
1st Best Getting Things Done and Doing Business Hack – Silver Unicorn
"Silver Unicorn is a collection of hacks and APIs that aims to serve as a prototyping platform for Augmented Reality by handling human-digital-physical interactions. The original project includes a hack for Microsoft Hololens that set up a complete loop of interactions between a human using voice to control a Sphero via a TCP server running on a Mac OS app."
1st Best Human Social Connection Hack – Nudge
"Nudge was inspired by how AR (particularly in Pokémon Go) started organic conversations, brought people together and created communities. It allows users to scan other users and figure out mutual interests to organically start conversations."
2nd Best Human Social Connection Hack – HoloCaptions
"Those with hearing impairments might not be able to utilize the same auditory cues that we use every day, or experience conversations in the same way. HoloCaptions provides those with hearing impairments an auditory compass and real life closed captioning for indoor use."
1st Best Human Well Being Hack – StudyVR
"Have you ever studied a concept that you never applied in real life? Most children learn best through doing, and StudyVR is our solution to engage the next generation of kinesthetic learners. StudyVR is a learning tool for grade school kids to connect with their learning concepts with the HTC Vive, using kinesthetic hands-on interaction to engage them on a deeper level and bring science to life."
1st Best Human Well Being Hack – Helping Hand
"Assisting patients with phantom limb syndrome in their rehabilitation process."
You can learn more about the event and all the other entries at https://realityvirtuallyhack.com.
---
Share this post