Updated: Feb 09, 2022
Published: Feb 23, 2017
Girl Day Aims to Inspire Future Engineers
Categories:
Women in Tech

,

Developer News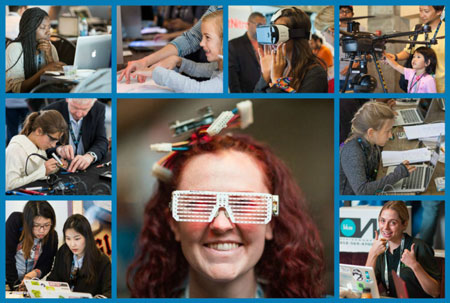 Engineering is a big field and is only getting bigger. In the spirit of bring more females into the profession, DiscoverE is hosting Girl Day on Thursday, February 23, 2017. Girl Day is a global campaign where thousands of engineers, teachers, and others serve as role models to educate girls about the what they can accomplish through engineering.
Girl Day is an essential part of Engineers Week, which is happening February 19-25. DiscoverE (formerly the National Engineers Week Foundation) is an organization that unites, mobilizes, and supports the engineering and technology volunteer communities. In that vein, DiscoverE provides a plethora of materials that guides people about how to talk about engineering, volunteer training, and Girl Day activities. There are also a host of videos, where role models talk about what it means to be an engineer and how the profession has changed their lives.
Local Girl Day Events
Since this is a global campaign, chances are there's probably an event happening near you. Most of the events are open to elementary and middle school students. There are a ton that are happening all over, so check with your local schools and colleges. Many Girl Day celebrations required registration prior to the event, but there are still plenty of events that don't. To get an idea of what to look for, here are a few of the events happening to celebrate Girl Day:
What: Introduce a Girl to Engineering Day and the Girl Day STEM Festival 
When: Saturday, February 25, 2017 from 12 – 4 pm/Science in the Movies demonstration show from 4 – 5 pm
Where: UT Austin campus
What: Introduce a Girl to Engineering Day
When: Saturday, February 25, 2017 from 10am – 1pm – Imagination, Innovation, Discovery, & Design (I2D2) Open House in the Armstrong Hall of Engineering Building/Lafayette/West Lafayette Visitors Center 10am – 4 pm
Where: Purdue University
What: MIT Museum showcase of the work of women scientists and engineers during Girls Day
When: Saturday, March 5, 2017 from 11:00am – 4:00pm
Where: MIT Museum
If you'd like to sponsor a Girl Day event at your company or local community, check out these useful materials. Of course, be sure to join the Girl Day conversation on social media with #GirlDay2017, #BringItOut. Inspiring girls to explore engineering isn't limited to February 23rd, there are always festivals and activities for girls interested in STEM all year long, just check your local colleges, schools, and Eventbrite for listings.
---
Share this post