Updated: Feb 08, 2022
Published: Jul 07, 2017
The Convergence of Convergence: Examples of Digital, Media, Video, Technology and Industry Converging in the 21st Century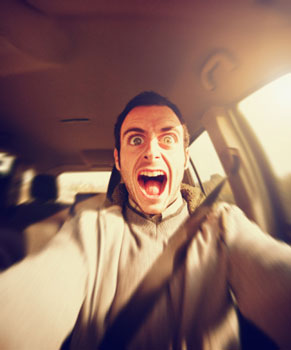 The world is converging. Well, maybe not every single piece of the world, but consider the cultural and corporate landscape of the past decade or two. The Internet and digital communications, as well as the merging of companies within–and between–industries, have been changing the way people communicate, shop, interact with each other, pay for things, and entertain themselves. In this post, we'll take a look at examples of all the types of convergence happening across the current cultural landscape.
Industry Convergence Examples: Blending Companies to Create New Types of Industries
Since the rise of the Internet, and the consolidation of many media companies, commercial change has come fast and furiously across industries. One of the great buzzwords of the '90s was "synergy," through which a company like Disney, which acquired the TV network ABC, could cross-promote its film products on its TV series, and vice versa. Industry conversion has surpassed simple synergy, though, as more companies are merging within, and across, industries. Here are some examples:
Disney-ABC-Pixar-Star Wars Catalogue: The Disney company started out, of course, as a leader in children's feature and animated films. As it grew its film library, the company began to seek other ways to grow as well. In 1996, Disney acquired the television network ABC. Since then, it has been strategically growing its entertainment footprint. It purchased the entire "Star Wars" catalogue from creator George Lucas, as well as the creative animation studio "Pixar."
When the latter purchase was confirmed in 2006, industry watchers felt it was a good fit; however, there has been criticism that Pixar films are following the Disney formula of sequel after sequel, possibly diluting the creativity Pixar has been its trademark. It remains to be seen if Pixar will continue to be a trailblazer under Disney's ownership.
Other entertainment industry convergences:
Viacom now owns Paramount Studios and CBS as well as many other properties
Verizon first bought AOL, and recently Yahoo, to increase its online audience
AT&T acquired DirecTV
Several other industries have converged, adapted, and changed radically in the last two decades, mostly due to the ability of the Internet and mobile devices to allow consumers to decide when and how they want to conduct their business. Here are a few examples:
Dating and Matchmaking: Once done via newspaper classified ads or personal matchmakers, dating is now conducted largely online, via sites and apps like Match.com, Tinder, and dozens more. In fact, dating per se was not really considered an industry until the web increased its profile.
Music: Once under the control of a few studios, music is now available across many channels and providers. Apple is now the leading provider of music to customers around the world, through its iTunes store.

Finance: Banks have converged and had to adapt to the digital era. Employees get direct deposit and pay for their bills online. And ecommerce has changed the way people pay for goods and services; PayPal has become a major disrupter in the business, and ecommerce companies essentially provide their own banking/payment services at checkout.
"This could be an area where there may be risks to the consumer," says Merrill Brown, Director of the School of Communication and Media at Montclair State University in New Jersey. "Think about Amazon, which knows the retail shopping habits of every one of its customers; has all their payment information; and has its own cloud services offering where everything is stored. Is all that information in the hands of one company a good thing?"
Money: Even actual cash has been affected, as "alternative" currencies like Bitcoin gain popularity.
Warfare: Artificial intelligence and virtual reality, as well as the Internet of Things (IoT), are being increasingly used in modern warfare to hit targets more precisely, and to save more lives on the battlefield.
Libraries: Libraries and research institutes will likely always be relevant, but with the rise of Google, Wikipedia, and Koios, more knowledge is at the fingertips of more students and others than ever.
Healthcare and Insurance: Many healthcare providers, like Providence and Kaiser, also are insurance providers now, consolidating what were once very separate industries.
Such developments are the ones that have or seem to be succeeding. There are also examples of industry convergences that have failed. Here are a few:
AOL-TimeWarner: America Online bought media powerhouse Time Warner in 2000 — a culmination of the dot-com frenzy of the late '90s. Unfortunately, the fit was not strong, and the companies split in 2009.
Early Search Engines and Browsers: Netscape had a formidable lead over web browsers like Microsoft Windows Explorer. Others in the space included Excite.com, About.com, AskJeeves.com, and more. Of those early search engines and browsers, only Yahoo, recently acquired by Verizon, and Microsoft's renamed Edge, really remain as players. Microsoft's Bing is the former Windows Live search engine, and it runs a distant second to Google, which launched in 1998.
In addition, some good ideas were ahead of the technology and consumer interest to support them. The introduction of WebTV in the 1990s was simply too early. The technology of dial-up Internet and consumer preferences had not caught up, and after WebTV was acquired by Microsoft, it later was shut down. The newspaper publisher Knight-Ridder tried to introduce the concept of digital magazines, also in the '90s, but consumer interest was not yet there; now even Knight-Ridder has ceased to exist.
Video Convergence Examples: The Movie Theater Can Be Anywhere
Once upon a time, film and TV shows were things you watched in a specific place, at a specific time. You went to a theater to see a film, which played at specific times. You watched TV shows on certain channels on your set, at certain times on particular days of the week.
But that is all changing. The convergence of video production, consumption, and platforms has provided opportunities for video fans and video creators alike. Now, anyone can create a film, and anyone can watch it, across several types of devices, anytime and anywhere. Here are a few examples:
Power to the Phone: In 2015, Tangerine, an Oscar-nominated film, was shot completely on an iPhone, using the Filmic Pro app that cost $8. While the filmmakers used special lenses and did post-production, the movie is an example of how DIY filmmakers can create something of high quality for little money.
YouTube: "YouTube has made everyone a potential movie producer," explains Edward Schmit, Executive Director at AT&T Entertainment Group. "You can build up a following for your work from anywhere, and get fans who live everywhere."
Transmedia Engagement Experiences: There's a growing trend to a multi-platform approach to TV- and filmmaking, involving web content, social interactions, games and more, in addition to watching the actual TV show. Examples of this trend include the film Zenith and the TV show The Walking Dead. The more engagement of fans across more platforms, the more immersive the experience. The experience of a movie or show doesn't end after the closing credits.
Advertisers Love It: Advertisers are eager to support video convergence, according to mediapost: IAB released a study of digital video and TV advertising in conjunction with Yahoo and Microsoft. They found that by reallocating 15 percent of the budget from TV to web in a combined buy, advertisers gained an incremental reach of 4.2 percent on average — at lower cost.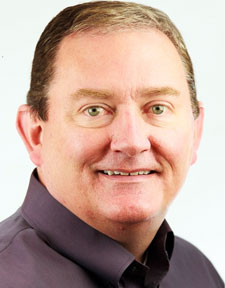 This trend of video convergence has been going on for a while. Remember how revolutionary TiVo and the DVR were? They allowed you to program your TV to record your favorite shows so that you could watch them whenever you wanted. (These were a nice digital update to the previous solution, popping in a VCR tape to view an episode at a time.) Then came Roku. And now there is Netflix (along with Hulu, Amazon, and others). According to the Global Internet Phenomena Report, Netflix accounts for nearly 40 percent of all downstream data in the U.S.
This landscape is not without its challenges. AT&T's Schmit says, "In filmmaking, we've already had AT&T events around these topics. How do you stage in a 180-degree environment? How do you script for this environment? It's almost as great a leap as the move from silent pictures to sound.
"Now we're in the fun experimental stage," he continues, "but filmmakers will really need to understand and embrace what it means to tell stories in this form."
As for artificial intelligence and virtual reality, it remains unclear how video convergence will take shape. "Will stories have a normal arc?" Schmit asks. "Eighty percent of films now follow a Tuckman model — forming, storming, norming, performing. Will this be broken? Will it be a failure for the film business?" Or could it potential be a groundbreaking opportunity?
Media Convergence Examples: Adapting to Change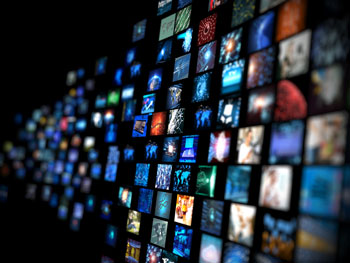 What is media convergence, exactly? Media convergence can mean one of two things: Either the merging of previously distinct media technologies resulting from digitization and computer networking–some of which are covered elsewhere in this article–or an economic strategy in which the media properties owned by communications companies employ digitization and computer networking to work together.
One major example of media convergence has involved the newspaper and magazine industry, and to some extent book publishing. Newspapers and magazines' print versions have seen major declines in readership and circulation since the mass adoption of the Internet (and the expectation of many web readers that content be free). While this business model is still shaking out, some news organizations are rising to the occasion.
The New York Times' website has deployed innovative ways of telling stories and engaging readers, and its subscription rates are up more than 23 percent in 2017 over the previous year. Entertainment Weekly and People, two of Time Warner's most successful print magazines, have had big successes online (The Entertainment Weekly Must List iPad app, one of the first of its kind, in 2011) and on television. Jess Cagle, who oversees both brands, has been a leading force in adapting the media to connect with the consumers who want it. He says the idea is to interact, collaborate and share information with readers/consumers in as many ways as possible, and transforming it from a passive audience to an engaged and active one.
TV and radio mergers have been occurring since the 1980s, though these are still somewhat controlled by the Federal Communications Commission. Facebook acquired Oculus the virtual reality/gaming platform, with Mark Zuckerberg's vision that soon the partnership would enable experiences like being able to get a doctor's expertise anywhere in the world.
Digital Convergence Examples: Connecting Everyone to Everything?
It's impossible to talk about digital convergence without talking about Amazon. In its early years, Amazon was focused on overtaking sales at the online versions of Borders and Barnes & Noble. The truth is, Borders ended up failing, and Barnes & Noble has closed many stores nationwide. Now people can buy virtually anything and have it delivered–which was Jeff Bezos' stated goal in the late 1990s. Interestingly, Amazon is now actually opening brick-and-mortar book stores, stocked with titles informed by its online algorithms. Amazon has opened seven stores, with more coming, including one in mid-town Manhattan.
In the sports world, the 2017 Final Four national semifinals and National Championship game were streamed in virtual reality. Fans who had Gear VR devices, powered by Intel and available through a live VR app through the Oculus store, enjoyed an immersive viewing experience at a virtual courtside — and felt like they were really there. The NCAA March Madness Live VR app also provided access to the enhanced video highlights from each game, scoreboards, stats, and 360-degree views.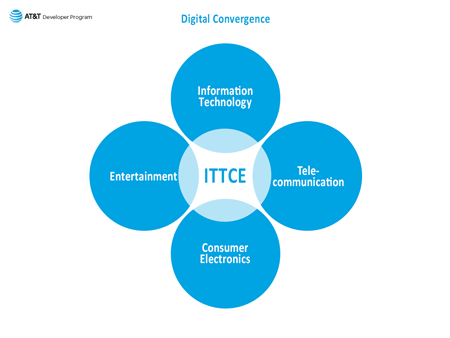 The Internet of Things is exploding across hundreds of industries, including fitness (Fitbit/Jawbone), automobiles (software in cars can predict maintenance issues, ways of driving that could affect insurance rates, etc.), and our homes (security systems, Amazon Echo, and more).
Even the art world is seeing inventive works using digital convergence. A researcher at New York University, Sarah Rothberg, has created a traveling art exhibit called "Memory Place: My House." Rothberg combines old home movies and photographs of her childhood home, as well as original diaries, along with Oculus Rift, to "walk through" her old house. In so doing, she has been able to remember certain things about the house — a loose floorboard, where a carpet began and ended, that aren't in the home movies.
Entertainment Convergence Examples: Fun on the Run
As mentioned earlier, the entertainment industry was one of the first to embrace and adapt to other types of platforms. HBO began HBO Go in 2010. Hulu started as a jointly-owned project of Disney and Fox, and repurposed existing content — past seasons of TV shows, for instance. Now it has made a name for itself by producing original content online and its presence on smart TVs.
An advantage of merging the Internet with traditional TV or movie-viewing is that near-instant metrics can influence the creation of new seasons of shows (House of Cards on Netflix) and even new shows that would appeal to audiences of existing popular shows.
Gaming has grown into an entertainment convergence powerhouse, as gamers are open to and eager for innovative ways to play opponents and engage with their favorite games. Examples include Pokémon; the trading cards have been popular since the '90s with assorted spinoff TV shows and merchandise. But in the summer of 2016, the mobile game Pokémon Go turned much of America into a real-time scavenger hunt, with explosive popularity.
Other platforms like Xbox 360, hardware like Samsung GearVR and Microsoft's HoloLens, and games like Resident Evil 7 have brought immersive experiences to almost everyone who wants them. Fans play the games online or on consoles, and then attend Comic-Con in person for the analog experience of other fans and seeing the series' stars.
AT&T's Schmit says this is also already happening with sports. "DirecTV Sunday Ticket includes information for Fantasy Players and has additional content that is complementary to the sport. What we are seeing at AT&T is a move toward total immersion–where virtual reality becomes much more the norm."
Technology Convergence Examples: The Underlying Mechanism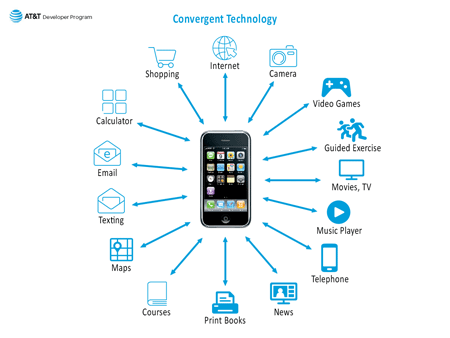 Many of the previous examples of convergence mentioned have come about because of technology convergence. Many of the entertainment examples, for instance, have to do with video, virtual reality and the Internet connecting and providing an altogether new experience.
In other instances, technology convergence is being used in real-world problem-solving environments. The U.S. military medics use Microsoft HoloLens AI/holograms on the battlefield to show real-world health crises — say, a heart issue on the battlefield, but the medic is not a cardiologist. Technology now exists where a cardiologist can view a hologram of the injured soldier and guide the medic through treating him in real-time. Microsoft is also using HoloLens in a diverse variety of fields, from environmental clean-up to creating community among senior citizens.
The field of nanotechnology is also experiencing explosive growth. Technologies are converging the capabilities of cell phones, computers, medical science, and more. "NASA has developed a 3D printer capable of printing metal components for rockets and missiles," explains Col. T. Christopher Petty of the U.S. Army. While currently these technologies pose complexity or cost challenges, Col. Petty believes that within ten years, breakthroughs in nano-manufacturing will reduce production cost and bring unimaginable technologies to our everyday lives.
Other types of technology convergence and examples include:
Mobile-to-Mobile: This has no need for fixed location capabilities.
Location-Based Services: Being able to determine the location of the nearest ATM or brand-name store.
Fixed-Mobile Convergence: Services that are available irrespective of their location.
Integrated Products and Bundles: These "super solutions" keep your services for multiple solutions with just one provider, such as when AT&T bundles DirecTV, U-verse cable and its home security system.
IP Multimedia Subsystem: This integrated telecommunications network enables the use of Internet Protocols to communicate.
Session Initiation Protocol (SIP): A call setup protocol that can be operated over the Internet.
Internet Protocol Television (IPTV): The delivery of television over the Internet.
Voice over IP (VoIP): Phone service over the Internet, made possible by SIP.
Voice Call Continuity (VCC): This service determines how a voice call is delivered, enabling it to be sent over both IP and CS networks.
It's likely that you use and see examples of all these kinds of convergence every single day (and your kids may use even more). Over the next few years, as long as consumers demand it and companies can create and deliver it easily, more types of convergence will become simply a part of daily life.
Explore Digital Convergence Trends at SHAPE
AT&T SHAPE is an immersive event that explores the convergence of technology and entertainment. Be inspired by luminary speakers, interactive demos, and hands-on creation activities. Participate in the world's first fully realized choose-your-own-adventure film, Late Shift, offering viewers a unique participatory experience via their mobile device. Join us afterwards for a Q&A with Tobias Weber, the writer & director, as he explores how a little code, a story, and the will to blend the two can broaden our entertainment experiences.
SHAPE is happening July 14 and 15, 2017 in Los Angeles, California, at Warner Bros. Studios.
* The views expressed in this presentation do not necessarily reflect the views of AT&T.
---
Share this post