Updated: Feb 09, 2022
Published: Nov 21, 2017
Definitive guide to App Store Optimization (ASO)
Guest post by Katerina Zolotareva, Marketing and Customer Success Manager at TheTool
It has been nearly 10 years since the appearance of app stores, and since then, the mobile economy has evolved into one of the biggest industries. In order to reach customers, many businesses go mobile. More and more companies strive to innovate solutions for mobile users. With the expansion of the industry, the need to improve discoverability of mobile products is growing, and App Store Optimization (ASO) has been a key marketing. Today, we will take a look at the current state of app marketing in 2017 and explain what you need to know to make the most of App Store Optimization.
The Current State of the Mobile Economy
Maximizing the visibility of a product is a major challenge not only for the websites, but for mobile apps as well. The digital economy is rapidly shifting towards mobile, given that users now spend over 2.3 hours a day using apps according to comScore). Smartphones and tablets are rapidly displacing desktop use: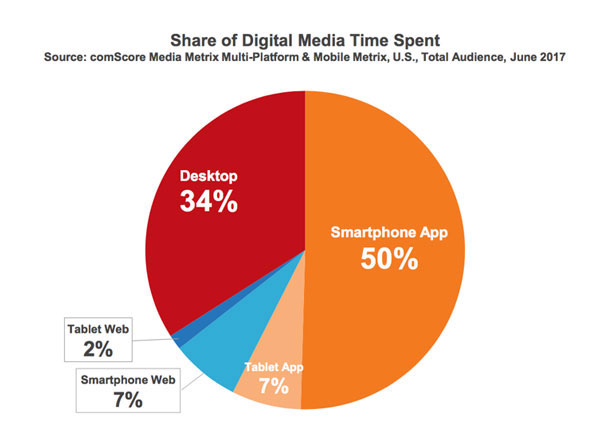 Many traditional businesses have already crafted apps to reach a bigger share of the market and engage their existing users. Which is expanding the mobile marketplace beyond those apps whose businesses are essentially mobile such as apps that provide their solutions for users, or games for smartphones and tablets.
This makes the app stores grow exponentially: currently, there are over 7.7 million apps in the major stores: Google Play Store and Apple App Store (source: Apptopia). But how do you keep your app from getting lost among others, and maximize its visibility so users will discover and download it?
There is a solution for that, and it is called App Store Optimization (ASO), which is the process of maximizing the visibility and conversion rate of apps and games in the app stores with the goal of driving more installs.
App Store Optimization consists of three key elements:
Keyword research and optimization
Conversion rate optimization and A/B testing
Tracking and improving (+ localizing)
App Store Optimization is a never ending process. There is always room for optimization, so tracking and measuring the results is vital for its success.
ASO strategy helps drive organic installs based on these four pillars:
Search – Conversion – Top Charts – Featured

Why App Store Optimization Is Essential for Mobile Businesses?
ASO has numerous benefits and is an essential part of any mobile app marketing strategy. Here's what you can expect from ASO:
It helps apps get discovered by potential users. An optimized product page will rank higher in the search results, right where the users are looking for it!
Installs obtained this way are organic, thus free. By improving the rankings in Search, Top Charts, or being Featured by the app stores, your product will start getting more and more organic visits and downloads – and you don't have to pay for them!
You can get more downloads from the existing visitors. By optimizing the conversion rate to install, you get more users who are visiting your listing to download an app, without having to acquire more traffic to achieve the same goal
Your acquisition costs may decrease. The more organic downloads, the lower the eCPI (Effective Cost Per Install).
Cash flow from app monetization can be more stable. If you are monetizing your app (by offering in-app purchases, subscriptions or just ads), the more users you'll likely get who may spend money in you app. The correlation is that easy!
App Store Optimization Stack
App Store Optimization Stack is a framework designed by Moritz Daan (Phiture) and Gabe Kwakyi (Incipia) to help mobile developers and marketers better understand the process of improving presence of their apps' in the stores.
The stack covers four levels of optimization: increasing visibility, increasing conversion, optimization tools, and alternative strategies outside the store that can be used to improve the ASO of mobile apps.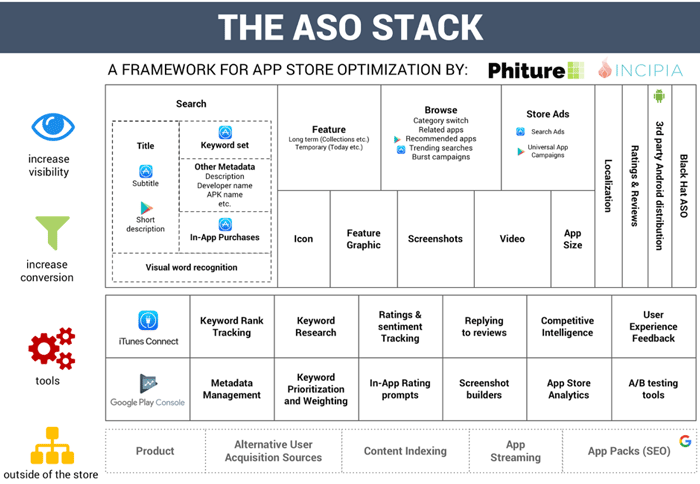 We are going to cover the set of essential App Store Optimization tactics, however, you can enhance your app marketing knowledge, by following the ASOStack blog for deeper insights on mobile optimization.
App Store Optimization Factors
There are two types of factors that have an impact on ASO: on-metadata and off-metadata. Similarly to on-page and off-page web SEO factors, on-metadata factors fall under the control of a developer, while off-metadata factors can't be controlled, only influenced by a developer or marketer.
On-metadata factors include app name/title, URL, subtitle and keywords field (for Apple's App Store only), short description (Google Play only), description (both stores), promotional text (App Store only), developer name, icon, screenshots, video preview, and app size.
Off metadata factors include volume and velocity of installs, user engagement, volume of ratings and reviews, and average score.
Google Play Store on-metadata: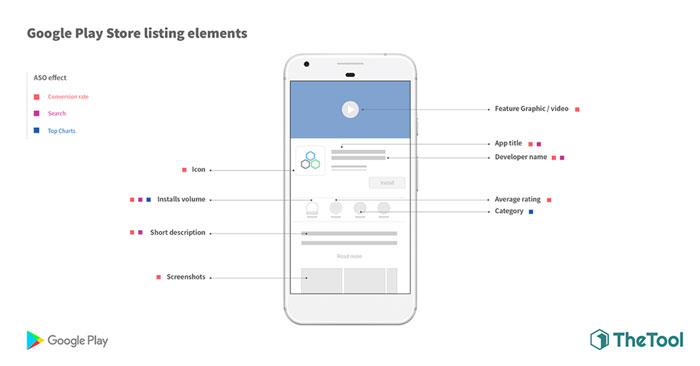 Apple App Store on-metadata: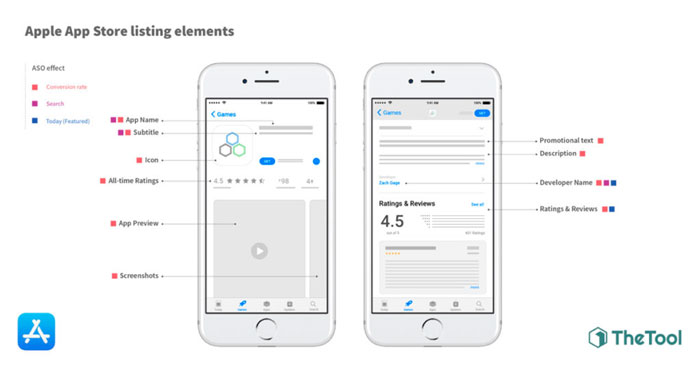 Why: The Importance of Keyword Optimization
Keyword optimization is the first integral part of ASO as it is the dominant source of app discovery among users. The point in this step is to target the right keywords for your project, and get your app ranked high in search results for those keywords. Nowadays, the user behavior is making this task more and more difficult because to gain real visibility in the search results, your app should rank at least in the first top five results for a particular search term.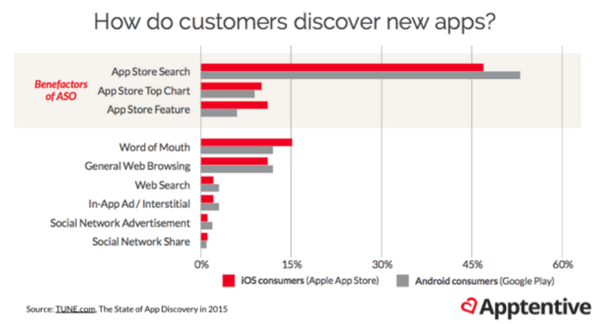 Source: Apptentive
How: Keyword Research Step-by-Step
The best practice is to target long-tail keywords (keyword combinations with more than three words), and select the keywords that have lot of traffic and at the same time aren't very competitive.
Depending on your niche, start by selecting the primary list of keywords: brainstorm to describe your product and the tasks it performs (or, if it is a game, you can describe the gameplay, characters, or locations). Check your competitors' apps and try to identify the terms they are targeting, look into the user reviews (they can give you a lot of ideas about the keywords for you app!)
When you have the initial list, amplify it with keyword suggestions to generate a list of long-tail keywords. There are different tools to help you with that, including tools from the app stores themselves, and a variety of tools like Google Keyword Planner Tool, SEMRush, or more app-specific, like Keywordtool.io or TheTool app keyword tool: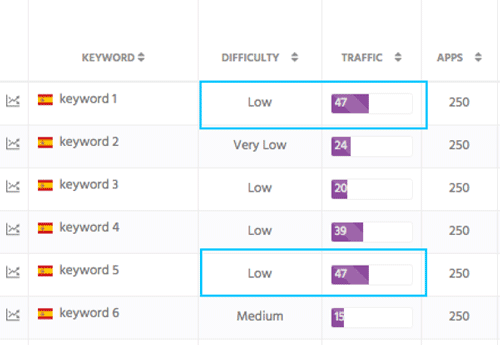 With these specific keyword research tools, you can see the estimated amount of traffic and competitiveness of a certain keyword in the app stores. Try to maintain the balance: keywords that are too competitive or the ones with very little traffic won't be helpful for your ASO strategy.
Where: Top 5 places for placing keywords
Once you've determined your keywords, it is time to optimize your textual on-metadata to make your app ready to skyrocket in rankings! Here's where you should strategically place your keywords:
1.
App Name/Title
. In both the App Store (30 characters available) and Google Play Store (50 char), an app title is the strongest ranking factor. Use the space provided to include the most important keywords after your brand name.

2. URL (package)
. For Google Play Apps, a URL can play a very important role in search rankings (read more
here
). Once the URL is set, it can't be changed, so if you have an opportunity, think about the keywords in advance. On the Apple App Store, the URL changes automatically when a change occurs in the app name, but it doesn't have an effect on ASO (just on SEO).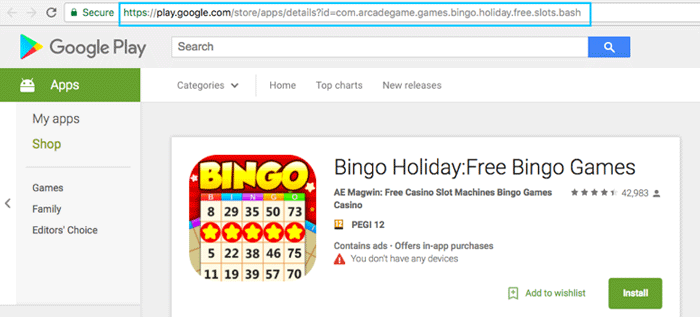 3. Short (80 char) and Long Description (4,000 char) on Google Play
. Apart from affecting search rankings, these fields can also impact the conversion rate of your app. Refresh the app's description at least once a month, and try to reinforce the well-performing keywords and get rid of non-performing ones, without making drastic changes.
Avoid using any Black Hat techniques, like keywords stuffing; Google discovers those pretty quickly and penalizes the developers. Moreover, you will generate distrust in your users, too. Repeating your main keywords about four or five times is enough.
Keep in mind that on the App Store, description is not a ranking factor for search ASO. However, it still makes sense to optimize it, as it has an impact on mobile web search rankings (SEO) and conversion rate.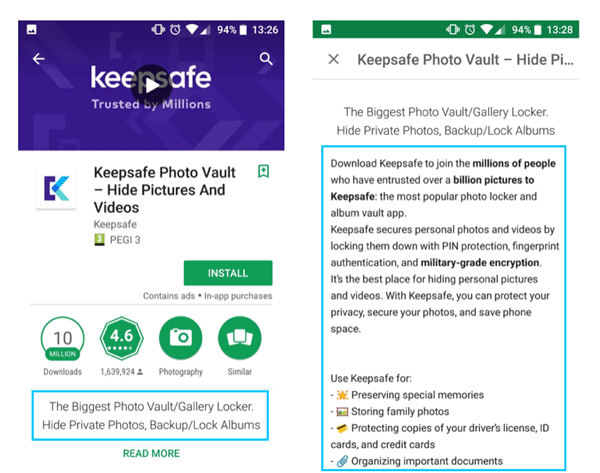 4. Subtitle (30 char) on App Store. A new field introduced with the new iOS 11 was created to provide additional information about an app in one catchy phrase. Use the subtitle to mention some of your keywords. Don't repeat those that are already included in the app name – Apple already counts them for you!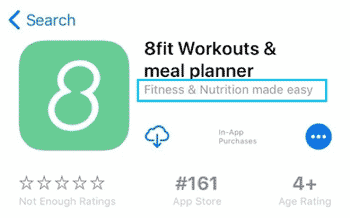 5. Keywords field (100 char) on App Store. The keywords field is the main space Apples provide for iOS developers to place the keywords they want to target. Don't include the same keywords that you've already mentioned in the app name (your app will already rank for them as it is the strongest factor). Use commas to separate words, don't include spaces, and avoid plural forms if you have already included singular forms of words. Apple's search algorithm will "mix-and-match" keywords from this field, providing various combinations you want to target.
Bonus Tip: Think About SEO for Apps
While performing keyword research and optimization, think in advance about the strategy you want to use in terms of SEO for mobile apps.
ASO is widely known as App Store SEO, however, SEO for apps is a different thing. It refers to maximizing the visibility of the apps in mobile web search (through browsers on mobile devices), where they can appear in search results as a single snippet or App Pack.

An example of a single snippet
In order to take a step towards building a strong SEO strategy for your app, optimize the textual on-metadata accordingly: include keywords like "app" or "game" (the users are more likely to look for those when they search in a browser), optimize the keywords in your URL, app name, and description to help web search engines rank your app for those keywords.
The search ranking factors are:
Google Play: URL + Title + Short description + Description
App Store: URL + App Name + Description
To bring the SEO of your app or game to a new level, get backlinks to your app download page from other websites. Start from your own website, build a dedicated landing page, and reach out to media.
Read more about SEO for mobile apps and App Packs in this guide.
The Importance of Conversion Rate Optimization (CRO)
As a developer who wants to promote an app or game, you would want to make your product page (listing) as attractive as possible to convince potential users to download your app. The conversion process has two main steps: Conversion Rate from Viewer to Visitor – Tap Through Rate (users that come across the app in search or "Top Charts" who will tap and go to your product page), and Conversion Rate from Visitor to Install (the percentage of users who will download an app after visiting its store listing).
An optimized app store listing will make the most of every viewer and visitor that found your app, which may improve your chance to get more downloads from existing organic traffic, without having to invest in user acquisition. Similarly, if you want to make a boost of installs, your acquisition campaigns will be much more cost-effective if you have optimized your Conversion Rate.
How: The methodology of optimizing the conversion
The main factors that are responsible for conversion on the app stores, are the graphic assets of your app as well as app name and description (however, according to this research, less than 1 percent of users actually expand and read the description, 5 percent among gamers). App size matters, too, because users can't download apps that are more than 100MB using a cellular service, which might postpone their decision to install.
Users make decisions based almost fully on their visual experience, so the graphic elements of your store listing (icon, screenshots, video previews, or feature graphic) should strive to make a major impact on your visitors.
Build hypothesis on how your graphics should look like and try them out. You can't trust your feelings or intuition here – the only way to measure and see if the optimizations you made have had an effect on your conversion, is A/B testing. There are a few tools that can help you with testing (it will require an extra bit of traffic from user acquisition campaigns, e.g. Facebook Ads). Check out SplitMetrics, StoreMaven, or TestNest for more details.
What: The Main Focus Points for CRO
Since users tend to make decisions based on visual cues, here are a few places that you can spend some more time to improve the CRO:
Icon is the first visual elements users come across so it needs to attract maximum attention while being recognizable and descriptive. It should give the users a clear idea about your app, look vibrant and distinct from the other app's icons in your category. Read this case study on how to pick the best app icon and A/B test it.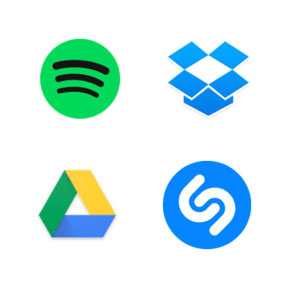 Screenshots play a key role in a user's decision about downloading an app. In the App Store, a new iOS 11 user will see the first three screenshots directly in the search results. On Google Play, screenshots aren't as highlighted and visible only after scrolling through the store listing.
Showcase the best features of your app on the first 2 screenshots and provide caption with explanations. Be creative, but make sure to show the real images from the inside of your app – in the end, what users want to see on the screenshots is what the real experience will look like. Read more on how to design outstanding screenshots here.
A Feature graphic exists only in the Google Play Store, however on the Apple App Store with the iOS 11 update, developers can provide up to three videos with footage of their app. Promoting your product with a video is a powerful tool and if done right can boost your conversion significantly. Make sure your videos catch a potential customer's attention in the first seconds and refer to this guide on using video for app marketing by Apptamin.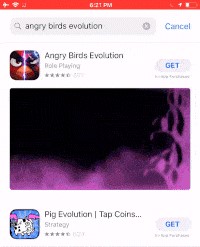 Bonus Tip: Optimizing Tap-Through-Rate (TTR) in Search Results
After the launch of iOS 11, there were a lot of updates. Just to name a few big changes that occurred: the introduction of three video previews, auto playing on mute, and a change in the App Store search results page. Now ratings and reviews are appearing in search results, and instead of tow screenshots, three are visible now.
Research based on a series of A/B testing experiments has showed some interesting facts:
Landscape screenshots and app previews (videos) show an increase in tap-through-rate by 45 percent.
The app listing that follows in search results after the one using landscape screenshots, shows the lowest conversion (blind spot), whilst the one after it has a higher TTR.
Landscape screenshots or app previews show 31 percent improvement in app engagement rate (compared to the 22 percent engagement rate for portrait screenshots).
These findings are useful to consider while optimizing your visual assets. However, in order to find out the definite impact of a certain optimization, the only method you can trust, is A/B testing. What works for one app, might not work for others.
When performing an A/B test, focus on changing only one element, in order to clarify which change has driven the best performance, so you don't attribute improvements to other factors by mistake.
Tracking and Improving (+ localizing)
Monitoring the KPIs of your ASO strategy is a crucial part of optimization. ASO is a continuous process, where there is always room for improvement, and developers need to adapt to the constantly changing algorithms of the app stores.
What: The KPIs to Track
The most important ASO metrics to monitor are: keyword positions, top chart rankings, user feedback (ratings & reviews), conversion rate, installs, and performance of your competitors.
How: Choose Adequate ASO Tools
There are many solutions designed to help developers and marketers perform keyword research, track the results of their optimization in terms of installs and search rankings, identify the top performing set of elements, and keep track of their user feedback. However, no single tool includes all these functionalities in one place, so it's best to pick a set of ASO tools and use a combination of those to track and optimize for mobile app growth.
Here is the basic set of tools you might need along the way:
Keyword research: Google Keyword Planner Tool, Keywordtool.io
Monitoring KPIs of the app against its competitors: TheTool
Market analytics: AppAnnie, Apptopia
A/B testing: StoreMaven, SplitMetrics, TestNest
Attribution trackers: Adjust, AppsFlyer, Kochava
User reviews tracker: Appbot
Don't Forget Localization
Localization of your app or game is the next important thing you need to consider as a part of your strategy to maximize visibility and downloads. To start opening your app to new markets, you can localize the store listing first. As soon as you have enough results to evaluate the demand for your product from these markets, you can consider localizing the full version. There are nearly 4.8 billion unique mobile subscribers – wouldn't you like to reach them all and turn into customers?
Bonus Tip: Boosting Rankings with User Ratings
User ratings and reviews play an important role in app marketing. The app stores use them as a ranking factor to position the apps and games in search results and top charts. The amount of ratings received and the average score directly affect app stores rankings.
The second reason why ratings and reviews are important is the impact they have on the conversion rate of mobile app. Apptentive's survey has found that 90 percent of users take into account app rating, 79 percent of users check reviews and ratings before downloading a new app, and 53 percent check them before updating an app. Don't underestimate the power and value of user ratings and reviews!
The importance of user feedback for mobile apps is immense, both in terms of App Store Optimization and Product Optimization. Both app stores now provide developers with an opportunity to interact with users and reply on their reviews. Sometimes, that interaction may even lead users to change their negative rating to a positive one. Besides, developers can use the user reviews to learn valuable information or user insights to include into their product roadmap, or even keywords associated with their app and start working on optimizing them.
Learn how to improve your user rankings in this guide.
ASO Best Practices – A Checklist
This checklist of 20 best practices of App Store Optimization sums up what you learned in this articles and serves as a helpful reminder of things you can do to help move your app to the top of the list. Follow these tips to help achieve great visibility of your mobile apps and games!
Identify the keywords list and amplify it with keyword suggestions to get long-tail keywords.
Use an ASO tool to track keyword rankings in the app stores.
Choose keywords with higher traffic and lower competition (high volume and low difficulty).
Analyze your competitors' apps and look into user reviews to find more keywords.
Include one to two top keywords in your app name/title alongside your brand name.
Use short and long description (Google Play), subtitle and keywords field (App Store) to include keywords and encourage users to download your app (explain the value, include the benefits, and mention your awards).
Invest time to create a perfect icon: test it against different backgrounds and make it distinct from your competitors and other apps in your category.
Use all screenshot slots and provide an explanation of each.
Showcase your best features on the first two screenshots.
Make an attractive video teaser, the first seconds must be really compelling.
Use real footage and encourage users to download with call-to-action, and prepare it to play on mute in iOS 11.
Perform A/B tests on graphic assets separately to identify the best-performing option. Try testing landscape screenshots and video previews against portrait.
Encourage users to leave positive feedback by identifying the most engaged users and asking them to rate your app at the right time (in the "moments of joy").
Provide a support page to avoid getting negative ratings on your app listing.
Respond and reply to negative reviews quickly, the users might change their feedback.
Listen to your users and use their feedback to improve your product.
Update your app frequently – at least once a month.
Get web backlinks to your app download page on Google Play Store and Apple App Store to boost your web search rankings.
Localize app store listing; if performing well, consider localizing full app content.
ASO is a long-term process: optimize and monitor results constantly!
App Store Optimization is a key strategy of app marketing, and certainly a MUST for any developer. In order to ensure the maximum visibility for your product and drive organic installs, you need to frequently optimize and keep track of your keywords, top charts positions, conversion rate, and never stop optimizing. Having a strong ASO strategy will provide a steady organic growth of your app subscribers, but remember a key to success is, above all, a great product!
About the Author:
Katerina Zolotareva is the Marketing and Customer Success Manager at TheTool, a powerful and easy-to-use platform that helps developers with ASO in over 90 countries. Katerina writes about App Store Optimization and mobile growth, and offers actionable tips to improve app marketing strategy.
---
Share this post