Updated: Apr 13, 2022
Published: Mar 29, 2017
An intimate conversation with the Godmother of VR and Futurecast moderator Andrew Keen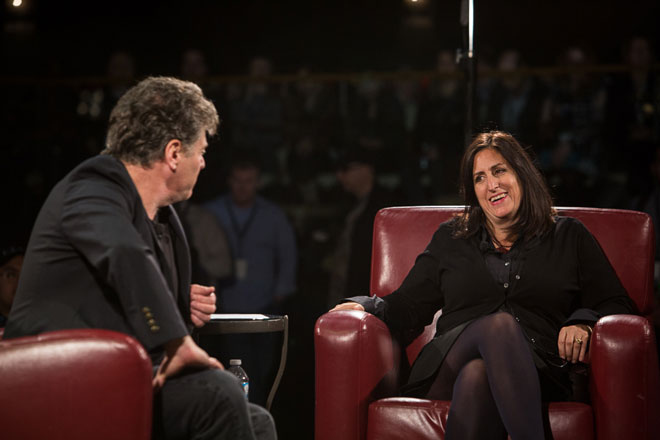 What if you could experience a story with your entire body, not just with your mind? Nonny de la Peña is working on a new form of journalism that combines traditional reporting with emerging virtual reality technology to put the audience inside the story. Virtual reality can create a duality of presence that allows users to tap into feelings of empathy based on the visual content they are immersed in. Dr. Nonny de la Peña and moderator Andrew Keen explore how virtual reality is enabling the next wave of storytelling, journalism, and content creation.
When you think about the Godmother of Virtual Reality (VR), you may not immediately think she's a journalist. Perhaps instead you think the person who has that name is a tinkerer, a filmmaker, or a developer. On some levels the Godmother of VR, who by trade is a journalist, is actually a little bit of all three. Nonny de la Peña, who made documentaries as a correspondent for Newsweek and taught herself to code, was in search of a way to tell a story in a fashion that could make people feel like they were there. This quest led to her early involvement with VR and at Sundance a few years ago, an Engadget reporter dubbed her the Godmother of VR.
"The very first piece I made was on hunger and I used audio from a food bank in LA, where people were waiting in line and there was a man there and he didn't get food in time and he collapsed into a diabetic coma," says de la Peña during her Futurecast interview. "I just couldn't stand that these people were going hungry and they were invisible in the world. So in journalism, you're always trying to get people to understand. I felt like VR had the possibility to show people certainly a connection."
Throughout her career, making people feel connected to the story has been a driving force behind her narratives. VR, with its ability to immerse a viewer in a situation, holds promise. She's used the medium and photogrammetry to tell the story of a man in solitary confinement from the cell that he inhabited for five years of a 20-year sentence. "Now you're in the room with the guy who spent five years in that room, and that is being there beyond. You couldn't do that in any other medium," she says of the experience.
Innovation in the VR Space: A Sporting Opportunity
As technology improves and becomes more readily available, we'll start to see advances that will put 3D, VR, and augmented reality (AR) in the hands of more people so they can experience this non-conventional form of storytelling. At the 2017 AT&T Developer Summit, Nonny de la Peña saw some VR and AR projects that had promising solutions that could have some long term implications. It's this kind of opportunity where people are encouraged to find answers to problems and that begets the innovation that moves technology forward.
Startups to large corporations are getting involved in VR. Intel, for example, is working on content for the space. Intel's Sports Group is looking to empower and bring to life sporting experiences. There are two technologies involved: VR and volumetric video. With VR you feel like you're there. While volumetric video lets you digitize an entire scene and watch a basketball game from the free-throw line, for example. Unlike 360 video where you can look at one space and look around, with volumetric video you can go anywhere you want and look anywhere you want. Intel is mixing VR and volumetric video with an interesting UI to give sports fans a way to view a game that hasn't been possible before.
"You've got some incredible, brilliant folks who have been given an opportunity because people have woken up to see what this medium could do," de la Peña observes. "They are putting their smarts behind it, taking their technology and creating amazing things out of it. This is not just one company. This is a lot of us making this happen." Intel is working with a variety of other companies to create these innovative sporting experiences.
Can LTE Support a VR Revolution?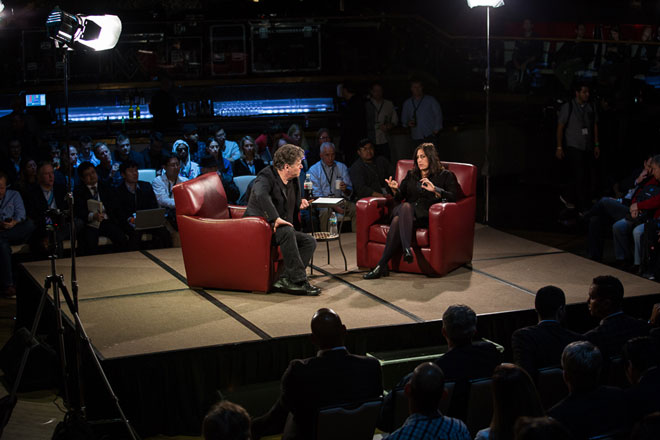 Although the network companies are working hard to deploy 5G, we still live in a 4G LTE* world. The amount of data involved in a VR, 3D, or volumetric video can be astronomical. We may be seeing more innovative uses of the technology and revolutionary forms of storytelling, but do the networks have the bandwidth to support it?
Nonny de la Peña sees something else happening in parallel to these changes and that's advancements in compression technology. We got streaming video thanks to compression, and a similar technology for VR could really help.
In a world where people are constantly looking at their mobile devices, fixing the bandwidth and compression isn't enough. We'll also need to have the right computation so this content can be rendered properly on the devices. It's not just one solution, it's advances that will need to be made simultaneously and work together.
The one key takeaway from this Futurecast is that these are exciting times for VR and whatever technology obstacles currently exist, there are smart people and companies with the passion and desire to overcome them. It looks like VR is here to stay, now let's see what it's going to show us.
Read about other experiences at past Futurecast below and visit the site for more on upcoming events:
This Tech Evangelist's thoughts on innovation will surprise you
Futurecast at the AT&T Foundry: Nir Eyal and Habit-Forming Products
Futurecast Featuring Steve Case: Innovation, Revolution, and the Future of American Innovation
Learn About How to Engineer a Culture of Creativity and Why a Failure Resume Can Help Propel You Forward
Former CEO of the NAACP Benjamin Jealous shares his thoughts on the importance of investing in diversity
The Science Fiction of Silicon Valley
Inspiring tech wisdom from renowned DJ Young Guru
___
Nonny de la Peña was selected by Wired Magazine as a #MakeTechHuman Agent of Change and has been called "The Godmother of Virtual Reality" by Engadget and The Guardian. Additionally, Fast Company named her "One of the People Who Made the World More Creative." for her pioneering work in immersive storytelling. As CEO of Emblematic Group, she uses cutting edge technologies to tell important stories—both fictional and news-based—that create intense, empathic engagement on the part of viewers.
A Yale Poynter Media Fellow and a former correspondent for Newsweek, de la Peña has more than 20 years of award-winning experience in print, film and TV. De la Peña is widely credited with helping create the genre of immersive journalism and her virtual reality work has been featured by the BBC, Mashable, Vice, Wired and many others. Showcases around the globe include the Sundance and Tribeca Film Festivals, The World Economic Forum in Davos, The Victoria and Albert Museum, Moscow Museum of Modern Art, and Games For Change.
___
*LTE is a trademark of ETSI. 4G LTE not avail. everywhere.
The AT&T Foundry Futurecast, collaboration between AT&T Foundry and Ericsson, is a gathering of thought leaders designed to vet, debate and ultimately spark ideas that will set the course for our collective technology future. We invite the best and brightest around a particular topic to participate in a curated, intimate discussion with fellow experts in the field. It is a fantastic opportunity to move conversations forward, challenge orthodoxy, and generally define the future. www.futurecastseries.com
---
Share this post