Updated: Aug 15, 2019
Published: Nov 10, 2017
Winning first responder and public safety apps from the AT&T Government Hackathon @ the AT&T Forum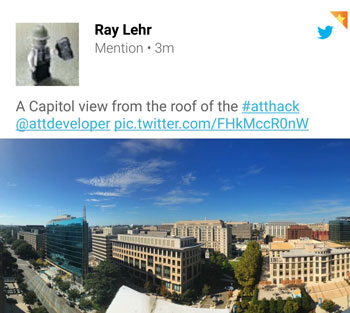 Recently one of our evangelists, Ed Donahue, had a birthday and flew to Washington, D.C. to celebrate and host the AT&T Government Solutions Hackathon. Nothing says birthday fun like a hackathon!
We invited developers, designers, and students into the AT&T Forum to create solutions for government where they formed 11 teams. They were tasked with creating solutions around smart cities, smart transportation, and public safety.
The app from the winning team incorporated the diverse talents of its members to create a truly interesting concept. To accomplish this feat they assigned each of the team a different part of the overall solutions: web dashboard/design, hardware components, and AR interface. The result of their efforts provided a way to clear a path so a fire team can rapidly and efficiently respond to an incident.
The judges praised the team that won Best Public Safety app for making smart design decisions based on the device's environment. The judges thought using a physical alert mechanism in the forest where Wi-Fi is scarce was a clever way to ensure authorities were properly alerted to danger.
Before revealing the winners, I want to take a moment to thank the event sponsors. A lot goes into making a great event and we couldn't do it without your help! Huge thank you to the teams at IBM, Cisco Systems, Check Point Software, and FirstNet for all of your support!
Winning Apps
Best Overall App: FireSense – "Using IBM's Watson and the Bluemix IoT platform, FireSense clears a traffic path for fire response, reports firefighter information to a dispatcher, and the dispatcher informs the firefighter of the building layout/precise victim location."
Best Smart City App: DC NODE – "Most emergency reporting systems are not practical as they require users to stand at a stationary post, make a call, or use a particular app. Node is a smart city and public safety platform that replaces blue light emergency phones with IoT based conversational interfaces. These voice-activated devices can be activated from afar and can facilitate instant crime and emergency alerts/reports to decrease response times of first responders while increasing situational awareness of citizens. In the future, we can integrate these devices into parks, landmarks, and metro/bus stations to improve the experience of city-goers and travelers, establish safer cities, and enhance quality of life."
Best Smart Transportation App: Flood Map – "Flood Map uses real-time sensor data to determine location and depth of flooding to help first responders plan, deploy, and execute rescues during emergency flooding situations. Data collected from Flood Map also provides safe evacuation routes for citizens, data to help determine long term impacts and trends, local governments with survey and assessment, insurance companies for risk calculation. Sensor materials are cheap, disposable, and rapidly deployable before emergency storm situations."
Best Public Safety App: FireFree – "FireFree is an app that senses a forest fire using sensors, and sends a distress signal using a mechanically operated flare gun. It also saves temp/humidity and location information and uses Bluetooth technology pass onto a drone once it's triggered based on a motion sensor."
Best Howard Overall App: SaverSense – "SaverSense is a system that detects changes in your external environment and uses it to make adjustments in the internal environment to save money and energy. These changes can include but are not limited to temperature, humidity, and light intensity. This technology was inspired by the newly renovated buildings on Howard's campus but it can be implemented anywhere from homes to government and commercial buildings. Newer buildings tend to have a lot of large windows that let in vast amounts of natural sunlight and heat that alter the brightness of a room and its temperature. SaverSense puts this natural light and heat to use to help lower energy cost."
Best IBM Bluemix Watson App: FireSense
---
Share this post