Updated: Dec 18, 2017
Published: May 11, 2017
Media convergence 101: The total immersion of consumer into content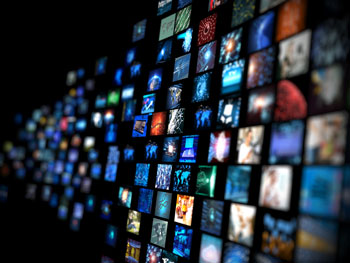 Media convergence has been happening at such a dizzying pace in the early part of the 21st century, it's easy to forget that the media landscape was changing and adapting throughout the 20th century too. As media consumers began to want more, different and better content, not limited to what might be being broadcast at a fixed time, for instance, technology and media companies have responded to the need. These companies now offer myriad ways of delivering the different kinds of content users desire, so they can watch it regardless of their location.
What is media convergence, exactly? This term can refer to either:
The merging of previously distinct media technologies, resulting from digitization and computer integration – like, say, reading your New York Times on your tablet, or taking a phone call from your smartwatch.
An economic strategy deployed by media companies to create content across different platforms that work together – like the "two-screen experience" viewers of "The Walking Dead" enjoy on their computers or smartphones while watching the show on TV.
Historically, media convergence has been discussed in terms of the three C's: Computing, Communication, and Content. Today, though, those C's only begin to cover what's happening. Merrill Brown, Director of the School of Communication and Media at Montclair State University in New Jersey, as well as a pioneer in digital journalism, as a Co-Founder of MSNBC.com on the Microsoft campus in 1996, has some other factors he would add to those concepts.
"Another C would be consumption," Brown says. "Along with those are mobility and social, which influence the way content is consumed. The introduction of both mobile devices and of social media have dramatically broadened the way media have converged and are dispersed."
At the turn of the 21st century, when the Internet was beginning to achieve global adoption, there was a flurry of interest in media convergence. Some of the experts observing that important era had diverging takes on what it was, and what it meant.
Colin R. Blackman published a paper in Telecommunications Policy in 1998 stating that media convergence is a trend in the evolution of technology services and industry structures – more sophisticated and broader content, delivered across new and varying types of technology. Blackman's concern was that the rapid evolution of this convergence could outrun regulation, and raised the issue of how regulation should adapt.
In 1999, Milton Mueller wrote in Javnost: The Journal of the European Institute for Communication and Culture that media convergence "is driven by the declining cost of information processing power, and by the development of open standards. The chief effect of this is … to break up the media market into more or less specialized horizontal components (content, conveyance, packaging of services, software, and terminal equipment)."
Just a few short years later, in 2001, Henry Jenkins defined media convergence in heady terms, as a movement leading humanity toward a digital renaissance, a transition and transformation period that will affect all aspects of our lives.
Now, Merrill Brown says, the concern is about the concentration of power. "Take Amazon, for instance. It dominates in the retail space, in publishing, in entertainment, and in its cloud services, AWS. No one really knows what that kind of concentration of power could mean for individuals."
Taking Stock of the Landscape: The Five Elements of Media Convergence
Terry Flew is a Professor of Media and Communication and Assistant Dean, Creative Industries Faculty, at Queensland University of Technology in Brisbane, Australia. He believes there are five elements that make up media convergence, and any of these factors can shift in importance or impact depending on the topic at hand.
The first element, Flew said in an interview, is technological. The rise of the web and the various devices we use to connect with it are the first thing that come to most people's minds when they think about media convergence, he explains. "These include your tablets, computers, smartphones, all accessing the same content but from different devices." That also includes reading newspaper content from a phone, say, instead of on its original medium, paper. That in turn has prompted news organizations to offer additional content to maximize the consumption experience: videos, interactive polls and quizzes, podcasts and more.
The second component is driven by industry. Mergers in the late '90s and early 2000s changed media landscapes in big ways. Some of these mergers included Disney's purchase of ABC (resulting in promotional spots for Disney films and music on popular ABC shows like, for example, "The Bachelor"); Viacom, which merged first with Paramount and then with CBS; and the ill-fated America Online takeover of Time-Warner in 2000. More recently, Verizon bought AOL and then Yahoo, and announced plans to merge the two companies. AT&T bought DirecTV, resulting in attractive bundling deals for subscribers in the regions they serve.
"Some of these purchases and mergers make total sense, like Disney's purchase of Pixar," Dr. Flew adds. "Others, like the AOL purchase of Time Warner, really did not make sense. There was no real affinity in those two industries."
The third component is social, as in social media. At first, sites like Facebook and Twitter and YouTube were fun for users to share in small ways. Today, there are graduate film students sharing their student films globally now on YouTube, and bona fide stars on each social channel, Flew shares. So in a way, each of these students is his or her own film studio—not just a consumer of content, but a producer and distributor, as well.  Such is the power of social media that Facebook is cited as one factor influencing the 2016 U.S. presidential election with so-called "fake news." User-created content is considered to be one of the main disruptors to the media landscape.
The fourth component is textual and contextual. Stories can now be told and supplemented across different platforms for dramatically bigger audiences, but also as a way to reach more niche audiences. Star Wars and the Harry Potter characters live in film, TV, toys, and video games for mass appeal. Flew notes that other shows like Doctor Who, which first aired on British TV in the 1960s, has generated hundreds of fan sites, podcasts, comics, and the like—none of which could have been imagined in the '60s.
Finally, there is a political aspect to media convergence. In the analog era, newspapers, TV, radio, and other media were regulated by separate groups and laws. Now, cross-platform media is growing and changing dramatically. Flew explains, "Look at the changes just the last 10 years. Now Apple is the global leader in distributing music; Google and Bing repackage and distribute news and TV content and become a destination for people seeking news."
Regulatory agencies have been racing to keep up with the abilities of technology, and the challenge continues. Debates ensue about an all-open Internet, and whether or how, for example, to restrict certain types of content so that children cannot access it. Merrill Brown adds that there is a movement in 2017 America to let the free market, not regulators, decide where, when, and how to consume content.
From Analog to Digital: The History of Media Convergence
Media convergence isn't a new concept. There are many examples of analog pairings of different media in the 20th century. Early radio shows partnered with newspapers to have the local news read over the airwaves. Some 20th century analog examples include records paired with TV shows, and radio stations that partnered with newspapers to read news on the air. In the 1980s, the launch of MTV paired radio, records/CDs, and television into a new immersive experience for music lovers.
Some attempts at media convergence in the late 20th century failed because technology was clumsy or weak, or because consumer interest just wasn't there. Knight-Ridder, then a powerful chain of newspapers and other media, promoted the idea of "portable" magazines and newspapers, but the concept never gained traction (and Knight-Ridder itself was bought by McClatchy and no longer exists). Web TV was launched in 1996 and subsequently bought by Microsoft and turned into MSN TV, but it never really took hold with consumers and Microsoft finally closed it down in 2013.
In the 20th century, most media companies are digital or are bringing their traditional analog content into the media space, with varying degrees of success. One of the early examples of a digital-TV partnership that worked well was MSNBC, which was launched in the late 90s as a partnership between Microsoft and NBC News, as a way to provide both a cable channel competition to Cable News Network (CNN) and an online, rapidly responsive news site. It succeeded for several years, especially online, in the early 2000s after 9/11 and the anthrax scare, when consumers wanted to read the latest updates online as quickly as possible MSNBC.com regularly was ranked No. 1 in page views. Later that decade, though, the cable TV version made a decision to become a left-leaning counterpart to Fox News, which was luring right-leaning viewers. As a result, MSNBC.com became the left-leaning digital counterpart to that cable channel, and the original MSNBC.com ultimately became NBCNews.com, which still performs strongly online. Microsoft sold its stake in the company and focused on MSN, which no longer produces any original content but merely curates content provided by its partners.
Other notable pioneers in digital convergence included the premium cable network HBO, which launched HBO-Go in 2010. Hulu, jointly owned by Disney and Rupert Murdoch's 20th Century Fox, became a destination for subscription films and TV series, and later began producing its own original content. Netflix began in the late '90s as an online DVD sales and rental site, but unlike many of its competitors (Blockbuster.com, DVD Now, etc.) it strategically reinvented itself in 2007 as a streaming video site. In 2013, Netflix took content delivery to the next level by re-creating the British series House of Cards and as a result, emerged as a formidable player in the television landscape.
Even gaming companies have become trans-media successes. Xbox and Sony's PlayStation gaming systems were launched as self-contained units to be played on the user's TV screens. Now they are fully digital, with games available online and with varying experiences using the hardware. Pokémon went from being a humble Japanese anime card game in the early 1990s to being a huge digital phenomenon in 2016 with Pokémon Go, a popular mobile- and digital-based game with millions of users.
AT&T has a longer history than many companies, going all the way back to the invention of the telephone by Alexander Graham Bell. After he invented the telephone and formed the Bell Company in 1879, he created the American Telephone and Telegraph Company in 1885, which acquired the Bell Company. It became the main telephone provider in the United States for nearly a century. The company continued to reinvent itself after the "Bell system" was broken up in the 1980s by the Federal Trade Commission (FTC).
Since then, AT&T has moved into wireless communication, TV broadcast/cable with U-verse and DirecTV, and has moved to acquire Time Warner (the acquisition has been approved by regulators in Europe, but not yet by those in the United States).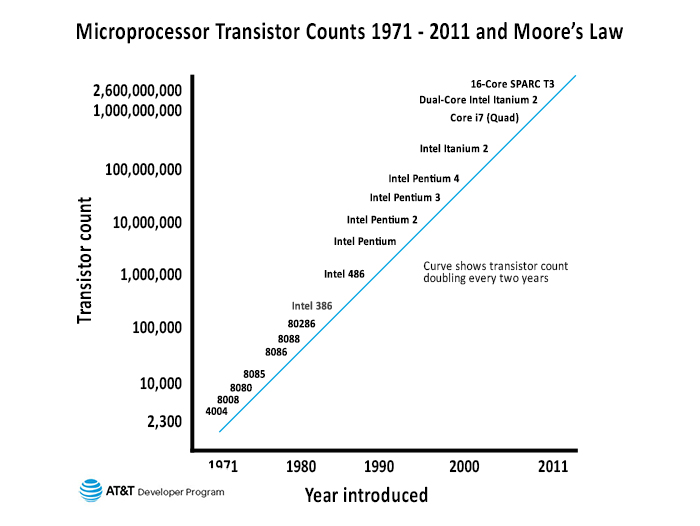 Faster Chips, Faster Media
As computer chips could hold more and more data, the amount of information and the speed with which it could be delivered skyrocketed. This chart illustrate's "Moore's Law," as hypothesized by Gordon Earle Moore, co-founder of Intel, and that as chip capacity grew, the trajectory continued.
Media Convergence Today: The Evolving Landscape
In the mid-2010s, media convergence means that consumers expect to consume the content they want, when they want, and on whatever device they want. This includes content on the web, TV, radio, the Internet, as well as portable and interactive technologies available as mobile apps and Internet of Things (IoT) devices.
Today a multi-level convergent media world surrounds us where all modes of communication and information are continually reforming to adapt to the enduring demands of technologies, changing the way we create, consume, learn and interact with each other. For content providers, media convergence offers the opportunity to directly reach consumers on more devices, at a more personal level and this opens new revenue opportunities, and ways to personally tailor the delivery and type of content to each consumer.
Media convergence is not just a technological shift or a technological process. It also includes shifts within the industrial, cultural, and social paradigms that encourage the consumer to seek out new information. Print, Internet, radio, and television companies are all competing for the same advertiser market share. There is a bright side: when these competitors adopt convergence and collaborate there are benefits for everyone involved. Consider viewers being able to vote for their favorite TV competitors online. Additionally, producers can use the Internet to drive voting and audience interest, and share video extras online to promote upcoming episodes. The Walking Dead spinoff show, The Talking Dead, gathers fans in near-realtime to discuss and dissect the episode that's just aired. The Talking Dead also provides a "two-screen" experience where fans can play an accessory game on their computer to win points and to be featured on the TV show.
As newer types of content are available on more types of devices, technologies such as fingerprinting and watermarking are becoming available to aid in piracy control, which has been a challenge to manage with the explosion of content types.
The Current Media Convergence Landscape – The Product of Three Factors
The speed with which media convergence has been developing since 2000 is due to three factors:
Digitization: The increasing speed and delivery of content on the Internet and other digital media (see diagram above).
Corporate Concentration: Fewer companies own more media properties. These individual companies have more opportunities to work in more channels and outlets than previously possible.
Government Deregulation: Media conglomerates can now own a variety of media outlets including TV and radio stations, and newspapers that operate in the same markets. This has paved the way for content carrier companies such as cable and satellite TV distributors to own content producers such as specialty TV channels.
Corporate convergence allows companies to reduce labor, administrative and material costs, so they can use the same media content across several media outlets. This provides advertisers with package deals for a number of media platforms, and to increase brand recognition and brand loyalty among audiences through cross-promotion and cross-selling – the golden standard of "synergy." Historically, communications companies have formed newspaper chains and networks of radio and TV stations to realize many of these same advantages, and convergence can be seen as the expansion and intensification of this same logic.
While corporate convergence can be beneficial to companies, there are potential undesirable consequences, including: a reduction in competition; increased barriers to entry for new companies; the further commercialization of the media; and the treatment of audiences as consumers rather than citizens. It can also significantly raise the economic barriers to newcomers seeking to enter media markets, thus limiting competition for converged companies.
Corporate convergence also prompts concerns about the quality of corporate journalism, such as: the role of the media in democratic societies to provide objective information and analysis to an informed citizenry; the independence of journalists; the range of voices and diversity of viewpoints on current events; coverage of local issues; and conflicts of interest between properties owned by the same company.
How It Works: The Delivery and Consumption of Consolidated Media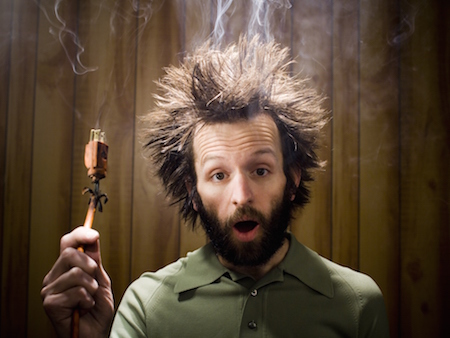 Convergent solutions are continually evolving, of course, but currently they involve both fixed-line and mobile technologies. Companies deploy any number of the following types of delivery, some of which the consumer can opt-in or out of, and some are included as part of a fixed subscription. In addition to integrated bundles and products, here are some convergence services:
Using the Internet for voice and video telephony
Video on demand
Mobile-to-mobile convergence
Location-based services
Fixed-mobile convergence
Convergent technologies can also combine the fixed-line with mobile solutions to deliver convergent offerings using IP multimedia subsystem, session initiation protocol, IPTV, voice call continuity, voice over IP (VoIP), and broadcasting digital video from a handheld device.
Who Wins: The Benefits of Media and Multi-Media Convergence
As media types and streams converge and supplement each other, there are myriad benefits to the consumer and the producers. Media professionals can use a variety of media to tell their stories and present compelling information. While converged communication allows consumers to choose how much they want to interact with the story and self-direct content delivery. It also allows for better consumer service, as consumers push for more "a la carte" types of bundles of information tailored to their specific interests and technological needs and desires.
For media companies, there is no question this landscape provides even more ways to boost the bottom line, and to reach consumers previously not reachable. Media convergence also increases the visibility of each organization to the public, a form of native advertising and raising awareness and consumer loyalty. Collaborating, media experts say, should ultimately result in more credibility for all companies involved.
In addition, old barriers of time and space are practically eliminated. You can view, hear, or read virtually anything, anywhere, anytime. The electronic transmission of data, which can be exponential, replaces the more singular, physical transportation of material from point of creation to point of consumption.
Technological convergence has also lowered the barriers to entry for media production. Digitization allows consumers of media content to become producers and distributors of media content as well, whether they are hobbyists frequenting social media sites or professionals (designers, filmmakers, musicians, writers, etc.) seeking to establish themselves; there are thousands of YouTube starts and sensations who built their own distribution channels.
Convergence saves consumers a lot of time and headaches: they no longer need to worry about being home at a certain time on a certain day to catch a favorite show, and it also simplifies their lives. With a little planning and programming, consumers can arrange to have all their favorite content to be consumed whenever is most convenient.
This dynamic trend has forced old-school media outlets to adapt or die. Print newspapers and magazines have felt this dramatically—and yet there are success stories. The New York Times' website has deployed new ways of telling stories and engaging readers, and its subscription rates are up more than 23 percent in 2017. Entertainment Weekly and People, two of Time Warner's most successful print magazines, have had big successes online (The Entertainment Weekly Must List iPad app, one of the first of its kind, in 2011) and on television. Jess Cagle, who oversees both brands, has been a leading force in adapting the media to connect with the consumers who want it. He says, the idea is to interact, collaborate and share information with readers/consumers in as many ways as possible, and engaging it from a passive audience to an engaged and active one.
Interestingly, the trend hasn't always been from print to digital; when Meredith Corp. bought Allrecipes.com, a recipe website comprised of user-generated digital content, its first major initiative was to create print Allrecipes magazine. By early 2017, the magazine had become a significant revenue generator for the company.
What's the Downside? The Challenges Involved in Media Convergence
As with any industry in which consolidation and acquisition happen, media companies are being scrutinized for the possibility of monopoly and conflict of interest. There are significant challenges involved in media convergence. Some of these include:
Technically the companies face challenges. Traditional cable offers a highly reliable quality, while digital content still faces issues such as buffering, pixelated video, poor audio and visual synchronization, due to a range of issues like varying device capabilities, and service and network conditions. A company may fulfill its promise of delivering high quality content on one channel but not on another.
Security can also become an issue. Consumers who have a sub-par experience viewing media may seek different content options or use pirated sources.
For content providers to reach their subscribers, content providers risk cannibalizing revenues from traditional or legacy media delivery options.
Not everyone has ready and affordable access to digital media, or the skills to employ them, creating a digital divide between information haves and have-nots in a society where connectivity to computer networks (and the literacy required to navigate them) is increasingly important.
The free circulation of media content has also posed a serious threat to the economic viability of traditional media industries, such as book and newspaper publishing
The availability of free content can present itself as "just as good as" thoroughly reported journalism, diluting the value of a well-reported piece.
Converged devices aren't as reliable and often have limited functionality. For example, the rendering of certain web pages on a mobile browser might not work correctly due to a myriad of issues that can make the two incompatible.
As the number of functions in a single device escalates, the ability of that device to serve its original function decreases.
Consolidated media have the potential to be "used as both a weapon of social control and a means of resistance."
How to Measure Success: The Metrics of Media Convergence
As media and content delivery has merged and adapted across devices and types, the convergence has broken the traditional methods of tracking and analytics. The challenge for media companies is measuring the "what" and "how" that explain the user experience, and whether consumers are embracing or rejecting the content. Measuring engagement has become infinitely more complex since the traditional methods that worked previously in TV (Nielsen ratings) and digital domains (page views and click-throughs) don't translate.
With a change in measuring tactics, new opportunities emerge. Now companies can use data to help decide what type of original content to create. For example, Netflix used metrics to influenced their decision to sign-up for a two-season commitment to "House of Cards" before a single episode. Clearly, the data wasn't wrong. Performing continual measurements help producers make real-time, informed decisions about content across platforms and how they blend together in the converged landscape.
The Future of Media Convergence: What Lies Ahead?
Media companies need to rethink existing assumptions about media from the consumer's point of view, and use that to inform marketing and programming decisions. While media producers must find innovative ways to respond to newly empowered consumers. At the same time, it appears that hardware is instead diverging while media content is converging.
In the current landscape, some companies have boosted brands that offer content in a number of forms. Two examples of this are Star Wars and The Matrix. Both began as films, yet have spun off books, video games, cartoons, and action figures. In other words, branding encourages the expansion of one concept, rather than the creation of new ideas. The conglomeration of media industry continues to sell the same story line in different media; consider Batman as film, comics, anime, and games. Clearly, there is a risk of eventual dilution.
On an individual level, be on the lookout for "converged content," which mixes personal content with professional content. One example is creating a personal music video that combines popular music with user generated photos.
Convergence may eventually lead to the fusion of all forms of media, resulting in the creation of an entirely new medium. The state of media convergence is always evolving, but its best application likely will be with computers, utilizing the endless capabilities of the Internet.
Many experts view media convergence as simply being the tip of the iceberg, as all facets of institutional activity and social life such as business, government, art, journalism, health, and education are increasingly being carried out in these digital media spaces across a growing network of information and communication technology devices.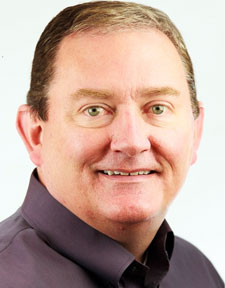 Ed Schmit
Edward Schmit, Executive Director at AT&T Entertainment Group, explains the changes at hand and just over the horizon are truly driven by consumers, what they want to consume, and where and how they want to consume it. The next key phase is true interactivity of consumer and content.
"You already see this with sports shows. For example, DirecTV Sunday Ticket includes information for Fantasy Players and has additional content that are complementary to the sport," Schmit says. "But what we are seeing at AT&T is a move toward total immersion—where virtual reality (VR) becomes much more the norm."
Schmit says AT&T is partnering with innovative small companies working on VR experiences, and hopes to incorporate them into a mainstream consumption experience. "What if you could experience VR without the cumbersome headsets?" Schmit asks. "Wireless VR could be enormously popular. Think about a hot show like HBO's Game of Thrones – the millions of people who watch that show might want to be immersed into that experience. Maybe it's a hologram, maybe it's something else, but the fans of that show may not just want to wait till the next Comic-Con to be able to interact with characters and the show."
The other attraction of such virtual consumption experiences is the ability to share them, Schmit says. "You could invite your friends into that 'world' and play the game, act out the characters, in a way in which the consumer can begin to direct the actual storyline," he adds.
There could be a component of this kind of interactivity that could work in traditionally "passive" watching circumstances. "We like the 'communal' aspect of sitting together on a couch, or in a theater, to consume our entertainment," Schmit says. Yet there still can be interactive or virtual reality experiences during those communal experiences.
"Maybe you are sitting on the couch watching a show, but you have a window on the TV screen with comments shared in real-time," Schmit explains. "Or you could be in a movie theater and viewers could give feedback about plot twists and developments to actually shape the narrative and ending of the film. The ways of increasing engagement with content are really just about to explode."
And core content production is changing, as well, Schmit observes. Part of this is the explosion of the consumption of video. Schmit says, "In the next few years we expect video traffic to be as much as 80 percent."
The Future, Part 2: Navigating the Speed Bumps
Merrill Brown
In such a landscape, future challenges include regulatory agencies' responsibility to keep up with rapid change. There will also be ongoing need to keep inappropriate content away from children.
From a technological standpoint, the basis of computer networks, wherein many different operating systems are able to communicate via different protocols, could be a prelude to artificial intelligence networks on the Internet eventually leading to a powerful super intelligence via a technological singularity. Some media observers expect that we will eventually access all media content through one device, or "black box."
Yet for consumers, there is already a feeling of "media overload" and some companies have responded by advertising ways to unplug, "slow down," and enjoy nature and family without screens. Will there be a way for consumers to opt out of certain things, without being left behind? And as more options become more available, will there be a critical mass of the haves versus the have-nots?
"As the price of smartphones drops, more and more people get access to information that way," says Merrill Brown. "But access to the Internet is still spotty around the world and even throughout the United States. So yes, there is a real concern that some people—maybe millions—will be left behind."
Brown sees that while some media – print newspapers and magazines, for instance – may be on the brink of extinction, other older media are not. "Ten years ago, people thought TV was going to be disrupted," Brown says. "But the landscape now is not that much different. People still watch the half-hour comedy and the hour-long drama. CBS has record profits.
"Even millennials are still consuming this media, so it's not going to change any time soon," Brown says. "They watch 'Game of Thrones,' which is a formatted, episodic program produced in pretty much the way TV has always been produced. And it's produced by HBO, itself a 30-year-old media company."
The trend to watch, Brown says, is the concentration of power into fewer hands. "When there are fewer companies controlling information and the channels of consuming it, it does raise that concern," he says. "Big companies will be bigger, no question. But disruption is also going to hit other industries, like cars. There may be implications about personal privacy through our cars, as well as how the urban lifestyle will evolve."
So, while no one knows exactly what lies ahead in the next 10, or even five, years, the only thing all experts believe is that change will continue to be rapid. Consumers are demanding it, and the technology is adapting to provide the content wherever and whenever they want it. What do you think will be the biggest impacts made by digital convergence in the future? Let us know in the comments.
Explore Digital Convergence Trends at SHAPE
AT&T SHAPE is an immersive event that explores the convergence of technology and entertainment. Be inspired by luminary speakers, interactive demos, and hands-on creation activities. Participate in the world's first fully realized choose-your-own-adventure film, Late Shift, offering viewers a unique participatory experience via their mobile device. Join us afterwards for a Q&A with Tobias Weber, the writer & director as he explores how a little code, a story, and the will to blend the two can broaden our entertainment experiences.
SHAPE is happening July 14 and 15, 2017 in Los Angeles, California, at Warner Bros. Studios.
* The views expressed in this presentation do not necessarily reflect the views of AT&T.
---
Share this post