Updated: Feb 09, 2022
Published: May 19, 2017
Digital convergence: The shape of things to come — or is it already here?
The 1s and 0s of binary code have swept away the analog world and created a digitally converged world that's changed entertainment in less than two decades. For example, the 2017 Final Four national semifinals and National Championship game were streamed in virtual reality. Fans who had Gear VR devices, powered by Intel and available through a live VR app through the Oculus store enjoyed an immersive viewing experience at a virtual courtside–and felt like they were really there. The NCAA March Madness Live VR App also provided access to the enhanced video highlights from each game, scoreboards, stats, and 360-degree highlights on the NCAA March Madness Facebook page.
That's just one example of what's already possible. To further explore digital convergence today and what it holds for the future of creators and consumers of entertainment, five experts–filmmakers, authors, futurists, academics, and technology practitioners share their experiences and vision. Here are the experts you'll hear from in this article:
Philip Lelyveld runs the Virtual Reality/Augmented Reality Initiative at the Entertainment Technology Center (ETC), a think tank within the USC School of Cinematic Arts. The ETC@USC is funded by the six major Hollywood studios plus related service, technology, Internet, and consumer electronics companies. The goal is to advise members on emerging technology-related opportunities, connect them with start-ups and communities of interest, help accelerate adoption of promising technologies, and work to drive standardization and avoid format wars. His VR/AR Initiative studies and works help influence the creative, technical, and business issues that will shape this new, emerging art form. Lelyveld was recently a keynote speaker at The Singularity University Global Summit.
Vladan Nikolic is an award winning filmmaker from Belgrade, Yugoslavia, who lives and works in New York City and author of Independent Filmmaking and Digital Convergence: Transmedia and Beyond. His production company Surla Films has produced numerous fiction movies, feature documentaries and other projects–among them, one of the first digital feature films, Burn, and one of the first transmedia-related feature films, ZENITH. He teaches at New York University and is an Associate Professor of Film and New Media at The School of Media Studies at The New School, where he teaches film directing, digital filmmaking, and transmedia production.
Ed Schmit is an Assistant Vice President with the AT&T Entertainment Group, where his mission is to provide support and guidance for the developer community. He has been with AT&T for ten years. During his career at AT&T, he has co-authored the Wireless Reference Architecture and several white papers while enlightening budding mobile application entrepreneurs and content creators through programs like AT&T's "Open Call." He has two patents (for an application delivery platform and communication method), plus others pending. Additionally, he served on the Application Developers Alliance Board. Prior to joining AT&T, he worked for Intel in a variety of roles and while there he helped found the Khronos Group. Ed earned his B.S. degree from MIT, an MS in engineering from the University of Washington, and an MBA from the University of Michigan.
Robert Tercek is a futurist, and author of Vaporized; Solid Strategies for Success in a Dematerialized World. He has created entertainment experiences on every digital platform, including satellite television, game consoles, broadband Internet, interactive television and mobile networks. A past President of Digital Media for the Oprah Winfrey Network (OWN), Tercek is an adjunct professor and lecturer at the University of Southern California's School of Cinema-Television, where he introduced the curriculum for interactive media and served on the faculty of the Peter Stark Producers program.
What is Digital Convergence?
What's created the digital revolution is the ability to change analog data to digital form–that's the essence of digital convergence. That simple-seeming process makes it possible for photographic images, video, voice, and music to be saved and processed by computers, transmitted by digital communications networks, and displayed on both digital and analog devices. Digital convergence has already generated, and will likely continue to generate, changes in the way people live, work, interact with others and entertain themselves.
"It's been pretty clear from the habits of customers that they are becoming increasingly used to finding content and wanting to consume content anywhere and everywhere, and that's our vision as well," says Schmit.
This is a major shift in entertainment, the role of the customer, and human culture. Where and how did it begin?
A (Very) Brief History of Digital Convergence
The co-founder of MIT's Media Lab Nicholas Negroponte first suggested the theory of convergence in 1978. In his 1995 book Being Digital, he simplified the idea and described it as being about simple 'bits.' "Bits co-mingle effortlessly. They start to get mixed up and can be used and re-used separately or together. The mixing of audio, video, and data is called multimedia. It sounds complicated, but it's nothing more than co-mingled bits."
The technology to make this convergence occur is complicated, and the mixing also applies to making things work together. In 1999, Takahashi Kubota of Hitachi Ltd described the merger of previously distinct forms of technology into one entity: ITTCE (Information Technology, Telecommunication, Consumer Electronics & Entertainment) in his discussion on the Creation of New Industry by Digital Convergence. This model still holds true: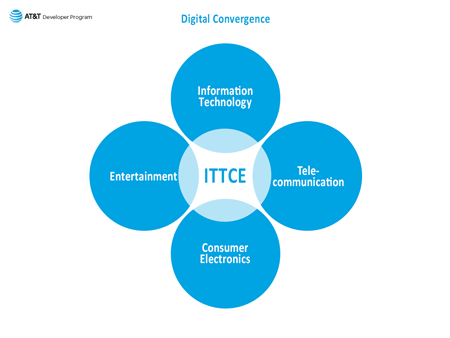 Companies saw the opportunity and moved quickly to deliver on the promise of digital convergence to support entertainment activities and media. Here are some key players:
1984 – Cisco: The networking company develops, manufactures, and sells networking hardware, telecommunications equipment, and other high-technology services and products that enable digital convergence. Today, through its numerous acquired subsidiaries, such as OpenDNS, WebEx, and Jasper, Cisco specializes in specific tech markets, such as Internet of Things (IoT), domain security, and energy management.
1995 – Yahoo: The search engine, subject directory, and web portal that predated Google provides mail, news, maps, and many more sites and services.
1999 – TiVo (video digital recorder): The original TiVO digitized and compressed analog video from any source. Today, the company has multiple devices and services that allow users to watch TV anywhere on any device.
2000 – Apple- iTunes: Introduced as a virtual music library, iTunes supported the original iPod. The virtual iTunes store opened in 2003 to first deliver music, then movies, and TV shows. Apple Music allows unlimited access to millions of songs, curated playlists, and radio shows.
2001 – Microsoft Xbox: The company's first foray into the gaming console market represented a series of video game consoles, gaming applications (games), and evolved to include streaming services, and an Xbox Live online service.
2002 – Microsoft Windows Media Center: Now discontinued, Microsoft's digital video recorder and media player devices included Windows Mobile Pocket PCs, smartphones, Portable Media Centers, and other players that sync with Windows Media Player. Windows Media Center encoded shows for viewing on the desktop media center.
2002 – Nokia N-Gage: A smartphone and handheld game system, discontinued in 2005, was an attempt to lure gamers away from Nintendo's Game Boy Advance by including mobile phone functionality. This was unsuccessful, partly because the buttons, designed for a phone, were not well-suited for gaming and when used as a phone the original N-Gage was described as resembling a taco, which led to its mocking nickname, "Taco phone." The device offered 3.4MB of internal memory for mobile storage, which was remarkable at the time. Other features included MP3 and video playback and the ability for multiplayer games using Bluetooth. The N-Gage Arena system gave gamers an online hub to post scores.
2005 – Google – Google Maps: As part of its mission to "organize the world's information and make it universally accessible and useful," Google launched Google Maps in 2005. The service is constantly being improved adding more layers of data by multiple integrations from street views to location services to traffic information, with voice commands. Google is a customizable communication tool on the desktop. Google Maps for mobile was released in September 2008. In 2016, Google Maps was named the fourth most popular smartphone app by Nielsen. It's also an entertainment tool: The augmented reality game Pokémon Go's integration with Google lets you walk around the real world to capture in-game pocket monsters and it there are plans to make it an integral component of the Google self-driving car.
2006 – Intel Viiv: Combining the powerful capabilities of the PC with the familiar face of TV, the goal was to create the ultimate on-demand entertainment experience with an online library of premium movies, full-length TV shows, music videos, concerts, sports videos, and more. Viiv also had the ability to easily search videos from the Web on Intel Viiv technology-based PCs and view on any large-screen television.
2015– AT&T Purchase of DirectTV: This purchase turns AT&T into one of the largest TV provider in the world offering traditional TV service, video on mobile devices, and video streaming over the Internet to any screen.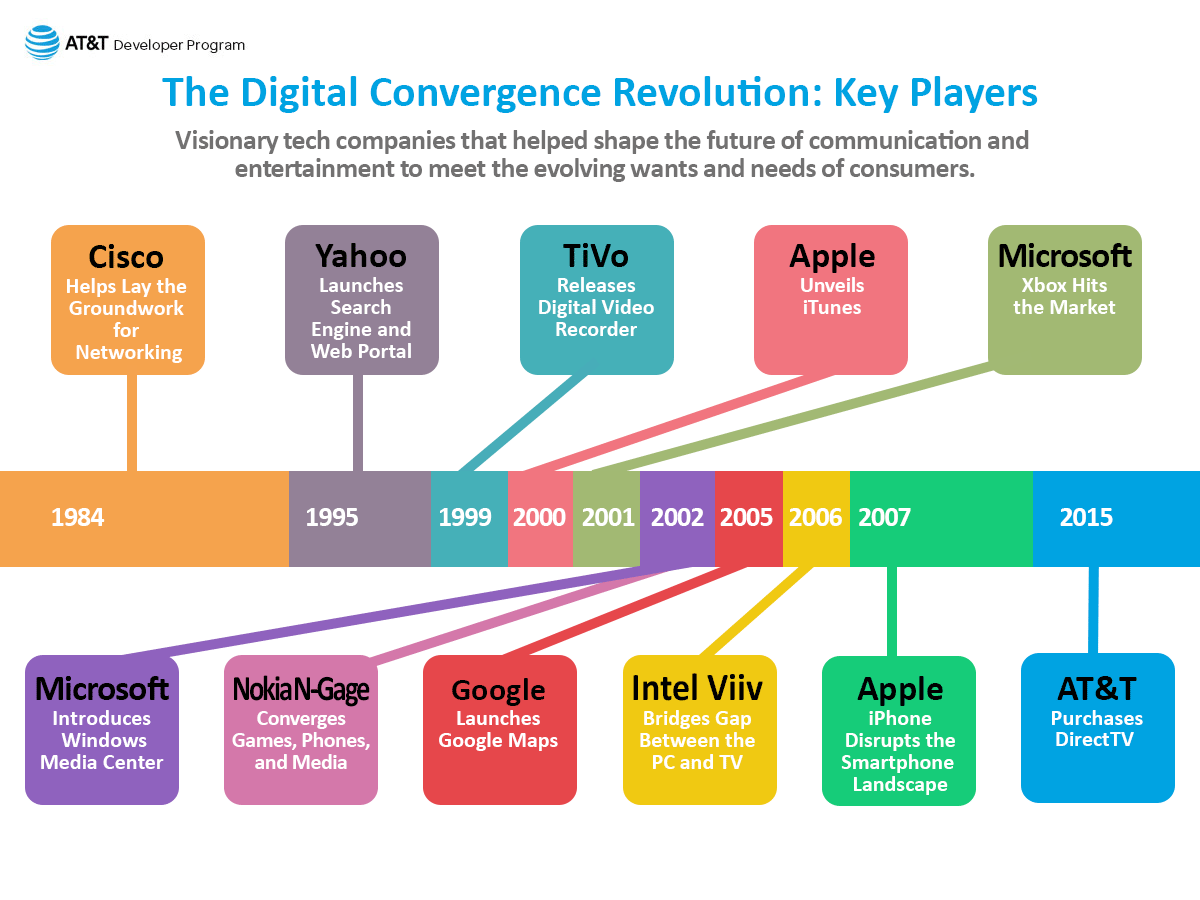 "When you think about what to be on the lookout for in the future, you only need to note how quickly the technology has already impacted us," Schmit says. "It was in just 2007 that the smartphone really got started. To go from that to the large amount of video people see on these devices right now, which depending on the reports your read is 40 to 50 percent of all viewing is remarkable." In the fourth quarter of 2016, Statista reported that 18 to 24-year-olds spent 85 minutes a week watching video content on their phones.
The Internet of Things (IoT) and Converged Digital Networks
Digital convergence has also empowered the Internet of Things (IoT). IoT is a network of physical objects installed with software, sensors, electronics, and network connectivity so these 'things' can gather and communicate data, track usage, and automate systems.
IoT Covers All Kinds of 'Things.' The types of objects in IoT covers many categories, from coffeemakers to wearables to industrial equipment–just about anything at all can be connected through IoT. Items can be detected and managed remotely across existing network infrastructure to help improve convenience, efficiency, accuracy and economic benefit. Vertical markets like transportation and health care are also using IoT and by 2020, there will be 50 billion IoT objects with a value of $7.1 trillion.
IoT is Here. Wearables like Fitbit and Jawbone have made strides in the fitness world to help people obtain usable data from their workouts, while smartwatches enable countless other functions. Smart homes are some of the most popular and affordable IoT applications that consumers are embracing, with all kinds of devices for controlling through touch or voice functions in homes like heating and security.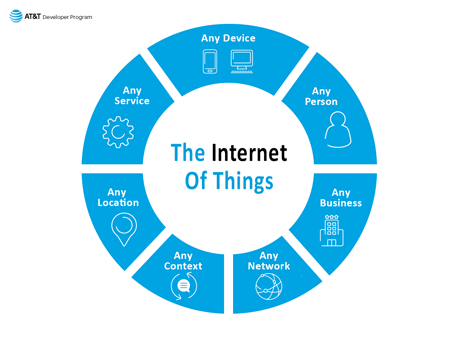 A Single Digital Ecosystem. Interoperability, invisible integration, self-monitoring, analysis and reporting technology will merge everything and everyone into a single global digital ecosystem. The device driving this (for now) is the smartphone.
IoT Requires More Speed. The expanding digital traffic needs of a more connected world means that customers require more speed and capacity. AT&T announced a 5G evolution plan in January 2017 for a good reason: data on AT&T's mobile network has increased about 250,000 percent since 2007. The improved speed and overall network performance that 5G is expected to offer are crucial for IoT, 4K video, augmented and virtual reality, smart home and cities, and self-driving vehicles.
This kind of merged environment is an exciting prospect, and seems to hold incredible possibilities for entertainment and more. Is there a downside?
Challenges in a Merged World
Entertainment in a digitally converging world has its challenges, Tercek addresses logical obsolescence in Vaporized: Solid Strategies for Success in a Dematerialized World. "Media industries took the first blows dealt by the rise of digital technology. One by one, once-tangible goods such as music CDs and video DVDs were vaporized, replaced by pixels and bytes of data. With them went their recording and playback equipment, as cameras, personal stereos, game consoles, and even televisions were collapsed into tiny handheld devices still quaintly referred to as phones."
Whoever Has the Most Data Wins. As for current challenges, one of the biggest downsides of digital convergence is inequality, just as it is in the non-virtual economy. Groups supporting the public interest will need to work together to help ensure the promise of universal communication, information and freedom of expression comes to pass. "In the real-world economy we fret about income inequality, but in the digital domain the inequality is based on data, not just money," says Tercek. "Data-poor businesses find themselves at a striking competitive disadvantage compared to data-rich companies. And individual people are at the greatest disadvantage of all, because we have next-to-no-ability to utilize our personal data. The companies with the best data are most likely to succeed because they see the trends most vividly and that's why they can make better decisions about where to place their bets."
Merging Media and Disciplines. What will the new world look like? As the digital convergence moves forward, it also pushes sectors, companies, and media closer together. This merger entails not just devices, but the merger of disciplines that calls for new standards and thinking to manage converging knowledge and technologies–for example, the merger of biology and electronics.
A Potential Force for Both Resistance and Control. Most people, especially millennials who have always been digital natives, see the progressive convergence in digital media as a welcome development. Convergence culture creates opportunities for multiple creative strategies and outlets across media, and the ability for people to communicate and act in unison.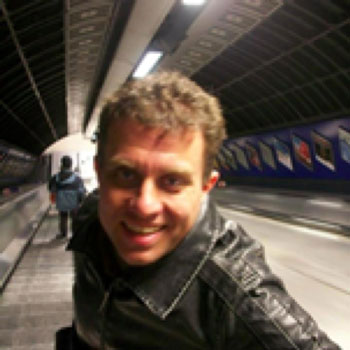 Chuck Tryon, Ph.D
Many corporate media strategies use the collection of data to personalize and serve up entertainment or other forms of media based on user preference. Tryon believes that there should be some concern about data collection. "Consumers should be entitled to privacy when it comes to their browsing data and their viewing habits. Social media companies have also provided an unprecedented window into people's beliefs and habits, enabling micro-targeting for content. Companies like Cambridge Analytica have even influenced politics in ways that are not transparent to the common consumer or citizen. This type of control over or access to consumer data should be regulated."
Benefits of a Digitally Converged World
The age of convergence extends human capabilities, connections, and shrinks space not only in storage but between human beings everywhere in the world. A global network of connected people and devices offers infinite possibilities for shared culture and creativity.
The List of Positives is Long. "The benefits of digital convergence are too numerous to list, and therefore impossible to rank," says Tercek. "But I'd venture to say that the biggest benefit of digital technology is that 2.4 million people on this planet now have instant access to all of the world's knowledge, thanks to their smartphones. That means we now have incredible power that previous generations could not even imagine: we are never lost, we can find out how to say anything in any language, we can contact anybody with a smartphone instantly via thousands of chat and messaging apps, we can shoot photos and videos and share them instantly, and we can publish our thoughts and ideas immediately."
Consumers Creating Content. "Consumers have been creating their own content for decades, but through video sharing, this content now has greater visibility in the mainstream. Fan films and mashup videos have existed for decades, but YouTube and other sharing platforms make it easier for millions of people to see what is being made," says Tryon. "In turn, users learn from each other, spawning new forms of creativity. This creativity can–in some cases–be limited by copyright issues, if a studio wants to protect its brand." One such tool is Clipgenerator, which lets users create personal music videos with popular chart music and share them on social media.
Co-Creating Content. Consumers now have the opportunity to build their own experience. "One of the movies we're showing at our SHAPE event actually lets people vote for different outcomes or paths. Should they go through the door? Meet this person not meet this person? You can pick options," says Schmit.
Watching the same film multiple times and experiencing different outcomes is an exciting development we can see in the near future. "In a TV show/season, maybe there will be votes on character interaction and development, even in real time. The content creator may lose some control, but it will create greater engagement and co-creation. Tech bringing the creative closer to the consumer can only make things more exciting–both for creator and consumer," adds Schmit.
Opportunity for Professional Independent Artists. "During the past two decades, the technology of independent filmmaking has transitioned almost entirely to digital video," says Nikolic. "Increasingly higher quality but lower-cost digital technology has enabled virtually anybody to become a film- or media-maker."
In 2015, Tangerine, an Oscar-nominated film and winner of 23 film awards, was shot 100 percent on an iPhone 5S using the Filmic Pro app that cost $8. The filmmakers used special lenses and did post-production on the film, but it's an example of producing high-quality entertainment on a shoestring budget. Still, the high-visibility and audience Tangerine found is unusual. "Regardless of how brilliant content may be, the sheer volume of available media has also made it increasingly harder to reach an audience for independents–at least through traditional mass media distribution methods and channels," says Nikolic.
TransMedia Engagement Experiences. Nikolic takes a multi-platform approach to filmmaking and distribution and works in that genre, notably in Zenith, a transmedia science-fiction thriller. Viewers can watch Zenith as a standalone film or as part of a transmedia experience that inserts content across more than a dozen websites to explore or debunk the Zenith conspiracy at the center of the film's storyline.
"Transmedia is generally defined as the practice of spreading content over multiple delivery channels, such as film, television, mobile devices, books, magazines, online platforms, etc., in order to create a more immersive experience for the audience," explains Nikolic. "This allows the viewers to enter the story-world through multiple media platforms and story entry points, expanding on the characters, story, and themes of the main narrative. A transmedia project will usually allow for some level of audience participation and interactivity, whether only to comment and exchange information, or to actively partake and contribute to the project."
Creating Experiences, Not Just Content. Schmit says, "One of the most popular TV shows are AMC's 'Walking Dead' and the second most popular is 'Talking Dead,' which reviews what happened during the show. Viewers also take to social media during and after the show to discuss how they feel and what they want to see. For example, they showed who 'died' this week in a funny way on the after show and it created a big buzz. Fans want different ways to get involved."
A Look Into the Future of Entertainment and Storytelling
Consumers of entertainment, like consumers of all types, have entered a new age of empowerment where they have more choice, more control and high expectations about the delivery and the quality of their experience.
Traditional Media is Over. Tercek is clear about where things are going, "My friends in the entertainment industry don't like it when I say this, but it's true–the traditional media business has been vaporized. Software products outsell physical media across the board. Ebooks outsell paper and hardbound books. Mobile games outsell console games. And now television is on the exact same unenviable spot: most U.S. households subscribe to a cloud-based VOD (video on demand) service," says Tercek.
"When I say that television is being vaporized, I'm not just referring to the physical medium of a Blu-ray disc or a DVD. I'm referring to the entire value chain," explains Tercek. "Today, if you want to be in the TV business, you no longer need to purchase a broadcasting station with a huge tower, or a satellite in space or a network of copper cables in the ground. Today's streaming video services are cheap, easy and fast to set up and operate. That's why we are seeing a proliferation of OTT (bypassing the traditional modes of distribution and delivery of media content over the Internet) VOD services in every corner of the globe."
It's All About the VR. Facebook CEO Mark Zuckerberg explained at Oculus Connect in 2015 that VR is the "Next major computing and communication platform, and that immersive 360 video is the next logical evolution from video. Looking at Generation Z, those born in the late 90's/early 00's, they have never known a world that isn't digitally interconnected. Many have grown up and never known a time where we weren't sharing moments and experiencing other people's lives vicariously through social media. It only makes sense that the next logical evolution of that is immersive media."
Storytelling is Here to Stay. Human beings are wired to love stories and to tell them–that's what entertainment is all about. "Good storytellers can come from anywhere. A variety of online platforms enable the best storytellers to develop a following. If these talented individuals want to create for others as a full-time occupation, they will need to earn a living somehow; through donations, sponsorship, advertiser support, join a commercial entity, etc." says Lelyveld. "As long as people like to be entertained–or increasingly actively-engaged rather than passively-entertained, and if the creators of those experiences can earn a living creating and delivering those experiences, there will be a virtuous cycle, and everyone will be happy."
In commercial media, Tryon believes, "I think we'll continue to see intricate storylines dominate television, whether in its streaming or broadcast versions. The pleasure of engaging with complex characters and compelling plots is significant. Netflix and other streaming services clearly continue to see value in these types of narratives, and binge-viewing still serves as an enticement for subscribers."
Who's In Control? Tryon says that companies and consumers have control in different ways. "Corporations provide consumers with the illusion of control. You can get anytime, anywhere delivery of some content, but in many cases the selection of older content is limited because of streaming rights issues. Content is also constrained by windows where the content is available for only a few days or weeks. In other ways, consumers do have a wide array of entertainment options. The diversity of programming choices–especially when it comes to television–is astounding.
VR, AR, and AI Right Now and In the Near Future
Entertainment technologies that are already here but still being perfected include: Augmented reality (AR) which is a see-through overlay, virtual reality (VR) which blocks out the world in combination with artificial intelligence (AI) computer systems that perform tasks that normally require human intelligence, and mixed reality (MR), which merge real and virtual worlds. These mediums provide creators with the ability to deliver greater presence, empathy, and proximity to consumers. High-refinement in AI-based entertainment has always been a part of gaming as a way to generate behavior in non-player characters, but it is still in its infancy in movie-making. There is progress, however, like the sci-fi movie trailer for Morgan created by IBM's Watson.
The Nature of AR and VR. Lelyveld says, "AR and VR, in part, build on older media types, but they also have their own unique characteristics and strengths. The language of VR and AR is still evolving. We can see an inkling of their potential, which is why we talk about story-making and world-building as much as we discuss interactive storytelling and story-driven gaming in VR and AR."
What's Already Available.
"Magic Window, which is the screen swipe or wave to look around VR experience, is the largest market for VR at the moment. We are starting to see movement towards WebVR to reduce the friction of getting these low-level VR experiences into the hands of consumers," states Lelyveld. "This will impact developments for (Google) Cardboard and up the sophistication chain to full embodiment VR. Standardization at that level is a long way off, although we are trying to identify the fundamental areas where standardization would accelerate adoption without impacting any individual company's competitive advantage."
"Similarly, Pokemon and Snap-level paste graphics over photo background is currently the largest AR market, and will influence incremental changes to existing standards and practices. It is going to take a reliable and consistent stream of experiences that the mass market is willing to pay for before you see wide standardization of the displays, controllers, audio, and UIs for the more sophisticated VR and AR experiences," adds Lelyveld.
The AI Challenge for Filmmakers. Old media approaches and devices will fall away to make space for the new, and open the door to $100 trillion for business and society, according to Accenture Research. Schmit sees this as a time of monumental shift and a profound moment for business, technologists, and creatives. "What is the hardware medium going to be? What is the more immersive experience going to be? Right now, people even go to theaters to see things in IMAX, 3D–it's inevitable that this will progress. People are always looking for that deeper experience. Even now, when you see good AR or VR, it's remarkable and it just keeps getting better by the day."
Digital is already an invaluable tool for filmmakers making it easy to create, edit, and manipulate content. The challenge with VR/AR is creating it. "In a digital gaming environment, we're already in a good place. In filmmaking, we've already had AT&T events around these topics. How do you stage in a 180-degree environment?" Schmit asks. "How do you script for this environment? It's almost as great a leap as the move from silent pictures to sound. Now we're in the fun experimental stage, but filmmakers will really need to understand and embrace what it means to tell stories in this form." Schmit goes on to muse about how stories will be told using artificial intelligence. "Will stories have a normal arc? Eighty percent of films now follow a Tuckman model–forming, storming, norming, performing. Will this be broken? Will it be a failure for the film business?"
What Digital Transformation May Bring in 2020, 2030, and Beyond
A look into the future points to both further convergence in other realms, including biotechnology and cognitive science.
The End of Language Barriers. An encouraging outlook for greater understanding is the use of AI for simultaneous translation. This means that all communication, whether it is entertainment, education, political or other types of interaction, would have a common basis in any part of the world.
Disappearing Smartphones. Tercek believes what's next is, "In my book Vaporized, I pointed out that everything from consumer electronics devices to car ownership to middle management will soon be replaced by software. In many cases, that's already happening before our eyes. The very next thing to go is credit cards, ID cards, access cards, and key cards. All of the stuff in your wallet is in the process of being replaced by apps. Next? The mobile app itself is on the verge of disappearing, as much of the functionality of apps will be more efficiently delivered by voice-based services like Amazon Echo, or by text-based chatbots inside of mobile messaging apps. Some analysts project that there will be five million mobile apps in the App Store by 2020, but my hunch is that those will look and operate very differently from the apps we are accustomed to. Finally, by 2025, the smartphone as we know it may disappear."
Beyond Wearables to Implants. Tercek thinks that the smartphone replacement will be inside your head. "Most likely the smartphone will be replaced by a cortical modem, which is directly connected to the cerebral cortex. This is hard to imagine today, but there are plenty of people working on it. I suppose it is as difficult to imagine jacking the Internet directly into your brain as it was to imagine a tiny supercomputer in your pocket ten years ago. Today we take it entirely for granted!" When you consider the use of this technology to deliver experience directly into the brain, 'entertainment' may take on an entirely new meaning.
The NBIC Forecast. The implants Tercek mentions is part of NBIC, or the convergence of nanotechnology, biotechnology, information technology, and cognitive science. Transhumanist thinkers believe that this is the pathway to expanded intellectual abilities and a fundamental transformation of the human condition. At the same time, they call for a deep examination of ethical questions in using high-impact converged technologies. NBIC technology is being developed right now, and it's predicted to be part of our lives in less than 20 years. You can learn more about the prospects at the NBIC Science website.
The Singularity. Essentially, this will be the moment (depending on the source it could come within our lifetimes) that we have advanced so far technologically that we will move beyond human intelligence and literally anything will be possible. For example, technology could enable individuals to connect their brain's neocortex to a cloud-based wholly synthetic neocortex. Some view this with apprehension, and some are actively looking to make this become a reality. Proponents include Singularity University, whose mission is: "to educate, inspire, and empower leaders to apply exponential technologies to address humanity's grand challenges."
Considering Negroponte's accuracy over the last several decades, his thoughts on the future are compelling. Earlier this year, he proclaimed that "biotech is the new digital." In an article in DeZeen, Negroponte states: "So my prediction is that we are going to ingest information. You're going to swallow a pill and know English. You're going to swallow a pill and know Shakespeare. And the way to do it is through the bloodstream. So once it's in your bloodstream, it basically goes through it and gets into the brain, and when it knows that it's in the brain in the different pieces, it deposits it in the right places. So it's ingesting." That's an entirely new channel for knowledge acquisition and entertainment.
How do you think digital convergence will change the way we live in the future? Let us know in the comments.
An Exciting Future is Taking Shape
In the meantime, we can look to the much-nearer future. Schmit is excited about the possibilities to be explored at this year's AT&T SHAPE expo at Warner Bros. Studios. "LA has had the entertainment we're all familiar with, but it's also been a technology base and AT&T is using SHAPE to celebrate that convergence and highlight it," he says "We're hosting 40 different companies on the Warner Brothers lot; everyone in one place to show what is possible, what's available, and how to use it."
"There will be a lot of AR/VR focus and it will be challenging. But it will be so cool if creatives embrace it, and see this change as positive so your creativity can go into a wider, deeper place. Technology combined with great content can accelerate us toward a better experience for customers. SHAPE will highlight this and it should be an inspiring event."
SHAPE is happening July 14 and 15, 2017 in Los Angeles, California, at Warner Bros. Studios.
* The views expressed in this presentation do not necessarily reflect the views of AT&T.
---
Share this post