Updated: Feb 09, 2022
Published: Jan 12, 2017
2017 Developer trends in virtual reality and augmented reality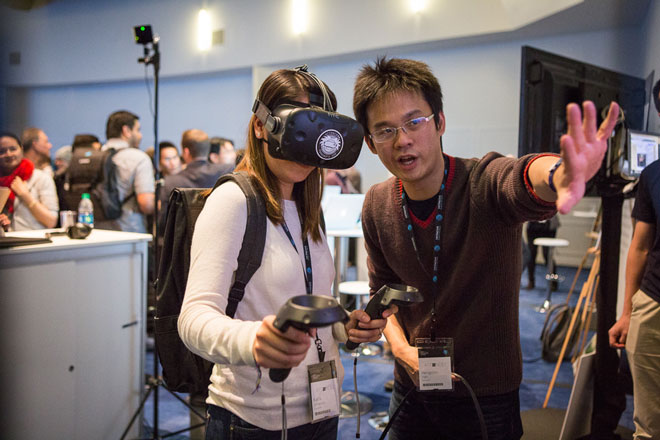 Guest post by CEO Beck Besecker and Product Manager Vince Kilian at Marxent Labs.
Virtual reality (VR) and augmented reality (AR) are growing up. Looking ahead to 2017, it is bound to be a pivotal year in the development of VR and AR. We saw a flood of new hardware releases in 2016, along with bold new content from developers that were still learning to harness the power of head-mounted displays (HMD) like the HTC Vive and Oculus Rift.
Bold Predictions for 2017
As VR and AR platforms mature in 2017, the competition will be on to see who can come up with the killer application that will drive widespread adoption over the next 12 months. Here's what we predict will likely be some of the big VR/AR stories next year.
Apple Enters AR/VR Space
In 2017, we may finally see Apple make a move into the AR/VR space. For one, they've been gathering tech and talent through acquisition. Recent examples include Metaio (AR), Flyby Media (AR), Perceptio (machine learning, image recognition), Faceshift (motion capture), and Turi (machine learning). Tim Cook, CEO of Apple, has also been talking up AR in press interviews, and it's not a stretch to expect some kind of AR implementation in the next iPhone. Developers should expect concrete news on Apple's AR/VR plans at the WWDC in June.
Goodbye Bug Eye Displays, Hello Sleek and Sexy
Whether Apple jumps into the VR HMD market is another story. After more than 20 years of HMDs being stigmatized as little more than "giant nickelodeons stuck to your face," VR hardware is finally getting sexy enough to fit in with a modern lifestyle. Head and motion tracking technology have vastly improved, as have machine learning and persistence of memory, which allow for systems that know where you are and make it possible for the user to interact with the physical world draped in a digital shell.
Gesture Recognition Will Rule
There's still work to be done, however, and in 2017 we expect to see further breakthroughs on the tech side. The race is on to develop a gesture-based system that eliminates the need for clunky hand controllers. The first company that brings the user's hands into the VR experience should gain a major competitive advantage. We also expect the shift to wireless technology will become more pronounced in 2017. Yes, Gear VR and Daydream got there first, but the implementation has plenty of room for improvement.
Hardware Prices: How Low Can They Go?
Finally, 2017 we expect to see price reductions on hardware. I expect to see a $1,500 Microsoft Hololens available to consumers by year's end (2016 price: $3,000), and both the HTC Vive and Oculus Rift should see downward pressure as well. By year's end, we may even see a new generation of hardware either launching or on the pad and ready for liftoff.
How to Get Started: List of Resources for Developers
There are plenty of existing tools that are a must for any VR developer. Both HTC and Oculus have online portals that guide would-be developers thought the specific ins and outs of each platform. There's also the straightforwardly titled Google VR, which offers APIs for development with Unity, Android, iOS, and Unreal Engine. Speaking of Unity, the "Learn with Unity" page offers resources, tutorials, and more for developers of all skill levels.
The very tools developers use to create VR content are undergoing a seismic shift. 2017 may be the year that "VR designed in VR" becomes a thing when developers begin to embrace the Unreal Engine VR Editor. Using Unreal Engine, developers will don an HMD and enter a VR design construct where they can alter every aspect of the landscape with a few waves of the hand. Until now, developers have been limited to designing 3D worlds in the same way they built the 2D landscapes of years past. This change in process would inspire a shift in thinking that will push VR design to new heights of engagement never before seen in digital entertainment.
No matter what happens, 2017 promises to be one of the most exciting years ever in the continued development of Virtual Reality and Augmented Reality technology.
Learn more about Augmented and Virtual Reality at Marxent.com/blog.
"These materials include predictions that are subject to uncertainties and actual outcomes may vary."
Note: The is the latest installment in a continuing series of posts exploring Augmented Reality and Virtual Reality technology. Check out our previous discussion about the HTC Vive and Google Tango.
---
Share this post