Updated: Apr 16, 2021
Published: Apr 21, 2017
Seattle Hackathon recap: Winning AR and VR apps that make learning fun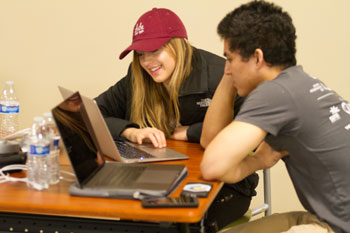 At the end of February, we hosted a hackathon in the AT&T Developer Program's hometown of Seattle! We headed over to the East Side to take over extraSlice and create amazing VR and AR apps and games. Over 150 developers, designers, and technologists joined us over the weekend for our first VR/AR Hackathon of the year.
During the event kickoff, attendees heard about some of the amazing VR innovations coming out of Seattle that focus on the general and educational areas. The event sponsor, Chronos Global Academy told attendees about their VR Dev School, which features courses for Unity, Microsoft Hololens, and 360 Video. Attendees also heard about the AT&T Video Optimizer, which helps to optimize mobile apps with a special emphasis on steaming video. In addition, the founder of Nullspace gave a quick talk about their Hardlight Suit and had a couple of prototypes that teams could try out.
For hardware, we were able to loan out some equipment: HTC Vive, Oculus Rift, and Samsung Gear VR. Chronos loaned hardware to teams as well, including their VR Lunchbox, a mini computer that can run VR programs and development environments. Teams loved getting to work with the VR Lunchboxes!
After a grueling weekend of development, Code Freeze was on Sunday afternoon. Our hackathon judges visited all of the teams to demo their apps and games. In addition, this gave attendees the opportunity to see what other teams created. After deliberating, we announced the following winners: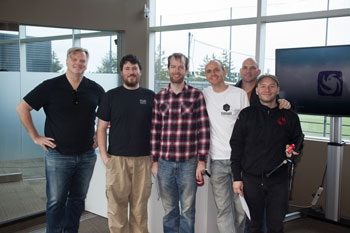 Best VR App Overall
1st place: Big and Little – "We created an asymmetrical co-op game where the characters (Big and Little) depend on each other to escape a mysterious building. Big is controlled via the HTC Vive and Little is controlled through the keyboard, and the player uses the monitor as a viewing screen."
2nd place: GatoNow – "A VR game for immerse learning where players become fluent on the subject through multisensory learning."
Best AR App Overall
1st place: Carrot_Top – "Carrot_Top provides visualization to agriculture in an entirely new way. Utilizing the Hololens and computer vision can provide a 3D model of a carrot underneath the ground based on its above-ground stem length. In the AR experience, the app can also predict the time to harvest and number of carrots."
2nd place: dreamHUD – "dreamHUD is a multi-platform HUD that delivers the data you need where you want."
Most Efficient App:
Using Video Optimizer, developers could submit their apps to see which are the most efficient.
1st place: Mohammad Assaf
2nd place: Burhan Nadin
#ATTHack Twitter Raffle Winner: Mohammad Assaf (@AssafMo)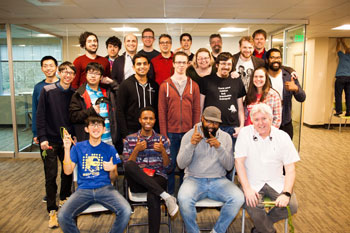 Stay up to date with all the upcoming AT&T Seattle events by joining the Seattle Tech & Entertainment – Workshops & Competitions meetup. Interest in upcoming Seattle VR events? Join the Virtual Reality Enthusiasts meetup to learn about things happening nearby.
A huge "Thank you!" to our event sponsor Chronos Global Academy for helping to make this event possible!
Sponsors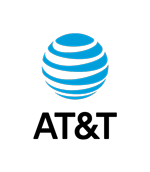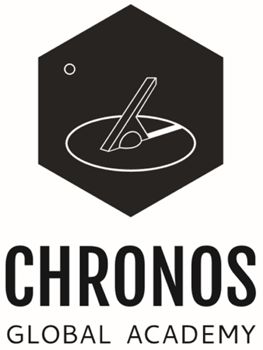 ---
Share this post