Updated: Jan 23, 2019
Published: Sep 21, 2018
Announcing the Winners of the Acumos AI Challenge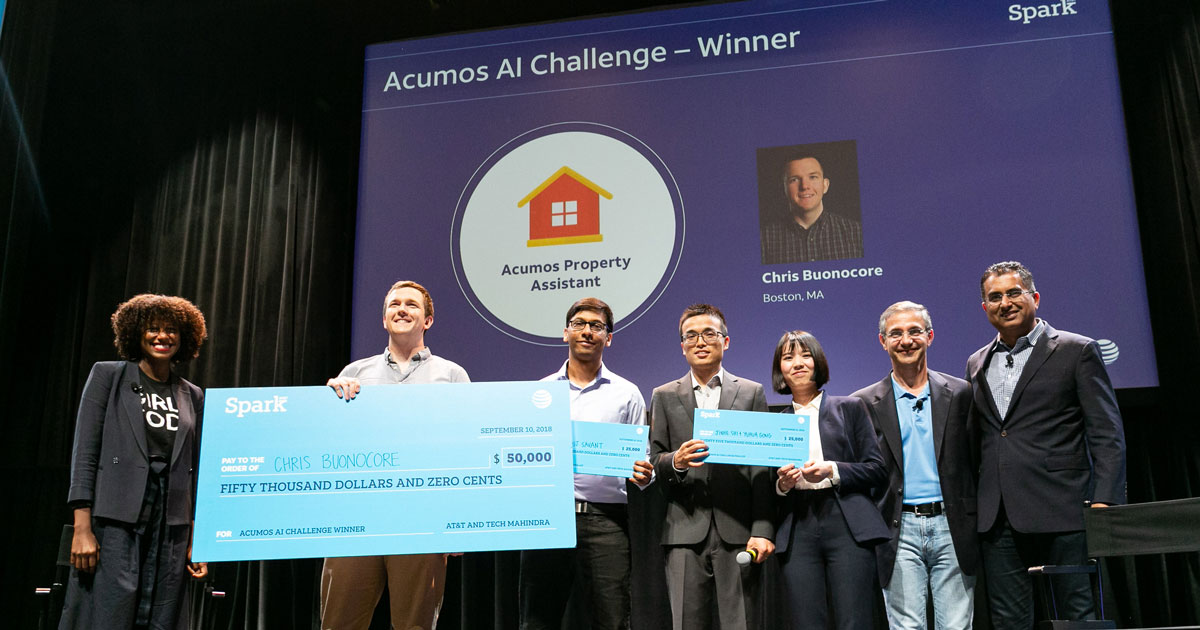 Artificial Intelligence (AI) is transforming the way we live and work. From intelligent personal assistants and search engines, security and fraud detection, and many other applications, AI solutions are an integral part of our daily lives.
Nearly a year ago, we announced the Acumos AI Project. Built in collaboration with Tech Mahindra, Acumos AI is a Linux Foundation platform and open source framework that makes it easy to build, share and use AI applications. The platform, hosted by The Linux Foundation's LF Deep Learning Foundation, simplified development and provides a marketplace for accessing, using and enhancing AI apps.
In May, we put out the call to developers, students and data scientists to create compelling artificial intelligence apps and microservices on the Acumos AI platform. Sponsored by AT&T and Tech Mahindra, the Acumos AI Challenge awarded $100,000 in cash prizes, including a trip to the finals in San Francisco, industry recognition, and the chance to have their solutions featured in the Acumos Marketplace.
Submissions were judged against five criteria: Novelty & Originality, Viability & Impact on Market, Difficulty of Technical Implementation, Best Supports Package Requirements & Intended Function, and Performance.
The results are in. The finals of the Acumos AI Challenge took place at the AT&T Spark event on September 10, 2018 at the Palace of Fine Arts in San Francisco. With over 300 developers across the U.S. participating, we were excited to unveil the finalists and overall winner of the competition.
Acumos AI Challenge Winner: Chris Buonocore
Congratulations to Chris Buonocore of Brookline, MA, who took home the top prize of $50,000 for his entry, the Acumos Property Assistant. This is a machine learning model that enables users to price homes based on fundamental property characteristics. The solution can be easily extended for more niche property value modeling.
Acumos AI Challenge Finalist: Rhutvij Savant
Rhutvij Savant, from Jersey City, NJ was awarded $25,000 for his Cancer Classification Model, a solution used to classify tumors as malignant or benign breast cancer.
Acumos AI Challenge Finalist: Jinhe Shi & Yuhua Gong
Jinhe Shi and Yuhua Gong, from the New Jersey Institute of Technology, were awarded $25,000 for their entry, User Review Prediction via CLSTM Attention. Their model classifies text reviews into positive and negative reviews, allowing companies to track and monitor user feedback using machine learning.
We wanted to thank all the developers who participated in the Acumos AI Challenge. We were truly inspired by the creative solutions submitted – you are paving the future of artificial intelligence development!
---
Share this post