Updated: Nov 17, 2017
Published: Nov 17, 2017
Winning Apps from San Diego Hackathon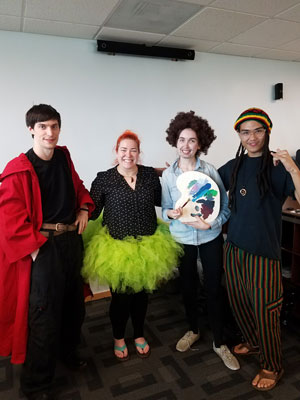 Every year it feels like the holiday season starts earlier and earlier. It's super important we don't forget one of the most fun holidays, Halloween. The AT&T Developer Program likes to celebrate Halloween in style with a hackathon, of course!
We went to San Diego for Hack-o-ween and to code in costume. CyberTECH opened its doors to developers, designers, and students for the weekend, where we had over 90 attendees come and build projects for smart cities, Virtual Reality and Augmented Reality.
The weekend kicked off with our featured speaker, Casey Sapp. Casey is passionate about VR and the community around it. He encouraged teams to think beyond gaming for VR and explore how it could permeate into everyday life. After the featured speaker, there were technical talks from Unity and GE CityIQ. Attendees were able to get up and running quickly on both platforms thanks to the great technical help onsite. In additional to hands on support, teams were also able to check out VR hardware for their projects.
The winning team presented an app that utilized CityIQ data and weather/environment data from a Raspberry Pi to help inform citizen lawn watering decisions. This was the first time at a hackathon for all of the team members. One of the teams that had a really interesting solution was VR San Diego. They combined Yelp reviews with a VR rendering of downtown San Diego so a user could see where the business is located and corresponding reviews.
Thanks to CyberTECH for hosting the AT&T Hack-o-ween Hackathon! In addition, a big thank you to the AT&T Smart Cities team and the GE CityIQ for being onsite and letting developers get a look at some of the awesome smart city technology coming to San Diego.
Best Overall App
M.O.I.S.T. – "Is your lawn constantly thirsty? Or is your yard too wet sometimes? With our app, M.O.I.S.T., we'll make sure that your grass stays nice and moist without wasting any excess water! The M.O.I.S.T app takes data from the smart city nodes and displays how long the user should turn on their sprinklers. In the future, your sprinkler system will automatically adjust watering times based on the app to save water while keeping your lawn M.O.I.S.T."
Best Smart City App
Parkey – "One touch nearest parking locator with reminders for tickets and parking spot memory"
Best VR/AR App
Virtual c:/house/ – "Navigate your computer's file structure in 3D (virtual reality) with each folder in the computer represented by a room. Doors lead to sub-folders."
Best Use of GE CityIQ Technology
CityIQ Companion App – "The next step in this emerging trend may be in-car services that allow drivers to find and pay for parking spaces. That's why cityIQ hopes to work with automakers like Ford and Volvo to allow drivers to access parking services, some of which are voice-activated, from inside their vehicles. Connected vehicles are a valuable extension and CityIQ plans to create a new business impact for automakers and payment providers."
"This application works on car and in mobile."
---
Share this post