Updated: Feb 18, 2013
Published: Feb 18, 2013
Your Mission Should You Choose to Accept It: Win a Mobile App Challenge
Have some downtime and want to win some cash and prizes? We have some fantastic hackathons coming up, but we know not everyone can attend so we've put together a list of some additional challenges you might be interested in. These challenges range from tracking space food to creating epic video games for mobile devices, and best of all, they're open to just about anyone (in the U.S. of course)!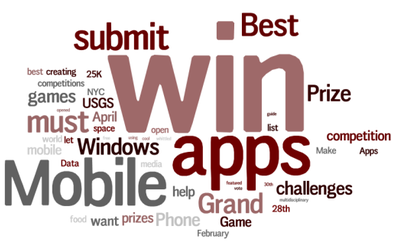 Please note that AT&T does not sponsor or endorse any of these challenges / contests.
NASA ISS FIT (Food Intake Tracker) iPad App Challenge – multiple deadlines
Do you want to be part of solving a problem that will help future space exploration? Join the competition and help International Space Station crewmembers enter and track food items.
Multiple prizes and competitions
Ericsson Application Awards 2013 – must submit by February 28th
The purpose of the theme "Apps for City Life" is to promote innovations towards the Networked Society by connecting people, things and places to empower individuals and society.
Best Overall App – Grand Prize: €25K
FXCM Freestyle Apps Challenge! – must submit by February 28th
Unlock the world of forex by creating innovative games and mobile apps using FXCM's ForexConnect API.
Best Overall App – Grand Prize: $25K
NYC Schools – Gap App Challenge – must submit by April 10th
The NYC Department of Education is challenging software developers to submit apps and games that enhance math teaching and learning, and engagement for our middle schools.
Best Instructional App or Administration/Engagement App: $21K
App-lifying USGS Earth Science Data – must submit by April 21st
USGS scientists are looking for your help in addressing some of today's most perplexing scientific challenges, such as climate change and biodiversity loss. To do so requires a partnership between the best and the brightest in Government and the public to guide research and identify solutions.
Best Overall App – Grand Prize: honored at the USGS National Map Users Conference
Mobilizing Data for Pressure Ulcer Prevention Challenge – must submit by April 29th
A multidisciplinary call to develop a mobile health app to facilitate prevention, early detection and appropriate management of pressure ulcers in clinical settings.
Best Overall App – Grand Prize: $60K
Windows Phone's Next App Star – must submit by March 5th
Whether you already have an app or want to create a new one for Windows Phone 8, this challenge will let consumers try yours and others, then vote for their favorites. It's a fun, head-to-head, bracket-style competition that starts by rating all the entries and selecting the top 64. Then, these 64 are whittled down over several weeks of consumer voting. Think your app has what it takes? Register, let the world decide, and win cool prizes!
Best Overall App – Grand Prize: Featured placement of your app in a Windows Phone primetime TV ad in the U.S. + a Nokia Lumia 920 Windows Phone, featured promotion in the Windows Phone Store, exposure for winning apps via online media, and a 1-year free Dev Center subscription.
Make the Game – must register by May 15th and submit by June 30th
German media outlet Computec has opened registrations for its €1 million development contest Make The Game 2013. The competition is open to any developer working on browser, social or mobile games.
Best Overall Game – 3 Grand Prizes: €1M
Know of other app competitions currently in progress? Drop us a link in the comments section below and we'll add them to the list!
---
Share this post