Updated: Jun 22, 2012
Published: Jun 22, 2012
Will new features make Windows Phone 8 more user and developer friendly?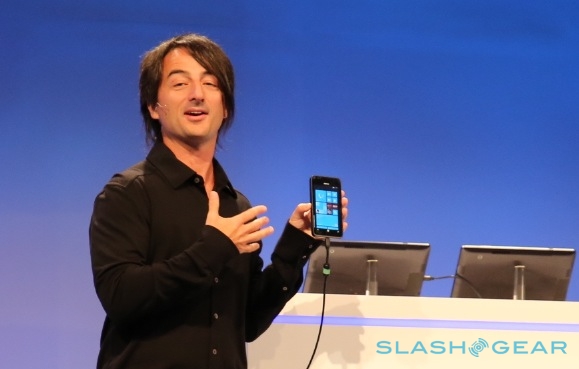 On Wednesday, Microsoft provided a glimpse of the new Windows Phone 8 devices shipping this fall. GigaOm's Kevin Tofel noted recently in a blog post that the changes to come are precisely what Microsoft needs to help kickstart its Windows Phone sales. For users, increased personalization and features will be a major selling point. For developers, Kevin believes the shared core code between Microsoft's mobile and desktop platforms will result in not only better hardware choices, but also a stronger application ecosystem and unified experience among phones, tablets and Windows computers. (Image source: Slashgear)
VisionMobile, a market analysis and strategy firm, recently surveyed developers and reported that nearly 60% said that they plan to develop for the Windows Phone platform. As you can see in the graphic below, there is a stronger interest amongst the developer community to develop apps for the Windows Phone platform than iOS and Android.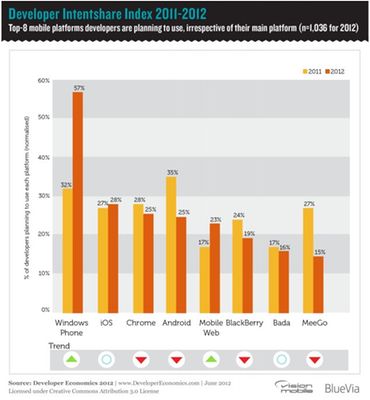 Current Windows Phone 7 users and developers may be quite disappointed to learn that their devices will not be upgraded to the new OS; however, according to Paul Thurrott they will get a new start screen, tile customization, and a new method for receiving updates direct from Microsoft.
In order to better understand the changes coming in Windows Phone 8 from a developer standpoint, let's look at what was announced.
Common core code
From a developer standpoint, one of the main benefits of the new platform is that hardware drivers can be used on both Windows 8 and Windows Phone 8. Windows Phone VP Terry Myerson introduced the overall strategy, saying, "We want Windows Phone to be personal, relevant to the user through sensors and data and the most connected experience, betting on the cloud."
Developers creating apps for Windows 8 or Windows Phone 8 will be able to more easily move their apps to the other platform. For example, DirectX will be used on both the desktop and mobile version of Windows for native game development. This will vastly increase the return on investment for developers and will bring a stronger ecosystem for consumers.
Internet Explorer is also getting an update allowing the browser to use the same rendering engine on mobile devices and desktops.
Multi-core chip support
The initial focus will be on dual-core optimization which will balance battery life and performance. But according to Engadget, the new platform won't just support dual-core processors — it will support as many as 64 cores, should such massively parallel chips come to exist in the platform's lifetime.
Support for multiple display resolution sizes including HD
Current screen resolution support in Windows Phone 7 is limited to 480×800 (WVGA) and 320×480 (HVGA). Windows Phone 8 will support 800 x 480, 1280 x 768, 1280 x 720 (HD), and 1280 x 768 allowing it to compete with the higher screen resolution on iOS and Android.
Improved HTML5 & JavaScript support
Two of the most exciting improvements from our standpoint are the improved JavaScript performance (said to be 4x faster than Windows Phone 7) and double the HTML5 features.
Improved security for enterprise customers
Starting with Windows Mobile, Microsoft has targeted enterprise users with their mobile OS. Windows Phone 8 continues this legacy by providing the latest and greatest mobile security features and apps including BitLocker encrypting and secure boot, in-house app deployment with signed apps, improved device management, and Microsoft business apps like Office.
Improved support for NFC
According to Gigaom, Windows Phone 8 will have the "most complete wallet experience": credit/debit cards, loyalty cards, saved deals and NFC payments. Microsoft is going to be using secure SIM elements instead of a dedicated secure element integrated in the phone.
In addition, Windows Phone 8 will support Phone-to-phone, phone-to-tablet and phone-to-PC sharing, using NFC and peer-to-peer Wi-Fi.
Nokia mapping technology
For users and developer alike, this will be a major improvement over Windows Phone 7's native map app. Features will include NAVTEQ map information, offline access, turn-by-turn directions, and increased map control for developers.
Engadget noted that there will also be support for Microsoft's new deals feature as part of the mapping update, so if you're a coffee lover like me you'll know when the coffee house around the corner is discounting cappuccinos.
Removable microSD memory card support
The new version of Windows Phone will once again support microSD cards for removable storage.
Voice support
Techland blogger Harry McCracken noted in a recent post that voice support will be added so that third-party developers can incorporate at least vaguely Siri-like spoken input.
For more info you can watch the keynote with Windows Phone engineering director Joe Belfiore on Channel 9.
Do you agree, are these changes enough to kickstart Windows Phone sales and cause more developers to create apps?
---
Share this post