Updated: Sep 21, 2015
Published: Sep 21, 2015
Why LTE Cat-O Will Be the Next Big Trend in M2M Connectivity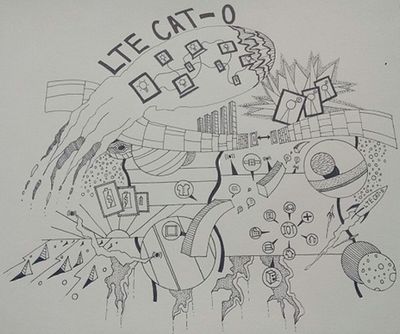 By Ed Schmit, Executive Director AT&T Mobility
In a recent survey of our community members, one of the requests for the upcoming AT&T Developer Summit was to cover LTE Cat-0 and how it could be used to improve M2M power consumption. I thought this was a great request and warranted a response before the Summit. Here it is in a nutshell:
Cat-0 refers to a version of the LTE standard that will have a peak speed of 1Mbps and support narrow bandwidths. This will lower costs and power usage for M2M devices. The 3rd Generation Partnership Project (3GPP) manages the LTE standard. To address the need for M2M devices, the 3GPP introduced LTE-M that includes Cat-0.
Cat-0 is first being addressed by the 3GPP standards body in release 12 this year (Release 13 will take it farther, defining peak rates as low as 200 Kbps and bandwidth as low as 1.4MHz). In addition to the operating benefits, the 3GPP estimates that this would reduce the cost fifty percent compared to CAT-1 modules. It is too soon to begin training on LTE Cat-0, but we will look to provide other guidance.
3 Reasons to Use LTE Cat-0
Most people are probably aware that 2G and 3G M2M solutions exist, so why even go to LTE?
Bandwidth Efficiency: Everyone knows there will be a ton of M2M devices and LTE optimizes usage.


Global Standards: LTE is becoming the global network standard, which can reduce module fragmentation.


Longevity: Still related to the standard, LTE will have better longevity to reduce costs for device makers.
Cat-0 will enable many more use cases, from wearables for fitness or wellness to a variety of industrial scenarios where low cost and power are essential. It will be key to delivering the billions of devices that are projected.


Hardware developers should not wait to explore Cat-0, and based on the range of devices already available, that seems to be the case. Just like with past hardware devices or software applications, the biggest success comes to those who embrace technology early and learn about customer needs. Look at the smartwatch space. It is not a big stretch to see how Cat-0 can play a key role in making autonomous smartwatches more prevalent. Until then, you are seeing many OEMs release devices that are dependent on smartphones; while we are seeing some of the first smartwatches with Cat-1 modules. It can be risky to wait for some transitions.


There are many great resources to help with Cat-0. For those who want to work with AT&T, we have the Mobile Broadband Accelerator Program, which includes a tool that recommends pre-certified 3G, 4G, and 4GLTE devices. We also offer connection kits that include testing tools to help optimize development.
---
Share this post