Updated: Aug 28, 2014
Published: Aug 28, 2014
Whoa…Wearables! Hook me up to the Matrix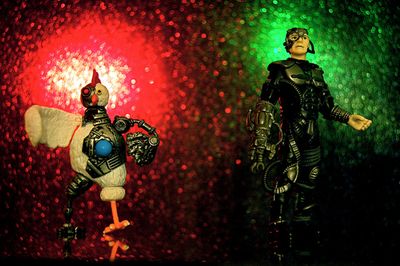 By Pete Rembiszewski, Principal Prod Dev Engineer
The year was 1999. Y2K was looming on the horizon. The Sega Dreamcast was introduced. And a science fiction movie that depicted the world as a stream of cascading characters was released. Yes, this notable movie was the Matrix. I suppose when I watched the Matrix one of the things I did not think too deeply on was the usage of people as a battery source for a civilization of machines.
For those of you who have not seen the Matrix [Spoiler Alert], the movie centers around a virtual world that mirrored our own, with only subtle differences. It was so real, in fact, that most people could never accept the truth. The truth was that the world, as the lead character knew it, only existed in order to keep him alive and to be used as a human battery to power the machines that had taken over the earth.
It has been awhile since I thought about the possibility of becoming a power source for machines until I came across a video from the American Chemical Society titled, 'Can sweat power your smartphone?.'
Apparently, UC San Diego has been working on a wearable tattoo that will calculate the amount of lactate in your blood while a person exercises. This temporary tattoo could be applied during an event such as a marathon, and help the wearer track the amount of lactate produced during exercises. Lactate is a product of intensive physical exercise. It's basically the reason why your muscles are sore the day after a hard workout. This tattoo has the ability to pull electrons by interacting with lactate causing a small electrical current.
These tattoos have the potential of generating 70 microWatts per square centimeter, but are currently limited to a 2×3 mm electrode. Researchers are looking into how to expand the size of the electrodes and increase the output. Although the amount of power generated from the tattoos would be minimal compared to present batteries, research is under way to increase output. Advances could be coupled with technologies such as Bluetooth LE (BLE) and smaller and smaller microchips. In essence, you become the battery, powering your wearables.
Can the World Created in the Matrix Become a Reality?
So now we see that movies can actually get the science right. According to Wikipedia, the average person has about 1.5 to 2 square meters of skin. This means that if a person has 20,000 square centimeters of skin area, he or she may be able to produce 1.4 Watts. Now this is certainly not enough to power a mechanical society, or even a light bulb, and I doubt anyone would want to have their entire body covered by a giant electrode. It still does mean the future envisioned in the Matrix is definitely a possibility. This time it wouldn't be giant machines using us for power, but potentially an infinite number of tiny machines that can work with us.
At least it gives hope that the great robot uprising won't happen like it does in the movies. It will happen slowly. Actually, it is happening right now. How many of us can say we have not been trained to pull out our phones when we hear that latest update is in place. More and more of us feel disconnected when we don't have our devices with us.
There are many implications to how technologies like these will influence our lives. More than not, change brings opportunity. I suppose that bowing down to our robot overlords won't be such a bad thing if they can help me get to my meetings on time with a cup of coffee in my hand! Remember, the more calories you burn, the quicker you can update your status.
~Pete is watching The Matrix~
Sources:
http://www.dailymail.co.uk/sciencetech/article-2724627/Could-charge-phones-using-SWEAT-Temporary-tattoo-uses-chemicals-perspiration-generate-energy.html
Photo from JD Hancock via Flickr under Creative Commons.
---
Share this post