Updated: Oct 25, 2013
Published: Oct 25, 2013
Where will you host your next HTML5 app?
The following is a guest blog post from Sidney Maestre, a Platform Evangelist for StackMob, a leading provider of backend services for mobile developers. You find him speaking at conferences, meetups and hackathons or online teaching, jQuery Mobile for Beginners and Backbone.js + StackMob, Follow him on Twitter and GitHub at @SidneyAllen
More and more web apps are being written completely in HTML5 and driven by data APIs without any server-side programming. These single-page applications have developers looking for simple hosting options for their apps. Why pay for a database and server-side language support you don't need. Here are a few options available to developers.
DropBox
This one may surprise you, but DropBox is an easy way to share your web app with a few friends. Simply create a folder for your web app inside your DropBox Public folder. Then right click on the index.html file. You'll see a popup menu with the option to "Copy Public Link."

Here is my demo app running off my DropBox account. Keep in mind, DropBox does limit how much traffic a public link can receive. So, this option is only good for sharing with a small group of friends or colleagues.
Github Pages
If you are a Github user, you've probably heard of Github pages. It's a free service and easy way to promote your open source projects. You can create a stylish landing page based off templates provided by Github. You also have the option to create your pages manually.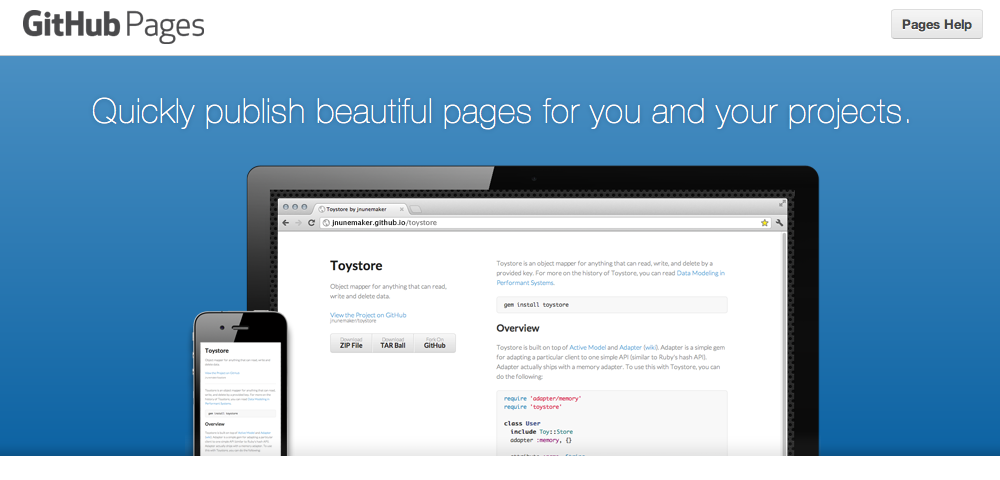 It's fairly easy for those comfortable using Github. You create a new orphan branch called gh-pages. Then add your web app to this new branch and commit the changes to Github. Here is my demo app running as a Github page.
BitBalloon
BitBalloon is a new startup for hosting your static web site. You can sign up and get 10 mb of free storage. To upload your site, simply zip up your HTML, CSS and JavaScript file, then drag and drop them onto BitBalloon or Chrome users can simply drag and drop the app folder.. They will minify and optimize your files and push them out to a CDN (content delivery network) for improved performance. BitBalloon generates a subdomain for your app that you can share. Here is my demo app running on BitBalloon.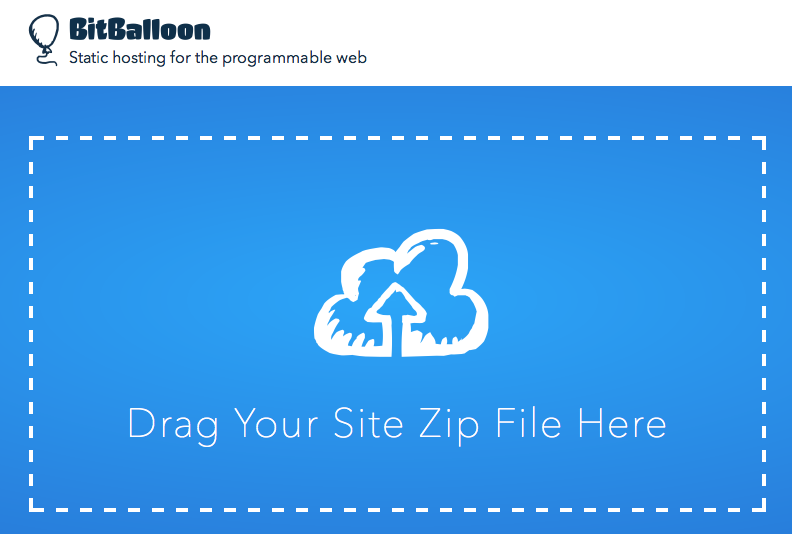 A premium account cost $5/month and gets you 100 MB along with additional features. You can add a custom domain name and take advantage of their "magic forms". Essentially, BitBalloon crawls your HTML looking for input forms and sets up a small database behind the scenes to capture any data submitted through your forms. You can later export the data. Pretty neat.
AWS S3
You can also host a static web site on Amazon's S3. S3 does not support server-side processing but works great for client-side based apps. Keep in mind outgoing data transfer and requests pricing still applies but at $0.004 per 10,000 requests this is a very cheap option.
If you want to use your custom domain or even enable CloudFront for better performance you can also do that with AWS.
StackMob Hosting
StackMob offers HTML5 hosting as a module you can install from their MarketPlace. The cost is $15/month. Through the StackMob dashboard you link to a Github repository. Whenever you push a change to Github, the new code will automatically be pulled to StackMob's servers.
A big differentiator between StackMob Hosting and the other hosting mentioned in this article is StackMob support for custom domains with SSL. You'll need to install the secure Custom Domain module at an additional cost, but this allows you to securely send data over https. This is important if your app includes user login or any sensitive data.
I should also mention that StackMob offers an easy to use API that helps HTML5 app developers create web apps without any server-side programming. So, even if you choose a different hosting service, you should checkout StackMob. It's dead simple to add data storage, user authentication, integration with social networks like Facebook and much more.
---
Share this post