Updated: Mar 11, 2015
Published: Mar 11, 2015
What You Missed at Mobile World Congress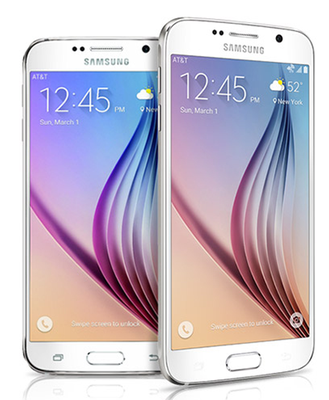 Didn't get the opportunity to head over to Barcelona, Spain for Mobile World Congress (MWC) last week? We've compiled some of the news that made headlines at the show. Since this is the International show that brings together mobile manufacturers, carriers, and app developers from around the world there's always a ton of news that comes out of this show.
There were tons of new mobile devices announced at the show, as is always the case at MWC. The new smartphones and tablets that were unveiled are getting thinner and slicker, with bigger screens. Of the new models on display, the Samsung Galaxy S6 (pictured left) and Galaxy S6 Edge made quite an impression. Although, this year's Global Mobile Awards, hosted by British actor John Cleese, named the iPhone 6 and LG G3 the winners in the best smartphone category. It will be interesting to see which smartphones win next year.
Smartwatches also garnered a lot of attention at the show. We're not talking about fitness bands that happen to also tell you the time. No, the products in this category that were most popular among attendees were the LG Urbane and the Huawei Watch. What made these two devices standout? Well, they actually looked like high-end watches. Even more interesting the LG Urbane isn't running Android Wear, but instead runs on the LG Wearable Platform, which many articles speculate is based on WebOS.
Virtual Reality: Is it Ready For Prime Time?
While smartphones and tablets usually take center stage at MWC, this year we saw quite a few virtual reality (VR) headsets. HTC announced the Vive, a headset developed in partnership with Valve, the creators of the Portal and Half-life games. This virtual reality headset runs on ValveVR and has dozens of built-in sensors. It can be paired with wireless controllers so you can interact with virtual objects. The people who got to experience it at the show gave it high praise.
Samsung announced it's second-generation Gear VR Innovator Edition. The interesting thing about this product is that it's designed to work with the Samsung Galaxy S6 and Galaxy S6 Edge. The idea is to snap the phone into the headset and then take off on a mobile VR adventure. Designed in conjunction with Oculus, the new edition will help developers build truly mobile VR experiences. Developers can learn more about the platform at the Oculus VR developer site.
A Look at Windows 10 Universal App Platform
Microsoft unveiled more details about its Windows 10 universal app platform. The company has converged Windows into one core and one developer platform. This will make it easier for developers to create "mobile experience" apps while delivering unique and personal experiences. Get more details about what Microsoft's Universal app platform offers in the company's "A first look at the Windows 10 universal app platform" post.
AT&T Mobile World Congress News
At this year's MWC, AT&T made quite a splash as well. The company showed off the latest in the Internet of Things at its Innovation City exhibit. AT&T teamed up with various partners to create an exhibit where visitors could see a virtual reality showcase of AT&T's Digital Life and the connected car that demonstrated how the connected world comes to life with integrated wearables and connected home devices. In fact, the UK's Guardian newspaper rated it as the number one highlight of the show. Get a look at the experience in the video below:
AT&T also announced a free wellness and fitness platform, ForHealth, that has been developed with the help of Tictrac. The platform is designed to seamlessly aggregate data from different apps and devices. This type of information can help users connect the dots of their health and fitness activities and change their plans accordingly. ForHealth will be available in the second quarter of 2015 and you can learn more about the platform here.
John Donovan, AT&T's SVP of Technology and Operations, provided an update on the company's vision for a User-Defined Network Cloud. With the Domain 2.0. supplier program, AT&T customers are at the center of a network with a cloud-based architecture. Wireless Week reported, that Donovan noted that the company is steadily shifting from a hardware to a software infrastructure and converting a network app a day.
The biggest AT&T announcements made at the show revolved around Connected Car. First, AT&T Drive can now connect to AT&T Digital Life's home security and automation service. In the video below, Glenn Lurie, President & CEO of AT&T Mobility discusses the announcement and what it means for consumers:
The company also unveiled three new connected car apps:
Xtime – This app alerts users when the car needs to be serviced and allows users to schedule service appointments with a preferred dealer through the app or car system.
Urgent.ly – Customers can use this app to request immediate roadside assistance from a nearby service provider. Additionally, the app can be used to track the location of the dispatched service truck.
NPR One – An audio app that delivers a curated stream of NPR news and stories.
AT&T is also helping companies with employees on the go. At MWC, the company announced that it teamed up with Microsoft to deliver the AT&T Mobile Office Suite. With this solution, small and mid-sized business can now easily collaborate via voice, video, and web from virtually any mobile device. The could-based, mobile collaboration solution will be available to customers in the United States.
Finally, what would a mobile tradeshow be without a few new handsets? Here are the new smartphones AT&T will be offering in the coming months: Samsung Galaxy S6, Samsung Galaxy S6 edge, Microsoft Lumia 640XL and Lumia 640, HTC One M9, and HTC RE Grip.
Were you able to head over to Spain and attend MWC? If so, let us know in the comments what impressed you the most.
---
Share this post