Updated: May 04, 2016
Published: May 04, 2016
What Would a Hackathon Team of Star Wars Characters Build?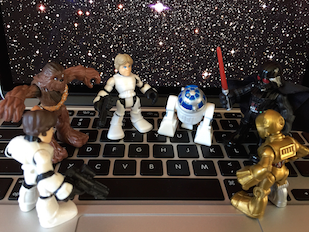 We love hackathons and host them often. In the spirit of May the 4th Be With You day, we want to know what you think a group of Star Wars characters would build at a hackathon. We've assembled a list of team members and their corresponding skill sets. We're leaving it up to you to let us know in the comments the app you think they would create. Here's your team:
Luke Skywalker, Presenter: The farm boy who became one of the greatest Jedi in the galaxy. He has a firm grasp on what people want and would use. His confidence combined with his ability to use Jedi mind control on judges makes him an excellent app presenter.
Skills: Master of wielding a lightsaber and reading a room
R2D2, Backend Developer: Skilled at breaking into systems and fixing them, he's the right team member to build the base of any app. With that kind of know-how, it's no wonder R2D2 can program in a plethora of languages.
Skills: PHP, Python, Ruby on Rails, Node.js, and Perl
Princess Leia, Front-end Developer: More than just a fearless leader, her personal style speaks volumes. She clearly knows how things should look and what it takes to gather a following.
Skills: HTML, Javascript, and CSS
BB-8, Mobile Developer: Always on the move whether on the ground or in space, he knows the importance of making mobile apps nimble and efficient.
Skills: Swift, C#, and Java
Anakin Skywalker, IoT or Robotics: The kid who could fix anything, created a racing pod from spare parts that won him his freedom. Who better to come up with innovative ways to connect objects and make them do things never before imagined?
Skills: Assembly language, Machine language, Lisp, and Maker Faire projects
Rey, Project Manager: A girl left to fend for herself on the desert planet; Rey became a scavenger and quickly learned what should be kept and discarded and how to keep a project on track. She uses her resourcefulness and project management skills to make sure team members have what they need to keep working through the night and meet their deadlines.
Skills: PMP and PMI Certifications, Microsoft Project, Smartsheet, and Zoho
Yoda, Domain Expert: A Jedi Master who has trained Jedi for over 800 years, Yoda knows a lot about a lot of things. He shares his wisdom at just the right moment to motivate the team, known for such sayings, as "You must unlearn what you have learned" and "Do or do not. There is no try."
Skills: Wealth of knowledge and motivational speaker
What do you think this hackathon team would build in 24-hours for their Galaxy or ours? Tell us your ideas in the comments below.
---
Share this post