Updated: Nov 14, 2014
Published: Nov 14, 2014
What to Expect At Your First Hackathon
Guest Post by JeanCarl Bisson, Web Developer
I've been attending hackathons on and off for close to four years now. I've lost count of exactly how many, but it is well over 50 and I still remember my first hackathon. I had heard about the event from a Meetup group. It sounded interesting and it was only a weekend. I remember all the logistics that were truly overwhelming and they still are today.
First, you may attend a hackathon with some expectations in mind. Your goal might be to meet someone new. Perhaps you want to try out an idea at the event that you've been itching to build, but either never had the time or never had the extra help. You may be attending because you want to learn more about a technology you've heard about, like HTML or iOS. Then again, you might come to the event completely blind, hearing that hackathons provide plenty of energy drinks and food. Who would be crazy to pass up an offer like that?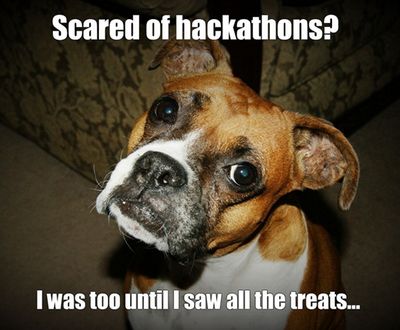 Does that sound a little extreme? Yes! At my first hackathon, my expectations were centered around free food and wanting to meet someone new. I did meet some interesting people. Four years later, I still talk to my two teammates from that event and have become good friends with one of them. She actually hosts a weekly Meetup group focused on iOS and Android.
It Starts with an Idea and a Chat
Networking is a big part of hackathons. When you arrive, you should begin talking to others as soon as possible. For introverts, this can be challenging, if not overwhelming. But what do you talk about? Start talking about your ideas and the conversation will soon take off. If you don't have an idea, ask someone what they are thinking about doing at the hackathon. They will be eager to share their idea.
For me, I like to travel; so travel-related hacks are my kind of thing. Start by discussing problems you have experienced, and brainstorming solutions you envision. Maybe the challenge you want to conquer is creating a personal roadside assistance service that doesn't make you wait outside in 100-degree temperatures. Perhaps the idea you have is a picture-sharing app that sends photos home to your parents. You may have a completely off the wall, extreme idea that would take billions of dollars to accomplish. Okay…do it!
This brings up another topic: fear. We don't do things because we sometimes fear the amount of effort it will take or that we will fail at it. Hackathons are a great place to fail. You've only spent a weekend. You've been able to validate the feasibility. You can walk away having at least presented an idea to an audience.
You might find it easier to feed off of other solutions that lack something. Many hackathon ideas are already full-blown products, also known as a competitor. That's fine. Your task is to change it for the better, to improve on the idea and make it your own! There's always room for another (different) solution to the problem. Look at the number of photo-sharing apps, for an example. Those apps co-exist pretty well.
Building A Team
Once you get an idea and find a team that seems to fit the necessary hacker-power needed to build a prototype, figure out each team member's strengths. Are you a good marketer, a coder, a designer, or an idea person? If you're a good speaker, step up and be the one to present. Half the presentation is about getting the point across to the judges and audience.
Hackathons are not long enough to learn on the job. If you really want to, please be honest with your team about what you can contribute. If you can't code, and your team relies on you to code something, you're will likely disappoint them. That's what happened at my first hackathon. I was tasked with writing Java code to pull travel data from Kayak. I had some experience with Java, but a simple little gotcha wasted hours and ended up not working at demo time. Today, I would have immediately told my team about the snag and asked for help to unblock my time waster.
It was a surprise to me that I didn't know everything! It is hard to tell someone whom YOU don't know something. It is even harder to tell someone that nothing works. When I work on a team, we have an open dialogue of what we know and don't know, before we get started.
Egos also frequently get in the way. Some hackers will come on really strong. They can build stuff quickly but can't communicate very well. Some people love to hear themselves talk, never being quiet for that split second when someone else brings out the golden egg part of the project. If you listen more than you talk, you might discover something new!
Finally, have fun and learn. It's not always about winning first place. Walking away from a hackathon being proud of what you were able to pull out of a hat and present is an amazing reward. If you forge that relationship, you can walk away with a team that returns for another hackathon or that forms a startup around your idea. That's why I keep coming back. Those strangers are my friends and colleagues.
Oh, and the free food. A starving entrepreneur is always hungry for more!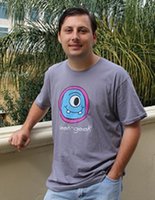 JeanCarl Bisson is a web developer, photographer, and loves to travel around the United States visiting National Parks and State Capitols. He blogs about his travels and hackathons at http://30daysoftravel.com and http://twitter.com/dothewww.
---
Share this post