Updated: Apr 20, 2015
Published: Apr 20, 2015
What I Learned About Why Consumers Want Connected Cars
Guest post by Jeana Chaffin, Director, AT&T Developer Program
As I started to consider ideas for what to write about in this blog about connected cars, I started to wonder – do I really want or need a connected car? Based on my own driving preferences, I honestly wasn't so sure. And, apparently, I'm not alone – according to a survey from Business Insider, "About 80% of consumers have either never heard of connected cars or are unsure what the term refers to." Sounds like there's an opportunity to learn what all the buzz is about.
So, I decided to find published research about why consumers want a connected car and then write a post about what I learned along the way. Maybe I really will want a connected car when I make my next car purchase, and I just don't realize all the benefits of having one yet. I'm hoping you'll find what I've learned to be as interesting as I did, and perhaps you'll get a sense of where there might be opportunities for developers in this evolving space.
The first survey I found about consumer preferences for connected cars was the October 2014 McKinsey report, What's Driving the Connected Car? The survey found that consumers are feeling good about having a connected car – "13 percent of buyers are no longer prepared to even consider a new vehicle without Internet access, and more than a quarter already prioritize connectivity over features such as engine power and fuel efficiency."
But Why? What Types of In-Vehicle Services Interest Consumers?
Probably the connected car features that are most familiar to us involve Infotainment, which, with cars now capable of having 4G LTE speeds available via built-in mobile hotspots, can include services such as Internet, radio, video/multimedia streaming, web browsing, real-time navigation, weather updates, and more.
Accenture's 2014 Connected Vehicle: What Drivers Want survey asked consumers how important it was to have Infotainment services in their vehicles. Defined by Accenture as "Services that deliver in-vehicle real-time information services such as web radio or video news through the In-Vehicle Infotainment (IVI) system and access to entertainment content like music, gaming, and social networks," the following Infotainment features were noted as "Already Using," "Very Likely To Start Using" or "Will Consider For Future Usage" by respondents in the United States:
| | | | |
| --- | --- | --- | --- |
| | Already Using | Very Likely To Start Using | Will Consider For Future Usage |
| Entertainment (Internet, music, gaming) | 31% | 20% | 27% |
| Information (news, stocks, and sports) | 25% | 18% | 26% |
| Productivity | 11% | 20% | 31% |
| Educational (eLearning) | 9% | 17% | 32% |
When asked which in-car services the US-based survey respondents thought were important for their passengers to have access to while in the car, the highest categories were around Infotainment and Safety:


63%: Streaming music for in-car use (Infotainment)
49%: A system that allows the passenger to stop the car if, for example, the driver suffers a heart attack (Safety)
45%: Car identifies traffic signals, congestion, accidents, delays, warning the passenger in advance of such situations (Safety)
42%: Surfing the Internet via a monitor in the car (Infotainment)
And, when questioned about their interest in using certain in-car technologies, including Infotainment, the US-based respondents said that they were either "Already Using" or "Would Like to Use":


Streaming music (82%)
Operate a smartphone using controls on the steering wheel while driving (70%)
Surfing the Internet via a monitor in the car (50%)
In-car feature enabling the ability to read and dictate emails while driving (48%)
Like these survey respondents, I can now see that having an in-car LTE connection could provide me with immediate benefits – having access to whatever I need from the cloud could make my work commute a more enjoyable experience. But, wait, there's more…
Beyond Infotainment – Other Benefits of Connected Cars
I continued to look for more reasons, beyond just Infotainment, why consumers wanted connected cars.
A survey response in the Telefonica Connected Car Industry Report 2014 that I personally found interesting was that "61% of drivers surveyed agreed that connectivity would give them more control by being able to understand when the car had a problem." Having my car give me its own pre-check health report before leaving for a long road trip could put my mind at ease. And, when the car experiences an actual problem, having the diagnostic information available directly from the car could make me more knowledgeable about what I'll need to have repaired when I speak with the mechanic.
In the area of Connected Navigation Services, the same Accenture survey that I referenced earlier found that the top categories of interest (as rated by Already Using/Very Likely to Start Using/Will Consider for Future Usage) were Traffic Information, Weather Information, In-Car Search for Places of Interest, Car Park Spaces, and Speed Cameras.
And as you might imagine, safety was another desired feature for connected cars. Insights from Nielsen's Connected Life Report found that safety is "among the highest-ranking features incentivizing [people] to buy a connected car. Among future intenders, 79% said they believe a vehicle's safety features will make them feel safe. Users of connected car technologies also value crash notifications (64% very important), Internet-enabled navigation (58% very important) and safety alerts (51% very important). Connected car consumers also rated these same features as most important in their car-buying decision-making processes."
Improving car safety has been a popular theme with developers at some of our connected car-themed AT&T Mobile App Hackathons. In fact, if you followed the news from our 2015 AT&T Developer Summit, then you probably heard about the cool app that the team of young developers built at our Hackathon. Using APIs from the AT&T Drive Platform, the Grand Prize winner, Team Anti-Snoozer, created an app that helps stop drivers from falling asleep at the wheel.
So, What's Next? What About Connecting the Car with the Outside World?
You've probably all heard or read about research being conducted to test use cases which have cars communicating with one another and with their surroundings.
The New York Times article, New Era in Safety When Cars Talk to One Another, describes a pilot program conducted by the University of Michigan Transportation Research Institute, which tests vehicles driven by volunteers in real-world conditions. Vehicle-to-Vehicle (V2V) transmitters inside the vehicles transmit information about conditions such as speed, direction, and location. The vision is to create "a new era of road safety."
What if your car could not only communicate with other cars, but with the environment around it, such as with street lights? Well, that type of communication is being tested as well. The researchers are testing use cases in which "a network of cars and traffic signals could inform drivers what speed to travel to hit all the green lights ahead, creating a so-called greenway. That would not only ease congestion but help with fuel efficiency, too."
And, what if your car could communicate with your home? This is actually possible now. In March 2015, AT&T announced the integration of the AT&T Drive connected car platform with the AT&T Digital Life home security and automation system, demonstrating how mobility solutions can offer simpler user experiences.
Speaking of what we're doing at AT&T in the connected car space, we're working with automotive and other partners to enhance the in-car experience for drivers and passengers – to make cars smarter and safer.
As the infographic shows, there are a number of ways that AT&T is working to do this with services that involve everything from telematics and advanced diagnostics to connected media and infotainment to app stores and global services: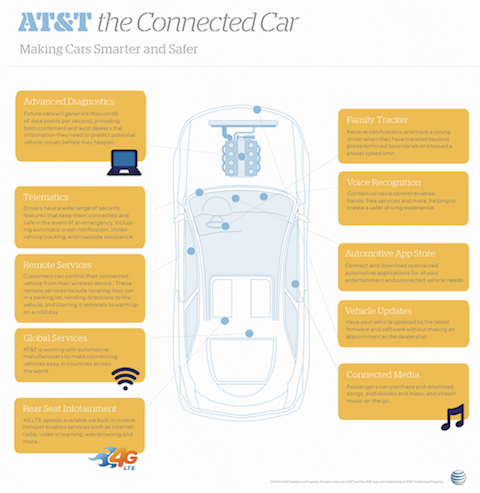 Can Connected Cars Reshape our Lives?
Just think about the future… While self-driving or autonomous cars are not yet available commercially, basic technologies such as self-parking and even cruise control are already offered in some vehicles. Cars are expected to become increasingly more autonomous, with some experts thinking cars will become fully autonomous (capable of driving itself with no need for any interaction from the driver) by 2025, or even sooner – by 2020. What might our commutes be like then?
And, what might our urban landscape look like? A new McKinsey report, Autonomous Driving: 10 Ways in Which Autonomous Vehicles Could Reshape Our Lives, envisions a number of benefits to a future with self-driving cars. For instance, the report predicts "self-driving cars could park themselves outside city centers, which could free up 25 percent of the space in urban areas currently devoted to parking lots and structures. That acreage could then be reallocated to extra housing, offices, green space or entertainment venues."
To me, that all sounds pretty exciting.
The research I've conducted has shown me that while we're still in the early stages of evolving connected cars, there is great potential for smarter, connected cars to provide enhanced and safer in-vehicle experiences. That makes me look forward to the future and to the purchase of my next connected car.
See How AT&T Envisions the Future of a Connected Life
What do you think? What are other services that you would want a connected car? How can innovative developers paint a clearer picture of how connected cars will fit into our world now and in the future?
Referenced Sources:
---
Share this post