Updated: Jan 26, 2013
Published: Jan 26, 2013
What API Pricing means for developers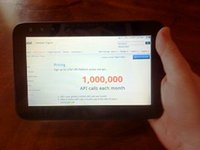 At the AT&T Developer Summit we announced pricing for API Platform access and API usage. How do the announcements impact most developers? And what does a million "points" really mean? To understand the impact we need to consider the yearly fee, the million points and transaction fees, and then combine them to look at the overall impact to developers.
With the pricing announcement AT&T announced free access to the playground and set a $99 yearly fee to get full access to the API platform. With free access to the playground, initial exploration and experimentation will be free and easy for developers. The playground will allow developers to determine if the APIs will meet their needs, and to prototype solutions to determine if they want to go forward pursuing app creation. Once beyond the exploration stage, developers will want to gain API platform access to move beyond the prototype stage and start more robust testing needed to launch a production app. Businesses and professional users will probably take the $99 yearly fee in stride as a cost of business. Students, student groups, and other individual developers who have taken the time to create a prototype in the playground, or who wish to use APIs not available in the playground, and find the $99 a barrier to moving forward should contact us about opportunities to have the yearly fee waved.
Once access to the API platform is gained, developers will be able to create an organization that will allow their apps to share a million points per month. Currently all "regular" APIs cost one point to call, and "beta" APIs have no cost. This means that developers will have a million calls per month to test and launch their apps. With a million API calls per month most apps should be able to launch and achieve significant success before needing to contemplate paying for API usage. Once beyond a million points a month, additional usage is at a rate of a penny a call, in $20 increments. Further discounts are available right from developer.att.com by pre purchasing points in groups of a million. In place discounts are not the only option, developers actively using a significant volume of transactions per month (over 500k / mo) or who anticipate a rapid ramp up that will exceed a million calls a month should contact us about setting up a custom pricing plan tailored to their app.
Overall, our goal with AT&T API platform pricing has been to encourage experimentation and app development by keeping barriers to app creation low. The playground provides a way for developers to explore and experiment at no cost. Once developers are ready to begin serious app development, the nominal $99 fee and million points per month allow developers to develop and publish apps and achieve a significant level of success without transaction costs. We realize that the app environment is competitive, and developers often need several tries to achieve success. With low initial costs, we are working to reduce risk and encourage developers to publish apps and reach for success. Once developers find the right combination and achieve success, we hope predictable standard pricing and the option to contact us for even better custom pricing solutions will lead to continued app growth.
Want more details on pricing? Check out the AT&T API Pricing FAQs page.
PS, yes that is me on the attached image looking at our pricing page. I will send a t-shirt to the first person to identify the device I am using.*
*To get a t-shirt you have to be 18 and have a U.S. mailing address to send it to. You have till Feb 8th 2013 to post a comment to the blog with your guess and I'll select the winner from those who post.
---
Share this post