Updated: Dec 18, 2017
Published: Mar 30, 2016
Wanted: Innovative "Things" to Shape the future
By now, you may have heard about the AT&T Shape Challenge – an open innovation contest to inspire, showcase, and celebrate pure technological advancement. By submitting your innovative product/solution, you'll have a chance to present your project at AT&T Park in San Francisco on July 15-16th and vie for the grand prize of $50,000. We're seeking submissions from technologists, innovators, and students across four categories – Smart Cities, Augmented Networks, Immersive Video, and Connected Things.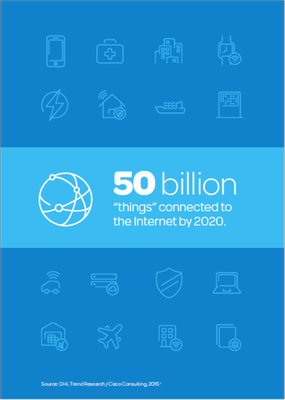 What Are Connected Things?
The potential of the Internet of Things (IoT) is huge – the concept where everyday objects have network connectivity that enables these "things" to send and receive data. Smartphones are ubiquitous and have certainly been game-changers, but they represent just a tiny fraction of the things that will keep the world around us connected. New devices entering the market and entirely new ways of experiencing tech prove that we've only just scratched the surface.
The next generation of connected things will deliver high-convenience, boundless capabilities, and an awe-inspiring vision of the future. Consider these points:
IDC predicts the global market for the Internet of Things will nearly triple, reaching $1.7 trillion by 2020.
An estimated 50 billion "things" ranging from sensors in cars and traffic lights to utility meters and household appliances will be sharing data over the Internet by 2020, according to DHL Trend Research.
85% of global organizations are considering or exploring an IoT strategy.
There are a number of examples where companies are using the Internet of Things to create new, compelling customer experiences. From the more recognizable connected consumer devices like connected thermostats and fitness-tracking wearables, to industrial IoT solutions, connected things are transforming the way we live and work.
Connected Things and the AT&T Shape Challenge
So what types of "things" are we looking for in the Connected Things category of the Shape Challenge? Excite us with connected tech that explores new forms and unexpected functions. This new "thing" can connect through mobile, satellite, Wi-Fi, or wireline. We'll consider submissions that use or contribute to AT&T technologies such as M2X Data Service or AT&T-certified modules.
Here are some examples of the Connected Things category to consider:
Wearables: Let's uncover the next groundbreaking step in wearable products – big or small.
Industrial Robotics: Show us how your robotic solution augments human capabilities, or offloads mundane or dangerous tasks and activities.
Smart Textiles: Connected clothing introduces the latest technologies into everyday materials such as bandages, clothing, shoes, and sportswear. We want to see innovative techniques that seamlessly weave tech into our gear.
Drones: Connected drones are making people's lives easier, more convenient, and safer. Let's find new ways to utilize this technology.
Judging Criteria
Submissions will be evaluated by a panel of judges who will score the eligible submissions based on the following criteria:
Overall creativity demonstrating an unexpected and fresh approach to an existing challenge
Technological depth and originality that pushes beyond existing technical boundaries
Demonstrated ability to solve an existing category challenge
If/how your solution utilizes AT&T technologies
To enter the Shape Challenge, submit your innovation to us by May 6, 2016. We look forward to seeing your innovative "Thing"!
Related Blogs
Open to US residents of majority age. Enter by 5/6/16. Void where prohibited. Subject to official rules available here.
---
Share this post